Rakuten Symphony Strikes Up Alliance with Intel and Juniper to Deliver Symware
Rakuten Symphony Strikes Up Alliance with Intel and Juniper to Deliver Symware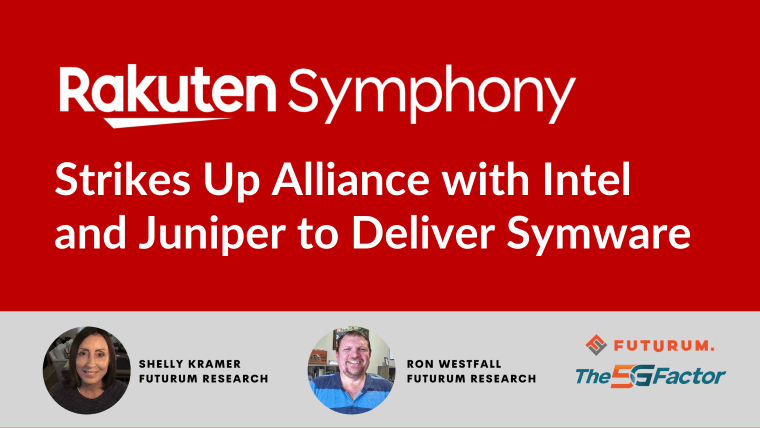 For this vignette of a recent episode of the Futurum Tech Webcast, part of the 5G Factor series, analysts Ron Westfall and Shelly Kramer assess the 5G ecosystem implications of the Rakuren Symphony, Intel, and Juniper Networks collaboration to develop Symware, a carrier-grade Open RAN solutions aimed at modernizing radio cell sites by using the latest cloud-native architecture and capabilities.
Their conversation emphasized:
Why the Symware multipurpose edge alliance can provide communications service providers with the flexibility to densify their network, support new features while reducing the required hardware per site, and ultimately accelerate Open RAN deployments.
How the Symware solution combines the containerized cell site routing functionality and a containerized DU (Distributed Unit) one a single general purpose server platform, which can ease adoption complexity and decrease mobile operator capital and operational expenditures.
Thee use of Intel's Xeon D Processors and FlexRAN reference software showcasing Intel portfolio innovation by enabling the consolidation of RAN workloads into a single Symware server as well as fulfilling the performance, capacity, and cost requirements of 5G RAN environments.
How the integration of Juniper's routing technology and ORAN into a single platform can leverage disaggregation techniques and routing stacks to advance 5G networking slicing capabilities key to CSP 5G monetization objectives.
Shelly and Ron concluded that the three-way collaboration gives mobile operators the streamlined Open RAN solution along with the smart security, automation capabilities, and supply chain confidence needed to ramp up their Open RAN plans especially as they are increasingly candid about making Open RAN integral to their overall 5G network build and business objectives.
Watch the clip here:
Or grab the audio by way of your favorite streaming platform here:
Don't Miss An Episode – Subscribe Below:
Disclaimer: The Futurum Tech Webcast is for information and entertainment purposes only. Over the course of this webcast, we may talk about companies that are publicly traded and we may even reference that fact and their equity share price, but please do not take anything that we say as a recommendation about what you should do with your investment dollars. We are not investment advisors and we do not ask that you treat us as such.
Transcript:
Shelly Kramer: Well, our last conversation around partnership for this show anyway is about Rakuten Symphony, Intel and Juniper Networks who are lasering in on simplifying open brand deployments at scale. Let's hear about it, Ron.
Ron Westfall: Yes. What Rakuten Symphony is advocating is the use of what their branding somewhere. And basically, it's a multi purpose edge appliance that can fast track open RAN deployments. And obviously that's pretty much integral to their whole corporate mission. But what's interesting about this particular offering is that combines containerized cell site routing with containerized DU or distributed unit capabilities on a single platform. And so, this is clearly something that operators can really appreciate is that it's really streamlining the open RAN challenges. And it's also, in the same beat, allowing them to get away from the proprietary RAN implementations where basically the vendor was able to drive more of what you can do and can't do with the technology.
Obviously with open RAN, the operators will have more mix and match capabilities, more bargaining leverage quite simply when it comes to enabling 5G capabilities. But there's a host of other benefits ranging from being able to use open APIs in a more flexible fashion, more scalability and so forth. It's just a host of built-in advantages. And I think what's important about this relationship is that Intel's specifically, their Xeon D processor and FlexRAN technology is really what's enabling this consolidation onto the single server. So that's really a feather than the cap for Intel, which just had it Intel Innovation Week. And clearly Intel is going to have a major influence in how open RAN is deployed across the 5G ecosystem. And the shows Intel can definitely innovate when it comes to meeting these very rigorous demands.
And Juniper's contribution significant because I was pointing out earlier, this inverse platform also integrates cell site routing. And the ability to actually integrate that into a platform versus having to rely on all these traditional routers, it just makes sense. You can consolidate all of these components, all these devices onto a single platform. But also have a controller flexibility and a lot more distributed networking capabilities, disaggregation benefits and so forth. So yeah, it's a really, I think a compelling combination. I think this is the kind of partnership that can really drive the competitive fires out there. Because as we know, Rakuten's already in 20 other networks including Dish here in the US. So this is something that we definitely need to pay attention to. Let alone, the traditional suppliers consisting of Nokia, Ericson, Samsung, obviously they have a close eye on what Rakuten's up to with the Symphony unit. And this is I think a good reason why.
Shelly Kramer: Yeah, absolutely. And all of this is really focused on something that's pretty simple, what mobile operators need most right now. And that's agility and it's smart security and it's new levels of automation capabilities and a more broad, more secure supply chain. And so, that's the beauty of these solutions and that they're addressing these very real needs. And so, it's exciting to see partnerships like this.
Ron Westfall: Yes. Yeah, let software rain. That's for sure.