Making Markets: Quick Take and Highlights From an Insightful Day at Honeywell HQ
Making Markets: Quick Take and Highlights From an Insightful Day at Honeywell HQ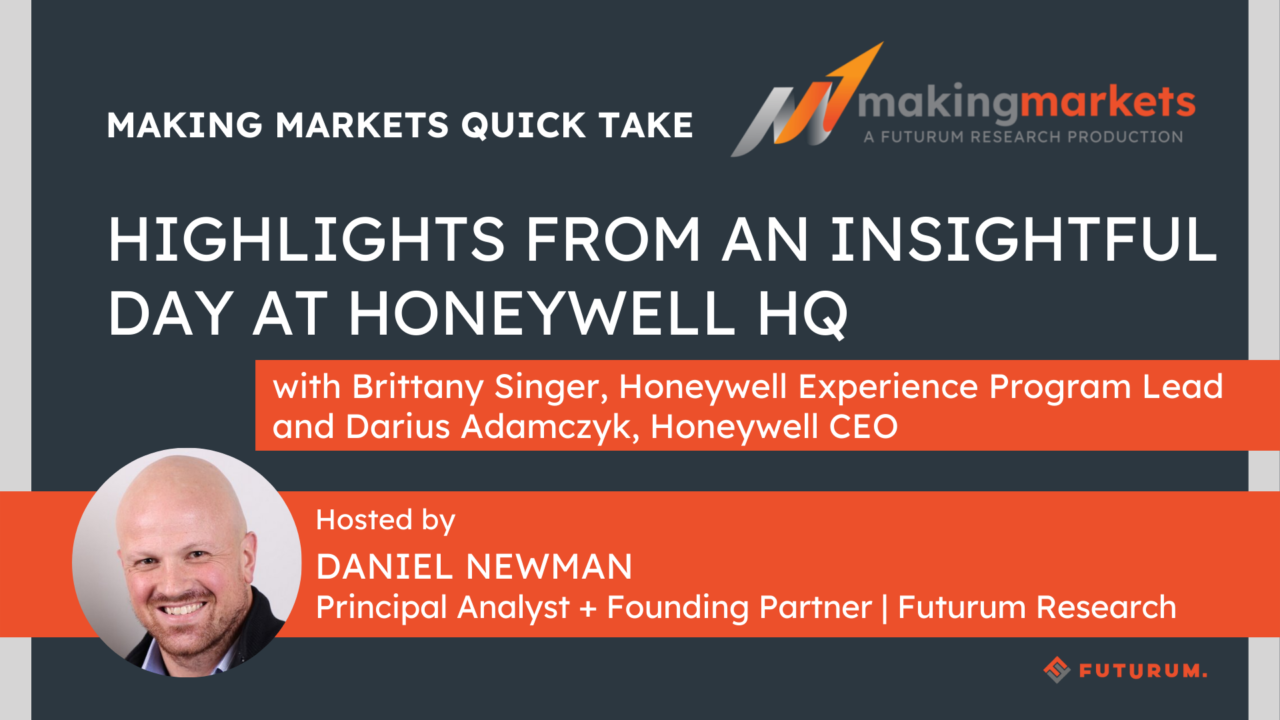 In this Making Markets quick take, host Daniel Newman gets a behind the scenes look at Honeywell HQ with Brittany Singer, Honeywell's Experience Program Lead, and Honeywell CEO Darius Adamczyk.
You can grab the video here and subscribe to our YouTube channel if you've not yet done so.
You can also listen below or stream the audio on your favorite podcast platform — and if you've not yet subscribed, let's fix that!
Disclaimer: The Making Markets podcast is for information and entertainment purposes only. Over the course of this podcast, we may talk about companies that are publicly traded and we may even reference that fact and their equity share price, but please do not take anything that we say as a recommendation about what you should do with your investment dollars. We are not investment advisors and we do not ask that you treat us as such. 
Transcript:
Daniel Newman: Honeywell, the story, it's bigger. And you work here talking to customers all the time, taking them through the history. How do you introduce Honeywell to the world?
Brittany Singer: And that's exactly it. I mean, Honeywell does so many things. It's sometimes a bit overwhelming. So this center allows us to showcase the entire portfolio in a way that's engaging and memorable and really designed in a linear path so each display represents a message or a theme. So it's a chapter along the way in the Honeywell story and allows us to not only expose everyone to everything we do from buildings to aerospace, to oil and gas, but do so in a way that flows in a story that is compelling.
Daniel Newman: What is the future that Honeywell is making and what is the big way you're participating in the innovation in basically our global economy?
Darius Adamczyk: That's right. Well, the tagline is our brand tagline and it really stands for our focus on innovation. What you see here on this display are just a few examples of the things that we've developed and invented over the years. Honeywell has a very long history of innovation and not everybody realizes that, but we have been innovating and creating new things for our customers for over a hundred years.
Daniel Newman: What's kind of the fast way you get somebody that comes in here, and maybe they know Honeywell for thermostats-
Brittany Singer: Exactly.
Daniel Newman: Or maybe they know because of your aviation control systems, but you're in all these things. How do you get people acquainted?
Brittany Singer: You bring up an excellent point. Honeywell is always evolving. So we really designed this space to be flexible and be updateable.
Daniel Newman: You're talking about buildings, you're talking about communities, you're talking about grid, you're talking about jet planes. I mean, these are the things that are putting off massive volumes of data, and you're kind of right at the heart of it.
Darius Adamczyk: That's right. And I think one of the things that makes Honeywell special and different from a lot of companies that are trying to do this is we have a long legacy that's based on control systems and based on sensors and based on physical connections to physical devices, whether it be a building or an industrial plan or an airplane. And because we have that tremendous installed base of control systems and sensors, we can now stream all that data back to forge.
Brittany Singer: So this is our brand ribbon where we can showcase some case study examples of our technologies out there in the field. The way that this particular display works is you can take the model that's on the display and place it on the sticker. And this will activate a video testimonial. And this example is the Mark Wahlberg example about his private jet, which Honeywell is onboard enabling.
Darius Adamczyk: I really think the world is at a tipping point in terms of the technology and the data and the software all coming together and being ready to be consumed. And Honeywell is leading the way in that effort. And we're really proud of it.
Brittany Singer: We really try to focus on in industry. So you'll notice in the center in particular, we don't want to organize things by how Honeywell is structured. We organize by industry. So in our immersive experience room, we can actually immerse customers in their own environment. And we can actually show the Honeywell solutions working within those space, showing them from end to end everything that Honeywell does.
Daniel Newman: Oh, my name.
Brittany Singer: Yep. We've got your name and likes here-
Daniel Newman: I like it.
Brittany Singer: Personalized, just for you.
Daniel Newman: I love it.
Brittany Singer: And in this space, we have the ability to immerse someone, a customer or any group in their own environment. So we can customize signage, make them feel at home. We have a quick welcome video that we play that really brings to life the space and sets the tone for what we do in here. And just to give you a little bit of a preview, we have an example here, which is Target.
Daniel Newman: The big retailer Target.
Brittany Singer: Exactly.
Daniel Newman: Okay.
Brittany Singer: Target. If Target were coming in for the day, and that was our big customer focus, we can show here on the wall, just exactly what they would think of if you're in a Target store. If you want to take a look at this screen, this will show you the transition from the warehouse setting to the retail floor at a Target. And here you can queue up additional content. So if we wanted to show videos or an actual live demonstration, we could actually pull that up in the screen, in the room. And unlike a VR experience where it's very individual, the room allows us to have it be a group experience. So everyone gets that same experience and we can talk a little bit more, develop the relationship.
Daniel Newman: I think this next decade is going to be a time for companies like yours that should be recognized.
Darius Adamczyk: I fully agree. I think we're positioned well. We're already doing a tremendous amount in this area, and we're just so excited about what's to come over the next decade.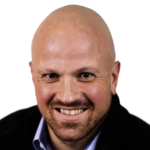 Daniel Newman is the Chief Analyst of Futurum Research and the CEO of The Futurum Group. Living his life at the intersection of people and technology, Daniel works with the world's largest technology brands exploring Digital Transformation and how it is influencing the enterprise. Read Full Bio