Qualcomm Ventures and Metaverse Fund
Qualcomm Ventures and Metaverse Fund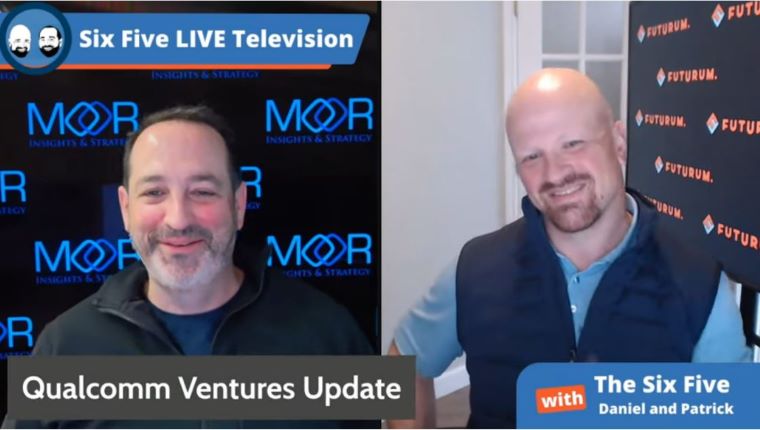 The Six Five team discusses the Qualcomm Venture and the Metaverse fund.
Watch the clip here:
If you are interested in watching the full episode you can check it out here.
Disclaimer: The Six Five Webcast is for information and entertainment purposes only. Over the course of this webcast, we may talk about companies that are publicly traded and we may even reference that fact and their equity share price, but please do not take anything that we say as a recommendation about what you should do with your investment dollars. We are not investment advisors and we do not ask that you treat us as such.
Transcript:
Patrick Moorhead: Yeah. Let's move on to the next topic here. Speaking of chips, this is an update on Qualcomm Ventures. Oh yeah, we keep hitting it. I wanted to start off with a quick, Daniel, you and I cover a lot of venture activity, but I don't think we've really talked about or written about Qualcomm Ventures, but I've started to get into really analyzing what I would call the big tech venture arms. And I wrote an update on Forbes talking about how Qualcomm did in 2021 and all also their, what I would call investment strategy, but very active in 2021. Qualcomm currently has over $2 billion of assets under management. They made 25 new investments and over 20 exits. You look at companies like Inovium, Altiostar, Matterport, SentinelOne. These are ones that I've heard of before that they invested in 2021.
Do I understand their exact ROI that they got out of it? I don't but I'm trying to hunt for that. But to me, if you're a big venture arm for a company like Qualcomm and I had their investment arm, Quinn Li on the phone for a couple hours kind of going through it, it's really about how does Qualcomm Ventures support the overall corporate strategy of Qualcomm? There's only what, four ways to innovate. You can do it organically, you can partner, you can invest or you can acquire. And ventures arms are all about the investments. And it's kind of like the three bears, you can't get too close and too hug, otherwise you're going to smother your investment. And all you're going to do is try to turn it into Qualcomm and turn it on to, but you really want it to kind of be like an animal in the wild that can not only go out there, but the ability to make investments and do work in a low friction environment, that's risky.
Qualcomm is one of the last remaining companies that actually does research out there that's super speculative, but they can't do research for everything. Their focuses right now are automotive, 5G, AI, enterprise and consumer. Which brings me to an announcement they made today, which Qualcomm Ventures announced a $100 million Snapdragon Metaverse Fund. And it's funny just when we got sick of calling it XR and AR and then we got all behind metaverse and then Meta had a meta-horrible earnings where then we question the metaverse again because they had one quarter. What people have to realize, this is a 10 year haul, folks. We're probably three years into a 10 year investment cycle. And the people that couldn't hack it, they bailed.
I don't want to name and shame, but oh okay, maybe no. I won't go into that. But really, Qualcomm is one of the only remaining semiconductor companies to invest big in it. And you have what you would expect, these major ecosystem vendors, Microsoft, Google, Apple, Tencent. Folks like this who can still afford to invest in something that might not pay off for five or six years. But just an update on Qualcomm Ventures and their metaverse investment. Good strategy from Qualcomm.
Daniel Newman: Yeah. The quick punch here is you covered it well and there's not a ton here, but is that these companies in their venture arms have the propensity to be extraordinarily nimble and innovative and get involved in technologies that aren't limited just to the Silicon Valley VC funds. These companies invest in interesting technology and oftentimes have incredible domain expertise in certain areas because of the research they do. Of course, Qualcomm is one of the penultimate companies for doing legitimate research and development. The company also has a very acute understanding of the horizon in order to make money on that research. It doesn't happen, it's not always a one, two punch. It can be a one, 5, 10 year punch. Yes Pat, I think you hit it on the head, a number of good investments. We all know you don't need to get them all right. You just need to be right more than you're wrong, in this particular space to do particularly well.
Also the metaverse, look, I actually want to focus just on one thing and that's I see and I read a lot of doubters out there about Web3 and the metaverse. There is a reason that whether it's Salesforce's NFT cloud, Qualcomm's $100 million metaverse venture fund, that you're seeing billions of dollars. I think Silicon valley poured over 30 billion into metaverse startups, Facebook made its decision to change its name, NVIDIA is focused on the omniverse, the investment that's being put into crypto mining and other decentralization efforts, this is happening. The same people that were sort of Web2 deniers, the people that were dot bomb, this was over, oh that lasted. Glad to see that fad is over.
It's not if this is going to happen, it's kind of more when and how this happens. And so the smart money and the smart companies are pouring into this space. Now again, some are dipping toes, some are going full steam ahead, but the fact is, is we will see greater transparency. We will see decentralization and we will see the continued evolution. Now, the enterprises are trying to find their way into this, because remember, and I'll leave my thought here, Pat. But the whole idea of decentralization and Web3 was to sort of democratize the power. And so you have a handful of companies really right now that hold the vast majority of the power over the web. And now you look at where all the money's being poured in. Well, it's the same companies that basically are saying, "We want to be able to control what comes next and have a lot of say in it."
And so the interesting thing is, is a lot of the originals that got into crypto and stuff, got in because they were doubting the dollar, they doubted digital currency, they were doubting the centralization and the power of the corporation. Not to get a little off the path here Pat, but it's kind of interesting to watch corporate and large companies that have tons of resources, pouring investment in. But in the end, I think Qualcomm's making the right call, getting into this space. They were already in this space with a ton of an investment in XR and other augmented reality technologies. Good to see the investment. It's just the beginning.
Patrick Moorhead: Yeah. Good stuff, Daniel. I'm hoping to go to their venture conference coming up, just to kind of get a bird's eye view of that, but we shall see.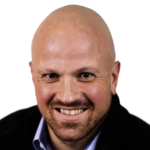 Daniel Newman is the Chief Analyst of Futurum Research and the CEO of The Futurum Group. Living his life at the intersection of people and technology, Daniel works with the world's largest technology brands exploring Digital Transformation and how it is influencing the enterprise. Read Full Bio