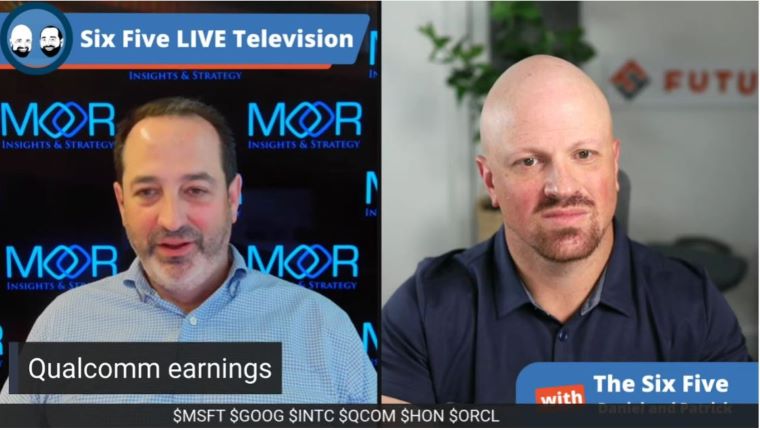 The Six Five team dives into the Q2 Qualcomm earnings report.
Watch the clip here:
If you are interested in watching the full episode you can check it out here.
Disclaimer: The Six Five Webcast is for information and entertainment purposes only. Over the course of this webcast, we may talk about companies that are publicly traded and we may even reference that fact and their equity share price, but please do not take anything that we say as a recommendation about what you should do with your investment dollars. We are not investment advisors and we do not ask that you treat us as such.
Transcript:
Patrick Moorhead: Let's move on to another chip maker here, and that is Qualcomm. What do I say? Qualcomm absolutely destroyed earnings that I put it up there on the level of even doing better than Microsoft did. They blew past expectations, records everywhere, and I think the macro picture is, not only did they clean up an Android smartphones, but they also delivered on those beyond smartphone commits. Revenue was up 41%, EP ep was up 69%. The auto backlog was up another 3 billion to $16 billion. A big question for me is, will that auto unit get to a billion dollars of revenue, that was committed at the analyst day? So all in all, I mean, my gosh, a great quarter.
On handset side, just in color there… It's funny, I think this might be the first time I remember Qualcomm actually pointing out how much it does in a Samsung product. Usually it's a hush-hush type of number, but they went all in even in their investor deck saying that they increased their premium tier processor volume for the Samsung Galaxy S22 smartphone to 75%, up from 40% in the Galaxy S21. Part of this, I think is attributable to just how good the latest Snapdragon is, but also the Exynos businesses quite frankly, had a tough time and you have a lot of users overseas demanding that they put the Qualcomm chip in.
I also have to give credit to Qualcomm marketing. They have a very aggressive, essentially a Snapdragon inside program that actually makes a difference in smartphones. It might be hard for us to imagine this in the United States, but there is actually processor affinity, in the case of smartphone processors, the highest level of affinity and outside of the US, they're more surgical shoppers, in that they actually care about the processor of it. And particularly, when you might have some off brands, maybe brands that aren't super strong, you have a brand like Snapdragon carrying the day.
Daniel Newman: Yeah, you hit a lot of the big points, Pat, but it was a very strong, robust quarter for the company. I mean, we've seen the chip space all have a big drawdown, the ones that are on the front end that saw the front end as a double entendre, not just leading edge, just the companies that are seen as the highest growth, have seen the biggest drawdowns. So, you've seen AMD, you've seen NVIDIA and Qualcomm come back after really remarkable runs that took place when the chips were on high. Now, the funny thing about it is, Pat, is the demand doesn't really seem to be slowing all that much. If you actually look at the results, very good Pat. But the other thing was, the guidance was very good. The company doesn't seem to have any real indicators that the slow down is going to be substantial anytime soon. If you go back and listen to my comments about Microsoft, some of it follows right over here, because bottom line, all that cloud, all that connectivity runs on chips.
Now for Qualcomm, it's still largely in the handset space, but one of the stories of the day for Qualcomm is the diversification of its business. The company has worked really hard to make sure the market realizes that it's not only growing in handsets. Having said that, the handset business was remarkably good this quarter. So, it kind of slowed down the momentum of that story a little bit, because the disproportionate volume still sits there as you look here, you got 6.3 billion in handsets, and then these other three adjacent businesses. Now they are front end business, which does tie into the handset business. It actually very literally does, but it's a different revenue stream.
Then of course, you've got the automotive business with this $16 billion pipeline now, but it's not generating that in terms of revenue yet. Having said that, Pat, we probably should give some credit for the growth automotive has had, because in the last couple of years, it's seen remarkably large growth, and if you look at a company like NVIDIA, which is a bit of a hero of the day, most days, the Qualcomm business in this particular space, has outperformed. It just simply has outperformed.
Patrick Moorhead: Yeah. I mean, it's a four to five times larger business. NVIDIA seems stuck in that a hundred million dollar a quarter, zone.
Daniel Newman: Yeah, and the design wins have been notable. This quarter, they made this Delantes announcement, which is like 14 or 15 major global brands, that are all going to build on Qualcomm and on their Snapdragon. Now, that really comes down to the fact that the company is focused on the needs of the day, meaning while there is that L4, L5 promise for the future, right now we need L2 plus, we need next level of driver assist type technologies that can help with drive policy, telematics, navigation. And that's the technology that they're offering, and they're making it very modular, but we've talked about that a lot. We'll do that another day. The IOT business, which is a bit of a catchall for a lot of parts of the Qualcomm business, but the growth in that business has been really good. You'll see now they have basically all their businesses are on a trajectory to being over $1 billion annual, several of them now over $5 billion annually, and then of course that core handset business.
Licensing business remains strong. It's not big of a focus in terms of what the company's been talking about, but it is a really nice business to have, when you think about a business that basically gets a little bit of revenue from every single mobile handset sold every day, because of the investments that are made in IP and the R, in R&D by Qualcomm. So Pat, good top line, good bottom line, strong guidance, revenue diversification. There's definitely more work to be done, but Qualcomm didn't really give the market any reason for its recent 30 to 40% draw down, other than the fact that higher interest rates and inflation are creating a discount on future growth. So, result's good.
Patrick Moorhead: Yeah, they rocked it. They totally rocked it, and if I had to pick the overall winner of our podcast honorings, it would definitely be Qualcomm, but we're not done yet.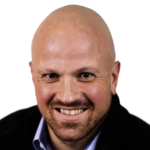 Daniel Newman is the Chief Analyst of Futurum Research and the CEO of The Futurum Group. Living his life at the intersection of people and technology, Daniel works with the world's largest technology brands exploring Digital Transformation and how it is influencing the enterprise. Read Full Bio