Qualcomm Partners with Nothing to Power Device Innovation
Qualcomm Partners with Nothing to Power Device Innovation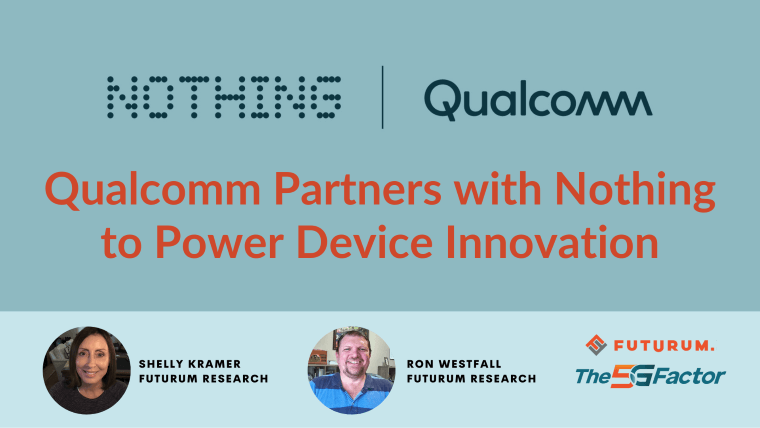 For this vignette of a recent episode of the Futurum Tech Webcast, part of the 5G Factor series, analysts Ron Westfall and Shelly Kramer assess the partnership between Qualcomm and Nothing, a start-up founded by OnePlus co-founder Carl Pei and dedicated to building a world without barriers between people and technology.
Their conversation focused on:
The 5G ecosystem implications of Nothing's first device launch of a transparent earbud – ear (1) – in August 2021 that comes with active noise cancellation and a retail price of $99, selling more than 100,000 units in the first two months.
Why Qualcomm's alliance is much ado about Nothing, especially in how the Qualcomm Snapdragon platform can power innovation of Nothing 5G products down the line.
Nothing raised in $50 million in a new Series A round extension backed by strategic and private investors setting the stage for speculation on Nothing portfolio development direction.
Ron and Shelly see Qualcomm's collaboration with Nothing as a solid bet that Nothing can beat something alternatives setting the stage for Snapdragon-fueled device innovations across the 5G mobile ecosystem.
Watch the clip here:
Or grab the audio by way of your favorite streaming platform here:
Don't Miss An Episode – Subscribe Below:
Disclaimer: The Futurum Tech Webcast is for information and entertainment purposes only. Over the course of this webcast, we may talk about companies that are publicly traded and we may even reference that fact and their equity share price, but please do not take anything that we say as a recommendation about what you should do with your investment dollars. We are not investment advisors and we do not ask that you treat us as such.
Transcript:
Shelly Kramer: So let's talk about see through technology products. What? You're scratching your head saying, "What are they talking about?" So I hadn't heard of this company before, but we are going to talk a little bit now about Qualcomm powering Nothing's product which are technology… So Nothing is a company. Carl Pei, one of the co-founders of OnePlus launched this company, and he is passionate about bringing to market tech products that are transparent, intuitive and fit into people's lives. So talk with us a little bit about Qualcomm's involvement with Nothing products.
Ron Westfall: Well, I tell you, I think it's fair to say that this partnership is much to do about Nothing. I think Qualcomm is ready to bet that they can be something with Nothing. And what's really important here is what you pointed out, shelly, is that Nothing is looking to innovate that there are fewer barriers between people and technology. And I think everybody understands this having to deal with wires, having to deal with accessory equipment. And it could be frustrating sometimes, especially if you lose say a power adapter. This is a pain. And the first product that they've already come out with, which was back in July, was a [inaudible] transparent ear piece or a earbud.
This is something I think is really only the tip of the iceberg, a harbinger because what Nothing is looking to do with the Qualcomm alliance is using the Snapdragon platform. And we all know Snapdragon's been purpose developed for 5G capabilities. And so, I think there will be some speculation. Now this could be another smartphone. I don't think they're going to go in that direction. I think the market is flooded with ample options in that regard, especially at the low price end. I think what we're going to be actually looking forward to is, oh, okay. Here is a neat device that is 5G enabled. And this is something like the smart glasses we were talking about.
That's something that would be really think a game changer potentially. If you can use your sunglasses to get a lot of this information through a 5G connection or Wi-Fi connection and not having to reach into your pocket or your purse and trying to find your 5G phone and put your password, you get the whole idea. So I think there's just a wealth of possibilities, but that's why I wanted to highlight that because we don't know all the details. But certainly, the foundation is there I think for a very interesting partnership and that this is all about Nothing.
Shelly Kramer: Much to do about Nothing. Well, a couple things that I thought were interesting about this is that, so I mentioned OnePlus and that Carl Pei is the co-founder of OnePlus. So OnePlus is the best selling, one of the most inexpensively priced cell phones in Europe. So he knows what he's doing, right? So there's some street [crosstalk] cred there. Right. And the other thing, when it comes to devices is like earbuds or devices of any nature. What we're all looking for is improved battery life, improved operating power, better features and things like that.
And one of the things that I thought, so Pei is passionate about differentiated design and moving away from a place where every earbud looks like what's in this case, right? And the Nothing's Ear 1 transparent earbuds squeeze wireless technology into a transparent shell. And they claim to offer upto 24 hours of use time with active noise canceling on 34 hours with that off that. Okay, that's a lot. Right.
Ron Westfall: No doubt. Yeah.
Shelly Kramer: And that's a lot of time. And the other thing I thought that was really interesting here is regardless of what other products Nothing might do in the wireless earbuds category alone it's identified, of course, not surprisingly as a growth category with 310 million parts expected to ship in 2021. By the way, that doesn't mean expected to deliver because many of those could be on a container on a ship stuck somewhere. Right. But anyway, 310 million units expected to ship in 2021 according to counterpoint research. So this is a big category.
People are very, very interested in list earbuds. And so, it'll be interesting to see what happens. And obviously partnering with Qualcomm on this, I mean, that makes perfect sense.
Ron Westfall: And I think this is also important to know, in parallel they got 50 million and new funding, and this is on top of the initial 15 million. So clearly, the Swedish financial backers are betting on this. And so, this is all contributing toward the momentum. Obviously, 50 million can make a huge difference and advancing the design capabilities of the Nothing portfolio as it unfurls and unfolds. And yeah, we wait with bated breath.
Shelly Kramer: And Nothing becomes something, but it's still Nothing. So I will share a, when we publish the show notes for this show, I'll share an image of what these earbud Ear 1 look like.
Ron Westfall: Good idea.
Shelly Kramer: They're really pretty interesting. I mean, I'll buy anything. I'll try it. Or Nothing can send them to us. I don't know. They can do that, right?
Ron Westfall: So many possibilities. Yes.
Shelly Kramer: So many possibilities.