Qualcomm IFA Announcements
Qualcomm IFA Announcements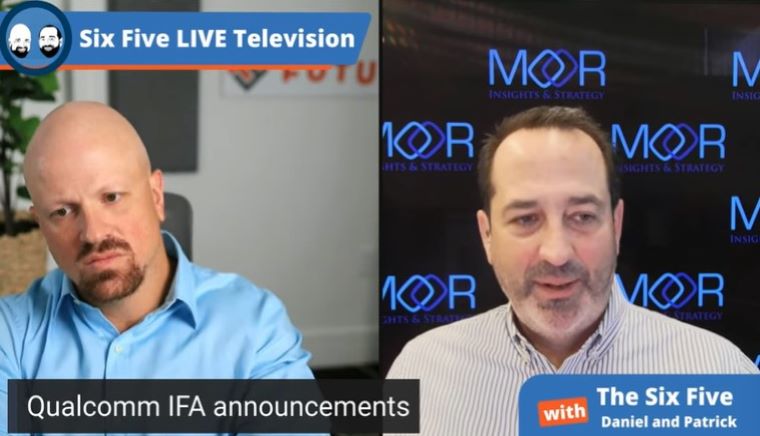 The Six Five team takes a look at Qualcomm's recent IFA announcements.
If you are interested in watching the full episode you can check it out here.
Disclaimer: The Six Five Webcast is for information and entertainment purposes only. Over the course of this webcast, we may talk about companies that are publicly traded and we may even reference that fact and their equity share price, but please do not take anything that we say as a recommendation about what you should do with your investment dollars. We are not investment advisors and we do not ask that you treat us as such.
Transcript:
Patrick Moorhead: Qualcomm and IFA, so IFA is Western Europe's largest consumer electronics and appliance show, refrigerators, TVs, PCs, smart speakers, VR, all that good stuff. I got up at, let me see, I think I got up at three in the morning to watch Chris Gian win his keynote, no I really didn't, but I did write it up though and I thought the announcements were super interesting. First of all, the company did a big announcement with Meta and Mr. Zuckerberg himself showed up virtually to congratulate everybody on the deal that has Qualcomm multi-year inside of Meta's MR platforms, and I think this is a really big deal because quite frankly, if there's going to be one or two companies that are going to win or take a big part of it, I think Meta is going to be one of them. I think Apple will do well, even though we haven't seen any of their hardware yet, they've been working on their software for what seems like an eternity, and I think that's a really big deal.
The other thing that I thought was interesting was that Meta has their own Silicon team, which you have to wonder, "Hey, what's going to happen to that Silicon team now that there's this multi-year deal?" I think Qualcomm is coming in to augment them. I don't think we're going to see some mass layoff there and by the way, Meta has a device called Portal and little mini versions of Portal that it has to create it or it could create Silicon for as well. The second one was Bose, very similar to a Samsung deal that we saw before, and like we saw with Meta is this multi-year deal to leverage Qualcomm's audio solutions, particularly this S-five, Audio-SOC and its future, all of its future audio products.
Big picture, it really seems to me, my net-net and came out in my headline of my analysis is this is just yet another example of Qualcomm enabling OEMs to better compete with Apple, because if you think about it, everybody has to compete with apple on smartphones, on tablets, on PCs, on audio devices. In fact, Bose has lost a tremendous amount of market share to Apple, and one of the reasons is our criteria for audio equipment has changed. It's less about how realistic something sounds and it's more how well it can work with all your other devices and all the cloud music services that are out there. I think that's just an overall big picture and I think reinforces also Qualcomm's success in terms of getting out of, or not out of, but rising above its smartphone business into IoT and automotive. I'll leave the final announcement for you Daniel.
Daniel Newman: Well, I'm trying to remember, so you did Meta, did Bose, did you do the satellite?
Patrick Moorhead: Didn't do the satellite.
Daniel Newman: Okay. Well first of all, just let me quickly comment on the fact that the Meta one was the most exciting to me. Look, I understand the diversification strategy of Qualcomm, it's migration into IoT and that becoming a multi-billion dollar annual business for the company has been huge in Iman's strategy, Christian's strategy to basically say, "Hey, we aren't just a device company. We're not just focused on handsets, and we've got revenue streams that are of significant magnitude that are outside of that particular area." And so this space is a space that I don't think many people necessarily think of Qualcomm first, but I think that's the whole point. The company is more and more aggressively working, and so started with the peripherals, the smart watches and headsets and things that connected to the phone, and they're moving more and more out to intelligent items that exist in an ecosystem, in a home or in a vehicle or et cetera, so that particular business is growing a lot. The Meta stuff, like I said, the metaverse, Meta. I'll just call them Facebook.
Patrick Moorhead: I know, I still have a hard time with that, Daniel.
Daniel Newman: I liked them better as Facebook. I'll call him bookface, but anyways, the metaverse, look I hear sarcastic comments. I think John Ford made a pretty big dig at the metaverse yesterday. Look, certain growth is out of vogue right now, nobody likes crypto. Nobody-
Patrick Moorhead: Until it is.
Daniel Newman: Nobody likes metaverse, every company's going to zero, nothing is ever going to happen again and then in two years we're going to have the same irrational exuberance back again. People aren't going to care if you're profitable, they're only going to care if you grow, they're only going to want the company's doing the most cutting edge stuff. Well look, Meta, Mark's made plenty of mistakes, but Meta will be a player in this space, and let's not for a minute think that this is, company's not going anywhere.
Qualcomm is going to be a critical partner because Qualcomm has the actual technologies, a little bit like NVIDIA does for Omniverse. Some of the key technologies that are going to be required for companies to actually build these metaverse experiences. As far as I see it, Qualcomm partnering with Meta, being a good partner is going to be a big deal for the company. I think the last announcement Pat, had to do with something that we'd already, I don't think we talked about on the show, but I'm certain we've all socialized it, and that was the T-Mobile SpaceX announcement. That essentially, what was it? That T-Mobile, the smartphones are going to basically be able to connect to the SpaceX Starlink satellites. Now I'll admit it, my knowledge of this topic came from reading your tweets. This is becoming problematic for me, Pat.
Patrick Moorhead: Wait a second, and you write articles on this stuff.
Daniel Newman: I do. I do. I do, but there's been so much news in the last few weeks that I've had to keep up somewhat by using Patrick's tweets. What is it effectively here? Well, somebody's going to have to provide the smartphone modem that's going to live behind these types of capabilities, and it looks like this could be something that Qualcomm is going to be providing, Pat. It sounds to me like Qualcomm is deepening its roots here being a provider, using its modem and RF systems to drive satellite communications, and so T-Mobile, Qualcomm, SpaceX, the future. I don't know if there's much more to this Pat, because I only saw a little bit of, I heard a little bit of background on it, but it sounds exciting. It sounds like maybe something that Qualcomm's doing, this is V dot two of the old Qualcomm.
Now I'll tell you a little story. My dad ran a trucking company in the '90s and I used to go into work for him and I used to help him file his Qualcomm bills, because they were using satellite communications and Qualcomm hardware to keep truck drivers connected. This is the next generation we're going to be connecting with astronauts and civilizations in space and it's only been 30 years, so look how far we've come in a short period of time. I don't know if I got all of that one Pat, because like I said, I only just read on it and that was the third one. Anything else I needed to get on that one?
Patrick Moorhead: No, I think we can expect next week during the Apple launch that Apple's going to announce satellite communications and it's going to be, this is only enabled on the Qualcomm modem RF system and also as it relates to the SpaceX and T-Mobile, the only modem RF that will do this is a Qualcomm combination.
Daniel Newman: Pat?
Patrick Moorhead: Yes sir.
Daniel Newman: Are you saying that Apple still uses Qualcomm?
Patrick Moorhead: Yeah they do. Yeah, they do imagine that. I'm hearing, by the way I heard this week that they're having a really tough time integrating that modem into the SOC and it's too high power and people are quitting. Imagine that.
Daniel Newman: Pat?
Patrick Moorhead: Yes, sir.
Daniel Newman: I'm asking another question. Is Apple going to soon be able to move to their own modem?
Patrick Moorhead: Listen, given enough time and resources, probably and they have more money than God.
Daniel Newman: Wait, do they have the resources to build this themselves, Pat?
Patrick Moorhead: Well, right now, no.
Daniel Newman: Yeah, but yet how much do they have in the bank?
Patrick Moorhead: I don't know.
Daniel Newman: What is the market cap of Apple?
Patrick Moorhead: It's over 2 trillion.
Daniel Newman: Okay. Maybe my Billy Madison moment here is over, but the moral of this story is this shit is hard.
Patrick Moorhead: Black magic dude.
Daniel Newman: Now we got to put the explicit thing on the show. I just said the S word, I'm sorry. This is a family show, but I just get tired of hearing how Qualcomm is going to get displaced and Apple's going to build their own and it's not going to happen. All right, Pat.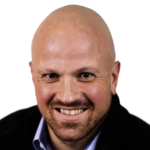 Daniel Newman is the Principal Analyst of Futurum Research and the CEO of Broadsuite Media Group. Living his life at the intersection of people and technology, Daniel works with the world's largest technology brands exploring Digital Transformation and how it is influencing the enterprise. Read Full Bio