Qualcomm Exceeds Analyst Expectations
Qualcomm Exceeds Analyst Expectations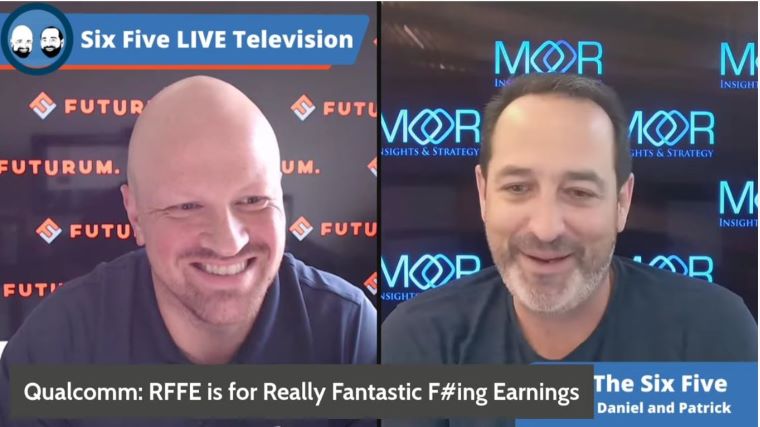 The Six Five team talks about Qualcomm and how they exceeded analyst expectations in their last earnings report.
Watch the clip here:
If you are interested in watching the full episode you can check it out here.
Disclaimer: The Six Five Webcast is for information and entertainment purposes only. Over the course of this webcast, we may talk about companies that are publicly traded and we may even reference that fact and their equity share price, but please do not take anything that we say as a recommendation about what you should do with your investment dollars. We are not investment advisors and we do not ask that you treat us as such.
Transcript:
Patrick Moorhead: Let's get to our final stock here, Qualcomm. Gosh, I think they were up like 7% after they announced. What in the heck is going on at that company, Daniel?
Daniel Newman: First of all, Pat, how much do you like my chyron?
Patrick Moorhead: Your chyron is the best. I mean, sometimes I-
Daniel Newman: Okay. It is.
Patrick Moorhead: … wish I had come up with your chyron. But no, this is really good. RFFE really is for fantastic earnings.
Daniel Newman: Yeah, I love that. And yeah, a great close out there and great point about Intel. Don't rule them out. Don't rule them out.
Look, Qualcomm, a couple of things are happening here. One, the bellwether of 5G. Is 5G growing? How fast is it growing? Qualcomm is, if not the most, it's one of them, and I would say the most important company here on any US exchange and probably around the world to pay attention to.
How are they doing? Well, 65% growth year over year, or sorry, 63 in non-gap, 65 gap earnings growth, 131% on a non-gap earnings before taxes and 123% on earnings per share. Triple digits, dude. Triple digits. Outstanding first quarter for CA, Cristiano Amon, as a fully minted CEO of the company and what an opportunity to report that, Pat.
So, first of all, that's just an overall momentum thing. We've been waiting years, 2019, 2020, '21. 5G is here. It's in full effect. But by the way, I've heard some insane commentaries about how now we're late. We are not late in 5G. This is just the beginning. It just feels like relate because we've been talking about it for so long.
There's really two things to break down here, Pat. The company splits its business into kind of two groups. It's QCT, which is the technology business, and it's QTL, which is the licensing business. Straightforward licensing. Solid business overall.
Best thing to note about that business is it doesn't have a lot going on that we're hearing about. They got licenses with all the big 5G handset providers, and they're not in any major legal battles in the public eye right now. I'm sure there's tons of stuff going on behind the scenes. Don't need to comment about that.
But QCT, Pat, handsets 57% RF front-end RFFE, 114% growth, nearing a billion dollars in the third fiscal quarter, automotive 83%, IOT 83% growth everywhere. So that handset business, which is what everyone knows Qualcomm for is the chips that go inside your phone. It can be your iPhone. It might be your Samsung phone. It could be your Nozomi or whatever your device you're using. 57%, nearing $4 billion, but everybody kind of thought that's it.
And so, we've heard Cristiano Amon for like three, four years now, Pat. I remember sitting in a Mobile World Congress in Barcelona with you in one of those rooms when we used to go out in public and actually see people and we listened to Cristiano talk about IOT and automotive. And we were like, "Yeah, yeah, yeah. Okay. Yeah, we'll see." Like handset company.
Well, he was right. The company has been right. The bet's been right. And we, as we've continued to prognosticate that this would end up being successful, have been right. You and I have been right.
Their IOT business, Pat, $1.4 billion this quarter. Automotive is starting to become of critical mass at 253. They are absolutely unseating the Corevos and Broadcom's and Skyworks in the RF front end, which is a really difficult business. And Pat, almost 2.6 billion in non handset revenue on the quarter. I mean, what great results.
So overall I want to try to leave a little bit here for you. I was only like three minutes. It was just really high paced and high energy. I'm getting a little tired here. But company looks really good. Guiding really well going forward. 5G is on fire. But more than anything what excites me is that Qualcomm is hedging itself. It's becoming really interesting and relevant and something that's not just handsets. And I think that's going to be really important for its long-term prospects.
Patrick Moorhead: Yeah, some other fill in the blank stuff that came in off the call that I thought was good was this automotive pipeline, right? So, as we've talked about before on this show, the pipeline to get into a car to production is within four to five years. I mean, companies like Tesla, it's not that long, but with traditional car vendors it is. And the design link pipeline is up to $10 billion, and most of that will be hitting in a couple years.
Daniel Newman: The other impressive thing that came out was on the 5G, the eight series. More than half of the smartphone design wins are using the eight series. So you can imagine the ASP compared to everywhere else. People think that, oh, it's Apple who owns the high end. Well, that's not true globally necessarily where, if you're going to be at the high end, you've got one chip choice and that's Qualcomm. So everybody is going over there.
And I never like to say there's no blemishes on somebody's quarter, but Qualcomm had about as perfect a quarter as possible. And if I'm going to itch, if I'm going to scratch something though, it's this IOT carve out. When I think of IOT, I'm thinking of industrial IOT and I'm thinking consumer IOT.
What Qualcomm has also put in here is computing chips for tablets and PCs and also edge networking. So I don't consider those a internet of things, but I think Qualcomm had to have a place to put this.
I'd like to see them carve out IOT in the traditional IOT sense or I'm afraid that IOT sector could lose its meaning in the future, right? Because Oberon's in there. PC parts for HP laptops are in the IOT section. But hey, if I'm going to pick on anything, I had to bring up something.
But with that said, a nearly perfect quarter. And typically you want to have the perfect quarter when you have a CEO leaving and a new CEO coming in, but this is a perfect quarter under the new CEO Cristiano. So congratulations to Cristiano and the entire crew there at Qualcomm.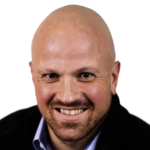 Daniel Newman is the Principal Analyst of Futurum Research and the CEO of Broadsuite Media Group. Living his life at the intersection of people and technology, Daniel works with the world's largest technology brands exploring Digital Transformation and how it is influencing the enterprise. Read Full Bio