Qualcomm Earnings & Samsung Deal
Qualcomm Earnings & Samsung Deal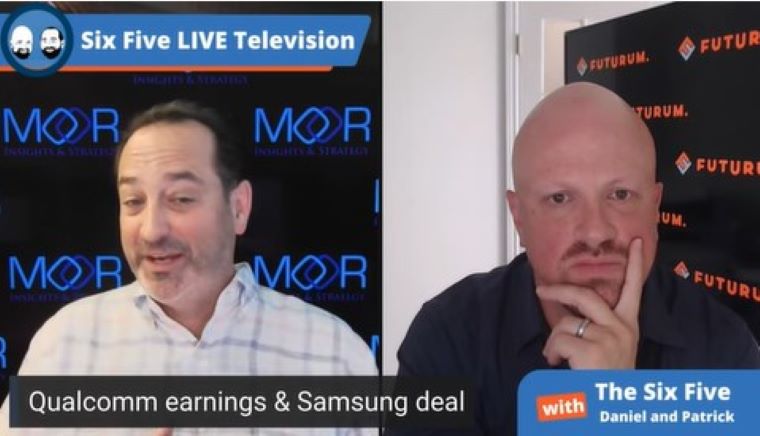 It's The Six Five team's favorite time of the quarter: Earnings Palooza! Hosts Daniel Newman and Patrick Moorhead discuss Qualcomm's latest earnings report.
Watch the clip here:
If you are interested in watching the full episode you can check it out here.
Disclaimer: The Six Five Webcast is for information and entertainment purposes only. Over the course of this webcast, we may talk about companies that are publicly traded and we may even reference that fact and their equity share price, but please do not take anything that we say as a recommendation about what you should do with your investment dollars. We are not investment advisors and we do not ask that you treat us as such.
Transcript:
Daniel Newman: Qualcomm. I mean just crushed.
Patrick Moorhead: It just absolutely crushed it. Man, I got a big smile on my face just because I love to see it. I mean, if you remember a few years ago, Qualcomm being on the ropes, right? They're going to be… Apple's not paying their bills, they're being sued by six of the largest antitrust groups on the planet, a hostile takeover from Broadcom. Did I miss something? I mean, it's just nuts.
So here we are. Qualcomm knocked the fricking cover off the ball, beat on the top plus 37%, beat on the bottom, 54%, insane, record auto and record IoT. Increased the auto pipeline by $3 billion to 19 billion that is larger than most technology companies out there. Revised guidance down, but 24% improvement in EPS with all that macro uncertainty put in there and the market pays all that success back by dropping their stock, which is just really, really sad.
Net net, premium Android strategy is winning, right? Even handsets were up what? 59%. Diversification play with two record revenue quarters inside of auto and IoT. And let me finalize with Samsung, right? The Samsung deal should have been an absolute Keystone for them. But I do understand that the institutional investors don't know how to change or revise their spreadsheet for a lot of the lack of information that publicly came out of that.
But the great part is as industry analysts, Daniel, we can take the shot. And so here's my interpretation of the deals. First of all, deal with two deals. First one was an IP deal, seven year IP 3G to 6G. Okay. So ending in 2030, 6G hasn't even been ratified yet, vote of confidence. And the second one, Snapdragon, Snapdragon premium everywhere at Samsung in products that have never seen it before like PC, like tablet, XR, wearables, and hearables.
So that plus 100% of galaxy S phones if they execute, which is up from 75%. Little bit of unknown about galaxy A. Is galaxy A premium? So Qualcomm has been in the galaxy A but they're not in it right now. It's Exynos and for a while, MediaTek was in there. So we don't know. We're going to have to see. Net net, institutional investors didn't know how to fill in their spreadsheets on the deal.
Daniel Newman: Well, so you hit a lot of it and I'm just going to reiterate it. I mean, look just a very, very good result. Even the revision down resetting still shows strong growth. You saw the automotive pipeline bump to $19 billion. This company's just on wind streak after wind streak and its whole modular approach to building the automobile. The future is definitely paying dividends. You're seeing the IoT business remain strong.
There's a company now that has all four of its businesses are over a billion a year, three of its four businesses now, not including licensing by the way are over and this is just in the QCT side, are well over a billion a year. And the handset business, which I know Cristiano wants to prove diversification and he has, but at the same time, it's been so successful that it keeps running away. This was a 59% growth quarter and where Qualcomm is really crushing it is at the top end.
At the premium tier, there's just no question. And that also has a lot to do with why the margin and it keeps growing too is when you can sell at the high end, that tends to always be a really, really great way to press your margins. That lower end stuff is great for volume and revenue, but not necessarily great for the bottom line.
The Samsung partnership was great. I see a great opportunity for it to push its ambitions. And you said hearables, wearables and then of course the connected PC business, which is something that we know is an opportunity right now for Qualcomm in particular, especially with all the things we just talked about on our last topic.
I guess probably not a great thing for Intel to have another strong competitor entering the fray, but with mobile devices becoming more ubiquitous from PC to handset, Qualcomm knows something about the handset and that part of our lives and maybe has something good to offer there. And we'll see if that becomes a bigger, more robust part of the business.
So basically the long and short Pat is the diversification strategy's working. The fact that Qualcomm basically taps into revenue on every single mobile handset on the planet that gets sold is not a bad deal for the company. That licensing business didn't grow a lot, but it's just steady Eddie.
And the fact that all the regulators for the moment are off the back has been a really good thing for the company to focus on growth, diversification, margin expansion, revenue expansion, and of course execution, which there's really very little to complain about here.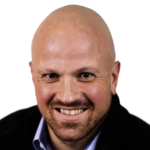 Daniel Newman is the Chief Analyst of Futurum Research and the CEO of The Futurum Group. Living his life at the intersection of people and technology, Daniel works with the world's largest technology brands exploring Digital Transformation and how it is influencing the enterprise. Read Full Bio