Qualcomm Announced it has Submitted an Offer to Acquire Veoneer
Qualcomm Announced it has Submitted an Offer to Acquire Veoneer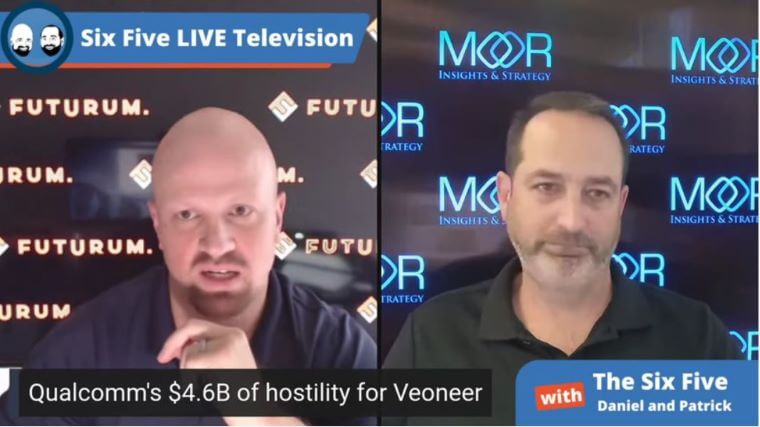 The Six Five team looks at the latest announcement out of Qualcomm for the offer to acquire Veoneer.
Watch the clip below:
If you are interested in watching the full episode you can check it out here.
Disclaimer: The Six Five Webcast is for information and entertainment purposes only. Over the course of this webcast, we may talk about companies that are publicly traded and we may even reference that fact and their equity share price, but please do not take anything that we say as a recommendation about what you should do with your investment dollars. We are not investment advisors and we do not ask that you treat us as such.
Transcript:
Daniel Newman: And speaking of autonomous, and ADAS, and what is going on here, let's talk about Qualcomm today, Pat.
Patrick Moorhead: Yeah.
Daniel Newman: So Qualcomm, they came out and made an unsolicited bid, 4.6 billion, 4.1 net, of debt for Veoneer. This was a kind of out-of-the-blue surprise to the market this morning, a letter that came out at, I believe it was about 8:00 AM Central Time, I think 6:00 AM Pacific, a $37 a share, all-cash transaction. But the fact is, is making an acquisition attempt isn't in itself what was interesting. What's most interesting about this was there's a Canadian-based tier 1 automotive supplier named Magna, publicly trading under the ticker "MGA," that had successfully made an offer. I think it was at $31 a share, I believe was the number, but don't hold me to that, and we're supposed to be acquiring Veoneer. So Qualcomm came right in, right underneath this Magna acquisition and said, "Hold up. We would like you to consider allowing us to acquire your company."
And so what it really comes down to is this, is Qualcomm at this point has a very comprehensive set of automotive capabilities. The business is around a quarter of a billion a quarter right now, in its most recent quarter, but it just recently had seen 83%, I believe, growth in the last quarter. And you've heard a multi-billion dollar pipeline that has been talked about from Cristiano Amon, now CEO, but he's been very passionate about this for a long time. If you know the Qualcomm portfolio, it's been more historically infotainment, telematics, and instrument cluster. What they haven't been able to really bring to market has been that full autonomous driver assistance system, or ADAS, that is really taking the market by storm.
This is what Tesla's doing. They're building their whole stack of Infotainment to ADAS. That's made them very competitive. And this is what the market, the more general automotive manufacturers and suppliers, want to be able to offer. They want to be able to compete.
Well, Qualcomm believes it is in a better position than a traditional tier 1 supplier to build, scale, work in the design pipeline, and deliver this full set of systems. So they came in at an 18% premium over Magna, made an offer. We don't know yet for sure if this deal is going to be accepted; it's looking very promising that it could go Qualcomm's way. And if it does, it's instantaneously put Qualcomm on the map in a much more expansive condition to compete, like I said, with Tesla and, of course, with Mobileye, with what is being done at Intel, and makes them more competitive with Nvidia because Nvidia tends to be more focused on the instrument cluster and infotainment side of the business.
It's going to be a very important acquisition that scales their TAM. It makes Qualcomm much more relevant. Pat, I'm sure you've got a lot to add here. But very impressive, very aggressive move. Going to be very interesting. I haven't heard what Magna has to say about this. They must be very unhappy with this. But for Cristiano, bold move. I think I said, what a showing of your ambition in the automotive space to come in, make a move like this, take a company that has interesting technology, not necessarily a household name, put it under your name, where you already have a multi-billion dollar design pipeline, and say, "We're going to expand the TAM, we're going to expand what we can do, and we're going to make it available to all the automotive providers. Pat, nothing left for you. Sorry. Let's keep going.
Patrick Moorhead: I don't know. No. I don't think Magna is very happy. And it's so funny, I always want to call them "Magnum," but I don't. And yeah, Magna can't be too happy. And Daniel, Qualcomm has quietly been rolling out their ADAS offerings. In fact, they've got a deal, a commitment, with General Motors, one of the largest automakers on the planet. And what they were doing from a software perspective is they were partnering with Veoneer. And what they were using is they were using a Veoneer offshoot called Arriver. So there's already a strategic alignment between Qualcomm and Veoneer already. And let me put up a slide real quick of how, Veoneer, how many cars they're in. And as you can see, it's crossed US, Europe, Japan, and China, but they have a very big backlog. They are a public company as well, and out of Sweden, I believe. I had never … Well, I had heard of them. I'd written about them up until now, but very few people actually talk about the company.
But this is a better deal, like you said. The strategic alignment makes a whole lot of sense. And I don't have the backstory on exactly what was going on here, and why Qualcomm didn't make the first move, but they are certainly making the second move with a very sweet deal that's going to be hard for Veoneer shareholders to say anything but, "Yes."
Daniel Newman: Yeah, I think they have some great color patent. And I think you made a great point about the existing partnership.
Essentially what has been offered in-market or discussed as ADAS from Qualcomm has really been Veoneer.
Patrick Moorhead: Yeah.
Daniel Newman: And you know why this could be so strategic, because this was a work in progress before this ever happened. So we'll have to come back to this but, just a pure guess, does the deal happen?
Patrick Moorhead: The deal happens. It's less strings. The only thing that isn't getting a lot of talk, and I don't know the emotional makeup of the Veoneer board that well, but Qualcomm was very clear in a statement that they were going to take the pieces that they needed for ADAS and sell the rest. So sometimes you have founders who get a little cranky about stuff like that. I'm just throwing it out there. I know nothing. I don't know the principles there. But I'm sure they're going to have to contemplate exactly what that means.
Daniel Newman: Yeah. Absolutely, Pat. Great point.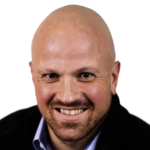 Daniel Newman is the Principal Analyst of Futurum Research and the CEO of Broadsuite Media Group. Living his life at the intersection of people and technology, Daniel works with the world's largest technology brands exploring Digital Transformation and how it is influencing the enterprise. Read Full Bio