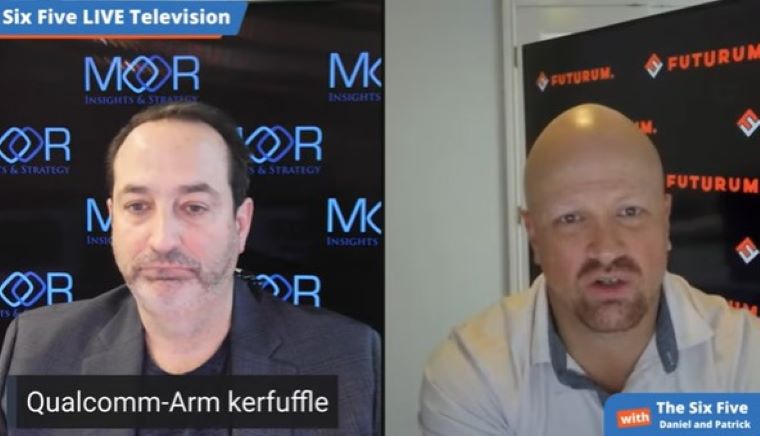 The Six Five team discusses the latest news between Qualcomm and Arm.
If you are interested in watching the full episode you can check it out here.
Disclaimer: The Six Five Webcast is for information and entertainment purposes only. Over the course of this webcast, we may talk about companies that are publicly traded and we may even reference that fact and their equity share price, but please do not take anything that we say as a recommendation about what you should do with your investment dollars. We are not investment advisors and we do not ask that you treat us as such.
Transcript:
Daniel Newman: Let's talk about a kerfuffle. I like that. There's a lot of different headlines out there Pat, This has been going on for a little while now so I don't know that there's a single news item here, but I guess for everybody that just kind of hasn't been paying attention, Arm is going after Qualcomm basically trying to force Qualcomm to destroy and stop the use of Nuvia designs that were derived from Arm's technology. Okay, this is what's happening. Effectively Qualcomm bought the Nuvia, Pat, I think you had some involvement and actually you know were tied into that because you were advising on both sides and what ended up happening now is Arm is calling a bunch of breach of license agreements and trademark infringement because the license kind of doesn't carry directly over through the acquisition.
And this is really interesting, Pat, this is too long for a speed round to really dig into too much but wanting to just put this out as a topic you and I may come back to. There's a lot of speculation as to why this is happening because you got to remember, I think Qualcomm is the second largest licensee. I think that's correct. I don't sell anything based on that opinion, but I think that's what it is Pat, and it's not just for obviously pc, which is the Nuvia business, but it's for the whole mobile business. This is creating a really interesting rift between two companies that actually have to work together very, very closely. With that in mind, there's some people that think it's payback 'cause obviously SoftBank, Arm and NVIDIA, well one of the loudest critics of the NVIDIA and Arm deal that really pushed against it happening was Qualcomm.
So now that Arm's in the process of trying to grow potentially to IPO, there's possibly some ill will about that. That could have come from SoftBank, it could have come from Arm and then another really interesting thing here is we've obviously seen a bit of a handshake in moving on agreement between Apple and Qualcomm. As Qualcomm has had to continue to provide Apple with technology. I say kind of because it's not like they want to but they have to. Is that fair? They can't seem to get it right so they kind of keep going back and nobody says no to Apple. But the number one licensee I believe is Apple and it is using tons and obviously helping build kind of what would be considered flagship future devices on Arm is Apple and Nuvia does have some cache, there's some threat, there's some perspective that they're going to build a PC that's going to be better than anything we've ever seen.
So right now Qualcomm on Arm is just early iterations of Arm technology, Windows on Arm, but what's supposed to come next could become somewhat scary for a company that has kind of always cornered the market on the ultra premium device. So that's a little more out there. I'm not saying there's no actual evidence that that's going on, but with these big licensees and agreements, we saw it with the Qualcomm Apple suit, we saw it with the FTC suit, the way these big companies insert themselves into these filings can be very interesting when they think it can give them some type of competitive advantage. Long and short, this could go on for quite a while and this could be a topic we'll be talking about a lot over the next few years.
Patrick Moorhead: I have stretched and pulled and looked under rocks trying to figure out how the two companies got here. Both companies are led by very rational people that I know very well and I'll be honest, I don't know who's driving this particularly at Arm or SoftBank, this could be a SoftBank move but what I know is that all companies have a right to protect their intellectual property and we see that at Qualcomm and we see that at Arm. If I had a guess, I think that I would say that it comes down to the licensing on the smartphone side was a huge part of Arm's growth and Arm sees the potential angle to not have this happen at the traditional Qualcomm prices but rather the Nuvia prices and move forward and they're taking a stand and so is Qualcomm.
From a future point of view with Arm-based PCs, this is going to be devastating if this doesn't get settled in the first quarter and OEMs who are leaning into Qualcomm Nuvia designs are going to bail. It's as simple as that. Qualcomm loses and Arm loses in the process because the one area Arm has not touched are those three, well 300 million, let's say, less 10 or 20 from Apple in the PC market and I don't think Arm is making a lot of money on that architectural license to Apple.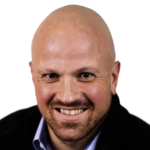 Daniel Newman is the Chief Analyst of Futurum Research and the CEO of The Futurum Group. Living his life at the intersection of people and technology, Daniel works with the world's largest technology brands exploring Digital Transformation and how it is influencing the enterprise. Read Full Bio