The Six Five team discusses Pure Storage's latest earnings.
If you are interested in watching the full episode you can check it out here.
Disclaimer: The Six Five Webcast is for information and entertainment purposes only. Over the course of this webcast, we may talk about companies that are publicly traded and we may even reference that fact and their equity share price, but please do not take anything that we say as a recommendation about what you should do with your investment dollars. We are not investment advisors and we ask that you do not treat us as such.
Transcript:
Daniel Newman: I had a crazy week. You work all day. The one thing we didn't talk about MWC, Pat, is you work US hours, meaning it's a 7:00 AM to 7:00 PM show, but then you eat on Southern European hours. They want dinners at 9:00 and 10:00. The other thing is, of course, earnings come out usually around 4:00 PM which means, in the US time for me, which means if I'm doing calls with the executives, I'm done at 10:00, 11:00, 12:00 at midnight. I talked to Charlie Giancarlo, CEO of Pure Storage that night and wow, what great optimism. Charlie's always a pretty, he's charismatic in his own right. But, quarter four growth, 14%, 26% growth in '22. While infrastructure was supposedly down, while companies are going to spend less on technology, while the company clearly has a moat.
That is both from the standpoint of giving customers flexibility, and, of course, as the flash storage continues to become more and more competitive with traditional storage, that's really what you're going to hear more about when we talk about FlashBlade//E. I'll leave that one for you, Pat, because I don't want to take everything out of this one. But, the growth across the business, really impressive. You had product growth. You had annual product growth. You also had subscription growth, really robust. Q4 subscription growth 23% and subscription services across the year, 30%, Pat. Another thing that was really impressive was the European and international revenue. It actually grew at five to six times faster than the US. And what does this mean? There's two things to this. One is it's FX related, the dollar has weakened, which gave everybody a tailwind after those crazy periods of FX for all tech companies.
But, the other thing it means is that these markets, where there is this higher level of austerity and this greater level of concern for recession, are seeing something like Pure Storage as a way to optimize their business. That is pretty interesting. All this subscription growth is also a great indicator that the Evergreen products from Pure are in high demand. For the market, there's another macro factor, and if you look at things like with the trend lines with generative AI, AI workloads, we're going to start to see the whole storage category become really interesting, Pat. We talked about this with Micron as it relates to memory. The other thing is all this data has to reside, has to be accessible, and it's not all going to be sitting in hot and warm environments. The opportunity for storage is going to have a renaissance, I think, in the coming year.
I think Pure is really well-positioned to take advantage of this renaissance. The company is seeing ARR growth in a substantial way. They're seeing customer net ads, nearly 500 this last quarter. The company now, it's claiming 58% of the Fortune 500. My one big takeaway from Charlie was, in the last quarter it was all about market-taking. He shared that with me. It stuck with me. The company is at a size where what it has is a percentage of overall market share, big opportunity to grow no matter what the market conditions are. This quarter though, I think the company's becoming increasingly confident in its ability to play in that mid-market and in that more traditional solid state storage space, that it's never, price-wise, been very competitive. Now all of a sudden, it's going to get competitive. I can't imagine that's going to be a bad thing for Pure Storage.
Pat Moorhead: Yeah, great comments. I'm going to hit on both earnings and FlashBlade//E. First of all, I think people were a little bit disappointed in the forecast when they put it out there. But once their peers, their competitors, went out, I think that they realized that it's a tough market now. I do think it was a conservative guide. Every time you think of generative AI and every time you think of NVIDIA driving business, there is a very high likelihood that it will be connected to a Pure system. They were one of the first, if not the first, optimized for these types of parallelized workloads that require just an absolute tremendous amount of performance but also sucking less power, as well. I think as you look at that too, if you look at all the unstructured data that comes along with, not only generative AI, but also the environmental impact that Pure's architecture provides, I'm feeling very good about the company right now.
FlashBlade//E – and listen, I have heard this every year for the last 25 years, well not the last 25 years, it was, hard drives are going to kill optical. But I've heard, at least for a decade, I think, that flash is going to kill hard drives. This very well could be. We're going to have to see this spinning disc folks and what they bring to the table. But, pricing below 20 cent per gigabytes is on par with spinning disc storage. And when you factor in the environmental and the reduced power draw that goes along with this, this is a very precarious position that the spinning disc folks are encountering but also a huge opportunity for Pure, as well. It's funny, we look at all the business and all the growth that Pure drives, but they're still only in 58% of the Fortune 500. There's another 42% they're not in, probably for various reasons. Maybe they don't need the high performance element. Maybe, they're just locked into one of Pure's competitor, but there is a long way to go to taking share, that you had mentioned.
So I see Pure as a market-maker and they're doing this with FlashBlade//E. At least according to your call with Charlie, and unfortunately I couldn't make my call with him, he is going into market-taking as well, taking market share. Anyways, good quarter, good opportunities for the company ahead, particularly related to generative AI and reducing that cost point on flash memory with FlashBlade//E.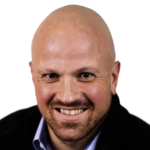 Daniel Newman is the Chief Analyst of Futurum Research and the CEO of The Futurum Group. Living his life at the intersection of people and technology, Daniel works with the world's largest technology brands exploring Digital Transformation and how it is influencing the enterprise. Read Full Bio