Poly Launches New Hybrid/Room Solution at Zoomtopia
Poly Launches New Hybrid/Room Solution at Zoomtopia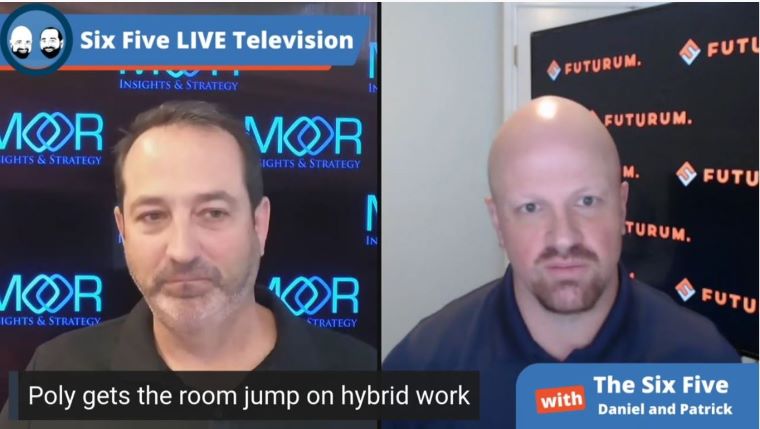 The Six Five team dives into Poly's announcement at Zoomtopia about their new hybrid/room solution.
Watch the clip here:
If you are interested in watching the full episode you can check it out here.
Disclaimer: The Six Five Webcast is for information and entertainment purposes only. Over the course of this webcast, we may talk about companies that are publicly traded and we may even reference that fact and their equity share price, but please do not take anything that we say as a recommendation about what you should do with your investment dollars. We are not investment advisors and we do not ask that you treat us as such.
Transcript:
Daniel Newman: Let's just back that up, Pat, with a little more Zoom, but not really Zoom and talk about the rooms, Poly, another company. You kind of mentioned Zoom is doing their own Whiteboard.
Zoom is doing… But also Zoom has built this kind of ecosystem with Neat, just made a big investment in the company. Poly, building lots of hardware, and we are going back albeit how slowly it is and painful from physical and not physical events.
We are going back. Some point we'll be back in physical event. We'll be back in our offices, Pat. And Poly is embracing this and building new solutions, which we're now discussing in Zoomtopia.
Patrick Moorhead: A little backing up. So Poly, there's essentially two different equipment strategies that are out there in the marketplace for rooms. One is a hardware that works with multiple kinds of services. Whether it's Google Meet, Teams, WebEx, Zoom, things like that. And there's PC-based solutions from folks like Dell and HP that allow you based on the call to shift between that.
And then you have, it's funny I can't even say the Cisco WebEx approach, which is fully unified and can't talk to anybody else because they just announced interoperability with Google Meet. Poly is different in that, first of all, it's Android based, but you can boot into different operating environments, specifically like Teams and also Zoom.
You can't do it on the fly yet, but I just call that out that Poly does have a very differentiated way of doing things. So they announced… Well, it's funny, their press release said they announced two new devices. They actually announced one new device and then they got the other device certified for Zoom.
And it's the e70 and the x70. Check these things out, they're super space age. So imagine you walk into a room and these devices have two cameras, multiple microphones, two 4K cameras, and the x70, which the larger unit has a big speaker. So the e70 is more for a smaller room or a bigger room where you have external speakers.
And the key here, the thing that I think is so cool here is they help enable a Zoom feature like gallery. So going back to work in hybrid is tough. One of the positives of everybody being remote is that there was equity, right? You had one person, regardless if you were VP or the junior wood chopper, you got the same size square.
Maybe a little different for teams that has big squares, little squares and stuff like that. But one square one person, and nobody was sucking up to the VP who was in the room that got the advantage of the person who was remote. So how do you equalize this stuff now? Well, what you have to do is if you're in the room, you have to slice up those videos of people.
So let's say you have four people in a room, x70 and the e70 will actually separate each person, which if you're remote, you get your own square. You don't get one square with four people in it that you can't even see what they're talking about. You can't even see what they're doing. Big differentiator.
And Daniel, you and I visited the offices under an NDA trip here in Austin to actually look at the x70, and we also saw it in action. And I don't think we're ending here, Daniel. I can absolutely envision rooms of the future future not having one of these devices in it, but multiple devices.
Because the challenge is if you have 27 people in this conference room, you're going to need a lot of cameras with a lot of capability, with a lot of AI to be able to go back and forth, zoom in on the person talking, move over. If two people are talking get a view of those two people talking, and then if you're remote, you get the view that everybody is in their own square.
So I think this could be the hidden boon for this industry, right? Because we're kind of taught to think one device, one room. How about five devices per room? Anyways, I'll leave the rest for you.
Daniel Newman: Thanks for barely covering that and giving me a lot of things to speak about. Pat, I want to talk about equity because equity is important. And what the future is going to be all about is making sure that everybody that participates in a meeting is not discriminated against for their location.
We are going to be in a world where we've already identified future of work means hiring the best talent regardless of their location. That means we're going to be embracing video in a bigger, more significant way. We've also entered a world where we know offices can shut down for extended periods of time and people will have to work in different places.
We also though know that people are productive when we get into rooms together and in the future, companies will bring people back together. This year has been an anomaly. This is not the norm, no matter how much people want it to be. In some cases it does make for great TV.
When you get people in a mix of conference rooms, board rooms, individual rooms, offices, Starbucks, coffee shops, driving in their vehicles, how do we make sure that everybody that's participating in the meeting is on equal footing? And I think that's really what this hardware story is all about. Building hardware that if you're in your car driving, great audio quality. You're connected.
It's not, can you hear me? Can you hear me? We need that kind of quality. That's going to be a combination of things like great headsets, connectivity. And then you've got all the way up to products like these, Pat, with the x70 and e70, where it's like, hey, we are in a room together, but actually we shouldn't be less important or focused on than the person who's by themselves with a single camera shot on them.
And that's really what Poly is looking at using its AI algorithms technologies to make sure that the audio is as clean for each individual in the room, that video can focus in on an individual person. And by the way, the experience for all people that aren't in the room needs to be not so choppy. All of the motion technologies of the past were very jerky.
You'd get nauseous and in a room with a lot of different people, meaning if you were trying to follow a meeting, it didn't work out. So Poly is one of the companies I certainly believe is at the forefront of trying to solve this problem, trying to solve what work will look like when we do in fact come back to a more normal state, but we have to start addressing that now.
We can't wait till it's normal again, until we're all back in the office again, because we don't really know when that'll be. And once we're there, that solution already needs to be in place. Pat, we've spent a lot of time on this one. It's good stuff. Time to move on to the next one.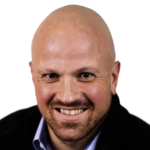 Daniel Newman is the Principal Analyst of Futurum Research and the CEO of Broadsuite Media Group. Living his life at the intersection of people and technology, Daniel works with the world's largest technology brands exploring Digital Transformation and how it is influencing the enterprise. Read Full Bio