Orange Selects Amdocs as the Monetization Engine for Its 5G Experimental Network
Orange Selects Amdocs as the Monetization Engine for Its 5G Experimental Network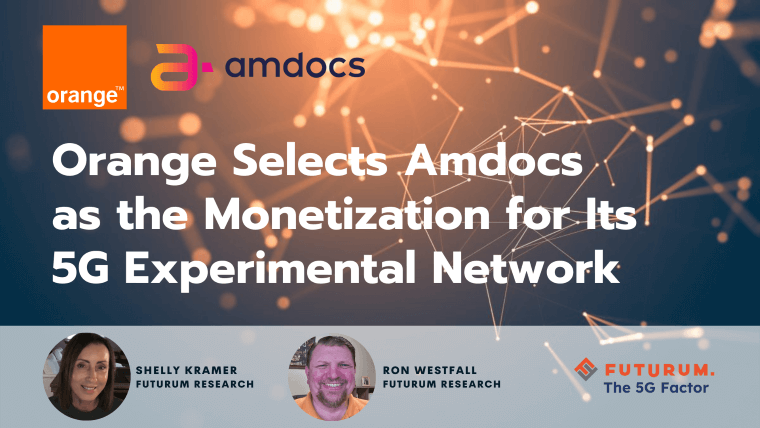 For this vignette of a recent episode of the Futurum Tech Webcast, part of the 5G Factor series, analysts Ron Westfall and Shelly Kramer examine Amdocs supplying the business support systems, including 5G monetization capabilities, for what Orange is touting as Europe's first 5G SA end-to-end experimental cloud network being built out in France.
Their discussion covered:
Why Orange promoting its 5G SA network development as an experimental cloud network is a shrewd marketing move that aligns with pragmatic expectations for 5G SA rollouts.
The expanding role of AI in assuring and accelerating the automation of business processes and operations in software-centric, cloud native environments.
With Orange targeting the support of hundreds of users by the end of 2021, it will become incumbent for the operator to produce lessons learned and viable use cases at the beginning of 2022.
How Amdocs gains a sizable marketing boost from its inclusion in Orange's multi-vendor implementation of the operator's experimental hybrid cloud 5G SA network.
Ron and Shelly view Orange's progress in rolling out its experimental 5G network as key to boosting its overall open 5G objectives, including Open RAN assimilation, and helping Europe keep pace with 5G SA deployments in North America, China, and Northeast Asia.
Watch the clip here:
Or grab the audio by way of your favorite streaming platform here:
Don't Miss An Episode – Subscribe Below:
Disclaimer: The Futurum Tech Webcast is for information and entertainment purposes only. Over the course of this webcast, we may talk about companies that are publicly traded and we may even reference that fact and their equity share price, but please do not take anything that we say as a recommendation about what you should do with your investment dollars. We are not investment advisors and we do not ask that you treat us as such.
Transcript:
Shelly Kramer: So we're going to kick off this show today and we're going to talk about the monetization of 5G networks and some news out of Amdocs that you're going to tell us about, Ron.
Ron Westfall: Right on. Yeah, first of all, Orange, and I'm not emphasizing Orange because I'm wearing an orange polo shirt-
Shelly Kramer: Yes, you are.
Ron Westfall: But because the French operator included Amdocs, when it's dubbing its experimental 5G standalone network.
Shelly Kramer: Yeah.
Ron Westfall: And that's really an important aspect here is that many of the 5G deployments, as we all understand and know, are what are called 5G non-standalone implementations.
Shelly Kramer: Right.
Ron Westfall: That is, combining 4G capabilities with new 5G capabilities, particularly the 4G core. And as a result, it's really a blending of two network architectures. And really what the operators are striving for is the 5G standalone implementation, pure 5G, if you will.
And so that really would be a tremendous breakthrough when those become mainstream because those are the cloud-native, software-driven, AI-powered networks that the operators require in order to do things like use case as a service, to deliver something like a virtual reality session on-demand, et cetera, and all the really cool things we've been talking about for a while. And it's been a little time coming in terms of having breakout applications with some of the early 5G deployments. This is really going to be that event horizon. Once the operators master 5G standalone, that will make a difference. And I think Orange made a shrewd marketing move by calling it an experimental network, because it is fundamentally a two-year project, first of all.
Shelly Kramer: Right.
Ron Westfall: And they're looking to have hundreds of users on this particular network by the end of this year.
Shelly Kramer: Right.
Ron Westfall: So I think it will be very incumbent on them to come out with some use cases lessons learned that can really make a difference in terms of driving 5G forward, certainly, within their network, but certainly in terms of Pan-European capabilities.
Shelly Kramer: Absolutely.
Ron Westfall: Keeping pace with what's happening in North America and China and Northeast Asia, et cetera. And I think a little foregrounding is helpful here because, at Mobile World Congress 2021, Orange came out with their experimental 5G standalone network proposition and included a variety of high-profile vendors right out of the gate.
Shelly Kramer: Right.
Ron Westfall: And that included Mavenir, HPE, Dell, Casa Systems, and Xiaomi. And now, with Amdocs onboard, this is actually really an important aspect here. It's like, "Yes, we really need all of the fundamental technology inner working."
Shelly Kramer: Right.
Ron Westfall: The 5G core, certainly, the Open RAN capabilities, which are integral to any 5G standalone implementation, but also making money off of it.
Shelly Kramer: Absolutely.
Ron Westfall: And this is where Amdocs steps in, this is-
Shelly Kramer: Yeah.
Ron Westfall: … their BSS portfolio, that's supporting these capabilities across a variety of traditional BSS functions and domains. And this is a feather in the cap for Amdocs because it's demonstrating, obviously, they have multi [inaudible].
Shelly Kramer: Right.
Ron Westfall: But also that their systems are ready for prime-time 5G capabilities, the ability to leverage, first-of-all, AI inputs, which are going to be essential for automation. The only way Orange or any other operator is going to be able to deliver a use case as a service on a mass scale, the level is through automation and that requires an AI engine. And it also requires a billing system that can monetize all these new capabilities in a rapid, agile, flexible fashion.
Shelly Kramer: Right.
Ron Westfall: And so this is really helpful for understanding how this can come together, because we're seeing, for example, Rakuten in Japan inching along. We're seeing DISH trying to come together with a purpose-built, cloud-native 5G network, and that will eventually reach a production phase. But again, there is this element of patience that is required to really see these things come together and have breakthroughs. And I think Orange is setting a pretty good example, pretty good realistic timetable expectations. And so this is, they're showing us, here are milestones to measure the progress in this regard, and Amdocs is going to have a major hand in this.
Shelly Kramer: Yeah. And I think, one other point is the Amdocs solution runs on Amazon Web Services, and that will be integrated into Orange's multi-vendor 5G networks in a hybrid cloud approach, of course, that makes sense. But one point that you made here, Ron, that I think is tremendously interesting is that they intend to have, Orange intends to have hundreds of users by the end of the year. It's September, I mean, that's, by the end of the year is quick. So it will be very interesting to watch this as it rolls out and what user adoption we see and they are not wasting any time on this. So it's exciting.
Ron Westfall: Oh, an excellent point, Shelly, yes. That the Amdocs solution is available through AWS. So this is again, emphasizing the cloud-native aspect here. And Amdocs-
Shelly Kramer: I think I just said that. I think I just said that, Ron.
Ron Westfall: Yes you did. And I'm saying that's an important point because, well, first of all, Amdocs has selected AWS as their preferred cloud partner.
Shelly Kramer: Right.
Ron Westfall: So that's important-
Shelly Kramer: Right.
Ron Westfall: But I think what's also going to be important for Orange is after working with AWS, I think they will ultimately need to work with multi-cloud partners.
Shelly Kramer: Absolutely.
Ron Westfall: For example, Azure is proving itself with AT&T. I think it's an inevitability because again, the operators are concerned about the age-old issue of vendor lock and-
Shelly Kramer: Absolutely.
Ron Westfall: They don't want to be captive to one cloud provider-
Shelly Kramer: As they should be.
Ron Westfall: So yeah, excellent point and definitely-
Shelly Kramer: Makes perfect sense.
Ron Westfall: … worth expounding on.
Shelly Kramer: Well, it'd be interesting to watch this, that's for sure.