Oracle Launches Industry Labs
Oracle Launches Industry Labs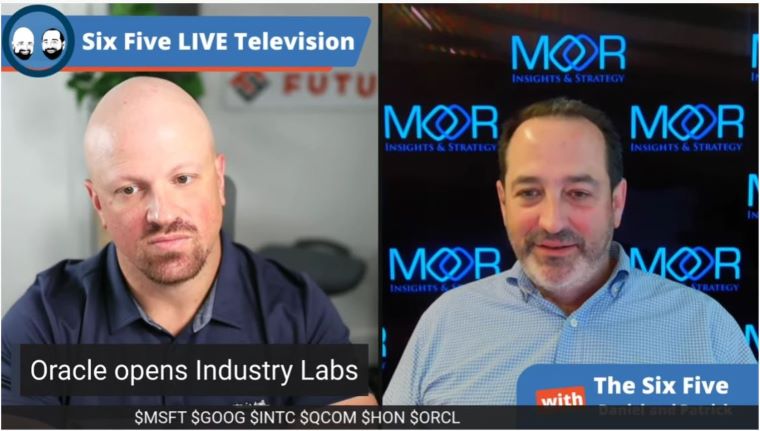 Oracle discusses Oracle launching Industry Labs.
Watch the clip here:
If you are interested in watching the full episode you can check it out here.
Disclaimer: The Six Five Webcast is for information and entertainment purposes only. Over the course of this webcast, we may talk about companies that are publicly traded and we may even reference that fact and their equity share price, but please do not take anything that we say as a recommendation about what you should do with your investment dollars. We are not investment advisors and we do not ask that you treat us as such.
Transcript:
Patrick Moorhead: You and I both attended an Oracle Industry lab grand opening in Chicago, a suburb Chicago called Deerfield, Illinois. I was completely, not properly dressed. I think it was 40 degrees as I was walking from the hotel to this pretty incredible center. So, a little bit of background in industry, right? Every big tech company and enterprise says that they're doing industry, and whether that's an industry cloud, industry software, or even industry specific endpoints, Oracle is already very strong in certain verticals for various reasons. They've been doing it for 20 years. Probably one of the biggest areas they have strength, is even retail. You go into most, you see that MICROS brand name, they actually own the electronic cash register or the electronic endpoint, and they have the software, and they have the infrastructure for everything to sit on.
But, this industry lab that we visited in Chicago… And stay tuned for a Six Five on the road, where we talked in depth and we've got some fun stuff to show. They really hit on, I would call the harder type of, kind of the brown field. So utilities, communications, construction, warehouse. Yeah, I think I repeated myself with manufacturing, but this center… And I visited a ton. I visited innovation centers from Cisco, innovation centers from HP, I've been to one from IBM. I've seen a lot of them, and I've worked at companies that had innovation centers, and the way that I like to segment these is into, you have innovation centers that are show pieces, that are more like demo centers, like EBC or something like that. Then, you have others that are a roll your sleeves up and actually get work done.
I challenged the director of this, and that was one of my biggest questions, Daniel if you recall, which was, "Hey, are you really doing work here?" And he pulled out his phone and he showed me a picture of what it looked like the week before, and then the layout for the week afterwards, and it's a completely cleared floor, which by the way, the floor is not cement. The floor is fricking gravel, okay? Which was interesting. But net, they bring customers in there, they co-innovate on end to end solutions for all the vertical markets. I forgot the public safety one, and then they get to work. I just thought that was super, super cool, and I think quite unique. And I think the other two… One was in London, I think the other one was in Australia, and I heard a hint that there might be one coming to Austin.
Daniel Newman: Well, I'll attend that one maybe, depending on traffic here, it's getting a little crazy these days.
Patrick Moorhead: Just fly a Honeywell drone.
Daniel Newman: A drone taxi. That wouldn't be so bad. Yeah, you know my impressions, Pat, we heard from the telecommunication space, the public safety space, we had, what was it? The third one, it was Telecom, it was public safety. Pat, what was number three?
Patrick Moorhead: Manufacturing.
Daniel Newman: Manufacturing, construction, but there was several others, we got to hear from some of the leaders of these businesses. Look, this is where the rubber meets the road. This is where the technology that we talk about every day. I mean, we had demonstrations in this of how high performance compute and GPUs are trading drones or vision systems, inside of major warehouses to be able to manage inventory or be able to identify gaps in the supply, so that they can automate the reordering systems to get more supply on order. This is the intelligence that sits behind all the benchmarking stuff that we like to talk about. This is what it's really all about, and that's why I like this, and Pat, it brings us back, it connects us to the industries, to the consumers. Not consumer, but consumers of these technologies, how it's being applied to help companies be more efficient, to be more productive, to deliver better results.
I think Oracle, sometimes the market doesn't fully appreciate the diversification of its business, right? It's got 74% or so, of its businesses recurring revenue, which is really robust. But, the other side of it is, they've got this huge portfolio of apps and they've built a really competitive cloud infrastructure, some world class database technologies, and then their whole application and experience stack, that they're really saying, "Come on in, tell us what your problem is, we will mock it up for you. This is not a demo center in the sense of, you're going to see what we offer for an industry. We're going to work with you, and then mock something up that's very specific to solving your particular problem."
I mean, I love that. That is literally the definition of being agile. So very cool, Pat. It's great to see my old hometown, way too cold, my skin is way too thin to go back. I did not miss it. I'm sorry, Chicago, great city for about two months a year. September's always nice, September's very nice. But in terms of those particular industries, Pat, that's where it's at. The industrial industries, telecommute, Chicago, Dallas, New York. That's where these things are happening. So one time, of course, great to see you. Sometimes we have to travel halfway around the country or the world to actually hang out, even though we live a couple blocks apart.
Patrick Moorhead: So, I have seen Spot, the Boston Dynamic's robot dog, in so many different places. By the way, if you ever wondered if Spot the dog rests, it actually does. I caught Spot taking a nap. He's not plugged in with that little dinky cord there, but it was funny looking over there and seeing him taking a little nap. But, we saw a Spot with LIDAR cameras being put on. We saw drones with LIDAR and visual systems. We saw helmets with millimeter wave to be able to track productivity and manage worker safety. This is real stuff happening, you and I have all seen the whole vision stuff, which you always have to have a vision before you get into reality. But like you said, the cool part about this is it was the real deal, like real stuff happening. So anyways, great show, man. We covered a lot, we had an Earnings Palooza, and I think we're going to have another one of these next month, and we also covered literally hard tech with Oracle, and even to a certain extent, Honeywell.
Daniel Newman: Yeah, it was a great show.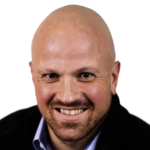 Daniel Newman is the Chief Analyst of Futurum Research and the CEO of The Futurum Group. Living his life at the intersection of people and technology, Daniel works with the world's largest technology brands exploring Digital Transformation and how it is influencing the enterprise. Read Full Bio