Oracle Cloud Infrastructure Announces Ampere A1 Compute Platform
Oracle Cloud Infrastructure Announces Ampere A1 Compute Platform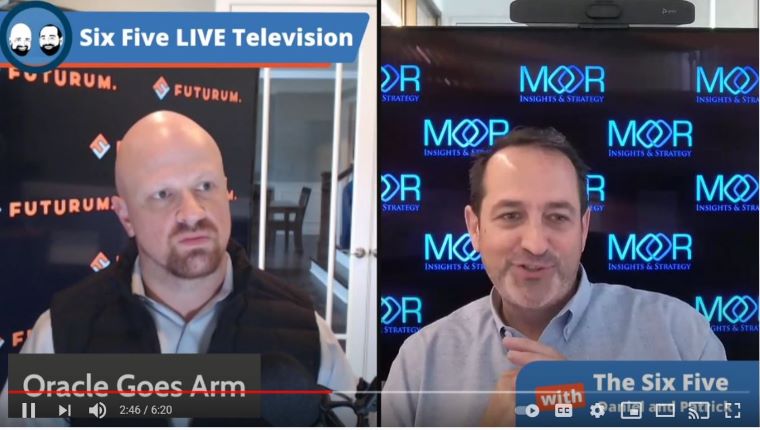 The Six Five team discusses the latest announcement from Oracle of their Ampere A1 Compute Platform.
Watch the clip here:
If you are interested in watching the full episode you can check it out here.
Disclaimer: The Six Five Webcast is for information and entertainment purposes only. Over the course of this podcast, we may talk about companies that are publicly traded and we may even reference that fact and their equity share price, but please do not take anything that we say as a recommendation about what you should do with your investment dollars. We are not investment advisors and we do not ask that you treat us as such.
Transcript:
Patrick Moorhead: With that, let's jump into Oracle is going ARM-based instances. Oracle, the company behind SPARC and has most of their cloud on Intel, or completely abandoning SPARC with this move.
But they opened general purpose ARM instances through a small company called Ampere. And the Ampere lineage goes way back to Applied Micro, which was acquired by MACOM, which was acquired by Ampere. Sprinkle on a bunch of ex-Intel executives and engineers, and here we have what I think is, Ampere to me is the first credible data center product that they've come out with.
It's a freaking beast. The thing has 80 cores. By the way, it's 80 cores of predictable performance, which is, it doesn't use hyper-threading. And that's really important to companies like Oracle Cloud and even AWS with them doing the Graviton2. Because hyper-threading is great, but it's not a one for one. You're not getting a core for free there. Sometimes you have what's called a noisy neighbor, where two instances are fighting each other.
The cool part, what Oracle did, is you can sign up for one core at its lowest level. And I absolutely love that. I also liked the way that Oracle has pulled in the security point of view from having dedicated cores. And I think price performance is going to be hard to beat right now. I don't feel like Oracle is just positioning this as a low-end play. This is, I would say, my gosh, it's going all the way from lower-end general purpose to really intense workloads that include AI inferencing and high-end scientific application support.
This, in addition to Graviton2, Daniel, from AWS, I feel like is the real proving ground for ARM and Cloud as general purpose. ARM has spent a decade inside of storage and inside of networking. And then, even inside of AWS's offload layer, Nitro. But this is the first big test … Two tests. One here, with Oracle. And the other one at AWS, I think, will make a huge determinant.
Now, the other thing I really like, that nobody's really talking about, is this is the first big enterprise play we're talking about here. Because you have Oracle workloads running on top, where normally for Graviton2 you're really looking at cloud native. I feel like this is one more checkbox for ARM, even though it's in Oracle Cloud. By the way, Oracle Cloud@Customer is on-prem, and its hybrid is the first big test for ARM in the enterprise.
Daniel Newman: Got it. Absolutely. Well, we'll share our op-ed. Ron Westfall from our team did a pretty explicit one. You covered a lot of ground. His take was that OCI is emphasizing that customers are going to build their virtual machines with more precision, and they're going to have more flexibility and be able to optimize their costs. That's the whole story that Oracle is telling now. Whether that's true, what I will say about that is that the overall perspective is that most Cloud providers are going to have an ARM offering.
It's either already happened, like you mentioned with AWS with Graviton. Ali Baba, Microsoft has already declared its intent. And if it hasn't, you look at Google, you look at now with Oracle doing it. There aren't a lot of Cloud providers left that aren't in this space. And I also think everybody's de-risking to some extent. They're de-risking, if this does take off. Pat, I'll tell you. All joking aside, even Apple going to ARM and M1 created some level of validation.
And I know we're talking PCs versus data center. It's not the same thing, but it's the fact that you start to see companies say, "We can do it. We can offer this variant. We can potentially use it to create ASICs that are really going to fit certain requirements." As we start to see things tied together with the separation of types of workload for general purpose or for a GPU. Of course, with all the advent and onset of DPUs in the data center, we're starting to see a lot more flexibility and how every semiconductor is designed and what workloads there for.
Oracle is going to participate, Pat. You and I have been on this show more than a few times saying essentially, "Don't count them out. Don't count Oracle out." It's Gen 2 Cloud is a whole different beast than it's Gen 1 Cloud, and it is more competitive. This is one example of the company saying, "Good on Oracle." I don't think x86 is in any trouble at the moment, but I do think having the ARM option is going to be a popular sentiment across the cloud providers over the coming couple of years.
Patrick Moorhead: Yeah, it will. And I'm waiting to see Intel's new design and architecture as well as they go modular, which will allow them to do more piece parts. It's like, "Hey, you don't want hyper-threading? Okay, here you go. Here's a core for that. You want a different I/O? Hey, we can do that. And we're going to put it together on Foveros, and that's not going to cost $27 million to take that thing out."
Anyways, chips are sexy, my friend. We've been saying it for a long time.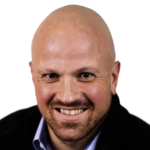 Daniel Newman is the Chief Analyst of Futurum Research and the CEO of The Futurum Group. Living his life at the intersection of people and technology, Daniel works with the world's largest technology brands exploring Digital Transformation and how it is influencing the enterprise. Read Full Bio