Oracle Announces the New Platform Oracle Fusion Marketing
Oracle Announces the New Platform Oracle Fusion Marketing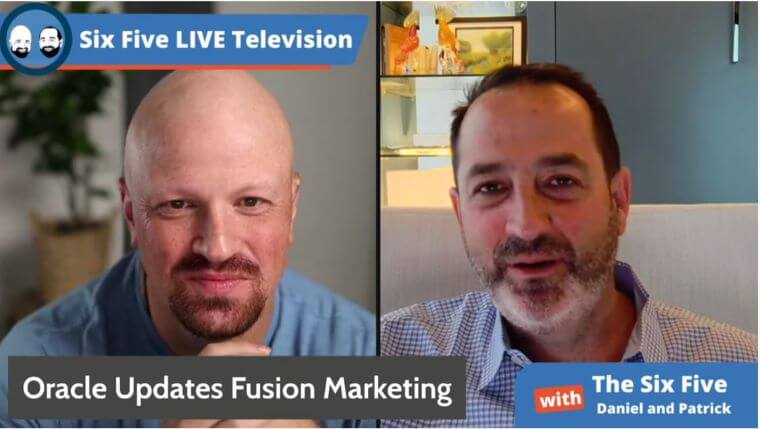 The Six Five team dives into the Oracle announcement of the new platform, Oracle Fusion Marketing.
Watch the clip here:
If you are interested in watching the full episode you can check it out here.
Disclaimer: The Six Five Webcast is for information and entertainment purposes only. Over the course of this webcast, we may talk about companies that are publicly traded and we may even reference that fact and their equity share price, but please do not take anything that we say as a recommendation about what you should do with your investment dollars. We are not investment advisors and we do not ask that you treat us as such.
Transcript:
Patrick Moorhead: Let's do a complete 180 and get into some SAS marketing. Oracle had it's what, I think is along the lines of a monthly Oracle live, which is their platform. They rolled out Larry for this and anytime they roll out Larry Ellison, you know it's got to be big or maybe just because it was right in front of Salesforce's Dreamforce.
Daniel Newman: Yeah. We'll come back to that, won't we. So yeah, last week, early in the week, right ahead of basically the beginning of Dreamforce, Oracle announced some updates to its Oracle fusion marketing. And as you said, Pat, the company has become extremely disciplined in regular cadence of announcements. And I think that's important when you're addressing a market of SAS, the agility, the fluidity of the updates. That's what it's all about. When a company is going to make the investment in a platform, they want to make the investment in a platform that they know is going to continuously be updated, changed, modified, and usable. So this update to fusion marketing, which is part of their advertising and CX platform was really all about improving the ability for companies to generate leads and move deals, which if you're an enterprise, this is important.
I mean, selling, right? So as you said, it's a little different than a consumer launch, it was important. And Larry did show up. What I take away from this is essentially the company is really upping its game. It's upping its consistency. It's delivering a more comprehensive slate of tools and solutions to address the complexity of marketing stack. You and I had the chance to get pre-briefed. I think we had a very interesting interaction with the product team. We were pressing. We pressed because obviously if you've ever looked at a diagram of the marketing stack, it feels like infinite number of tools across every part, whether that's social integration, data, data visualization. Of course, you've got the lead generation component of it. You've got AI and ML, you've got real-time experience capturing and data. And then of course you have CRM and legacy systems of record data.
And then you have a choice, are you building full stack, which is really, are you going with one company and you're kind of doing a top to bottom marketing offering or are you looking at bringing together best of breed? And so we were sort of challenging all those different things. What I really took away, Pat, is that Oracle's new launch is about having a solution that marketing in any organization, enterprise B2B, B2C, B2B2C, different go-to-market approaches can utilize the top to bottom Oracle stack to deliver its marketing needs. Concurrently though, we pressed on the other end is what about companies that have investments in other platforms? Is Oracle being built and designed to be able to be integrated with those other platforms? And it turns out that the company is really doing a good job of kind of walking that line of being able to address both things.
The updates for this really focused on automation, the ability to create campaigns, streamline the execution, working really across marketing, advertising and sales, which by the way, these three groups have to work together symbiotically, but tools and technologies don't always actually enable that. The other thing is AI. We want to and need to hear more. And so this is something that is being baked in, is more AI intelligence, improvements in the integration with CRM platforms. And by the way, that's could be Oracle CRM platform. And that could be other CRM platform. But my take on the whole thing was it was a step forward. It wasn't what I would call a blow your mind set of announcements. It was an improvement that is meeting real needs of companies' everyday business, which is generating more business, more leads, more opportunities, and implementing the technology required to do that.
Like I said, the only other thing I mentioned, Pat, and I'd mentioned it one more time is I believe it's genuinely important that companies are building stacks that can be horizontal, vertical, and that are open-minded to the technical debt that companies have in terms of investments in other stacks, tools, data, to be able to integrate it and get the most use out of it possible. Like I said, I think we'll probably have this as a Six Five topic once every couple of months, because it seems like that's the fluid nature of how Oracle is making announcements, but they're making little improvements each and every month to the platform. This time, it was about CX and advertising. And like I said, a good set of announcements to help companies deliver better, generate more leads and hopefully more sales.
Patrick Moorhead: Those are great insights, my friend, as usual. So I'm going to go a little bit of a different direction on how I looked at this. And that was a strategical way. What I think Oracle did. And you know, when you're a big SAS company and you have end to end offerings, it's going to be very hard to claim best of breed. And there's two different ways you can do this. You can stitch together a bunch of sales, CX, advertising, marketing, and you can stitch them together, or you can go with the full package. And as I've seen, as you've seen over the past 25 years, it's like an accordion, right? The industry goes from best-in-breed to packages and it goes back and forth. And I think strategically Oracle's strategy is spot on, right? They're not going to be able to say, "Hey, we're best in breed on this."
What they're going for is simplification, right? Let's just say there's 10 different packages that you would have to stitch together to call best-in-breed, to be able to do what Oracle marketing is doing here. And a lot of times … And listen, I manage a very large marketing budget and that was top of the funnel all the way down to the bottom of the funnel, and marketing likes to have fiefdoms, and marketing folks in a certain … let's say it's the demand gen folks, they find a vendor that they love. They fall in love with them. They get kudos for bringing in a new vendor, but what they don't fully look at is that they're causing, potentially causing chaos, and even potentially lack of security because the data is floating all over the place.
And I think the organization that picks Oracle marketing is first of all, it's going to be the CMO. It's not going to be the person, the marketing person at the bottom of the funnel or the marketing person at the top of the funnel, it's going to be a, listen. It is too complex. You're using 10% of the features that from these, quote unquote, best in breed stitched together. And I think Oracle has a chance to win off of it. Right? And let's just be clear, they're going up against the beast who's been doing, started off with CRM back in 1999. So, they have a lot of seats. They've got a lot of history. They've got a lot of folks out there. We're going to hit them later. But that was my biggest takeaway is just the strategic nailing the strategy. And given the reason to believe why customers would want to pick Oracle over stitching together some best of breed. And I didn't even get into the whole front office, back office thing, but obviously another advantage when you go Oracle.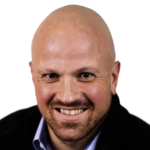 Daniel Newman is the Principal Analyst of Futurum Research and the CEO of Broadsuite Media Group. Living his life at the intersection of people and technology, Daniel works with the world's largest technology brands exploring Digital Transformation and how it is influencing the enterprise. Read Full Bio