Oracle Announces the Availability of the Oracle X9M Platforms
Oracle Announces the Availability of the Oracle X9M Platforms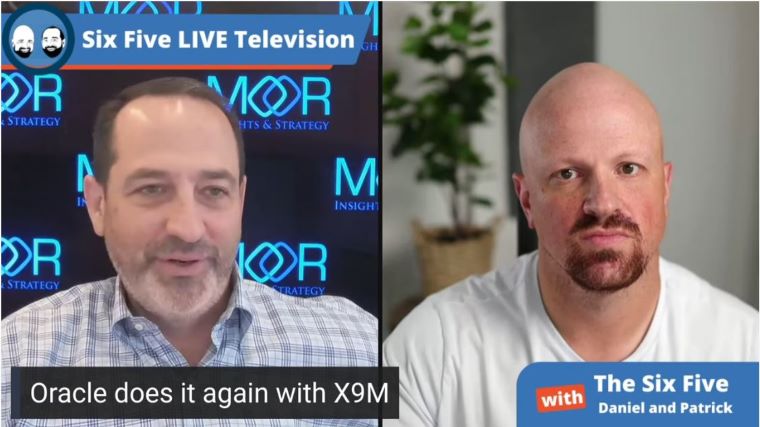 The Six Five team discusses Oracle's announcement of the Oracle XM9 Platforms.
Watch the clip here:
If you are interested in watching the full episode you can check it out here.
Disclaimer: The Six Five Webcast is for information and entertainment purposes only. Over the course of this webcast, we may talk about companies that are publicly traded and we may even reference that fact and their equity share price, but please do not take anything that we say as a recommendation about what you should do with your investment dollars. We are not investment advisors and we do not ask that you treat us as such.
Transcript:
Daniel Newman: Okay, let's dive in, pal. We got a busy week, some really kind of product-focused things on the front end of this show, and as we get further to the back, some big thematic things. We'll end with a big M&A story, but Oracle X9M launch. You, as always, wrote a great piece, as did Ron Westfall from our team, but since you wrote this great piece, why don't you tell the people what they need to know?
Patrick Moorhead: Well, first off, I need to be honest here. I didn't write this piece. Steve wrote this piece, but I published it for him and edited it, but no, I am very familiar with this. If you're not familiar with Exadata, essentially, it's database appliance. It has processing, it has memory, it has storage, but it is designed to run Oracle's software the best and, specifically, Oracle Autonomous Database or Oracle Database as fast as you possibly can. This is a follow up as you would expect to the X8M, which already had pretty incredible performance, and this was an update providing substantially more performance.
It is really all about raw performance, upgrading. They're using PCI U4, Rocky, 33% higher memory capacity, and at least according to Oracle, one terabyte per second of throughput. What does that mean? For SQL read IOPS per rack, I know you wanted to know this Daniel, 27.6… 27.6 billion. I had to look down at my notes there. What does that mean? Well, Autonomous Database and Oracle run pretty much faster than anything out there. You compare it to Snowflake, you compare it Azure and it pretty much runs right over it.
By the way, I'm okay to say that. I usually like to not to do competitive comparisons, but it's what you would expect. I mean, it's architected for this type of software and a lot of it's in memory, and that's a big, freaking deal. Being in memory versus being in storage. With 87% I think of the Fortune 500, I'm sorry, Fortune 100 that already opting Exadata, that's primarily for mission-critical type of workloads. This is likely going to be an easy drop in. The first way you can get this is through Cloud@Customer, which is their hybrid cloud on-prem, but I'm expecting very shortly that this will be available in their public cloud just like we saw the staggered launch with the X8M. Congratulations, Oracle.
Daniel Newman: Yeah, absolutely. They launch their nomenclature or the product naming reminds me of a vehicle. I'm thinking BMW is going to come out with a bigger truck, the X9M. If anyone knows anything about the BMW and the XM series, these are really fast, powerless trips. Oracle definitely with this launch continues to focus on kind of this three-headed fast OLTP, fast analytics, and consolidation. Partnered with Intel, something worth noting. It's Ice Lake technology, and the company is really becoming pretty effective when it comes to winning against really big competition in the three areas of latency, throughput, and cost.
Anyone that knows Pat and I and have followed us, you've kind of seen us go 180 on Oracle. If you had asked us two years, I called Oracle a cloud for timber. Pat, you and I really were, not fans of Gen 1. We weren't fans of the things that were being built, and we have been convinced. That has been something that these last two generations have continue do. These X8M was very impressive, and the X9 only continued to the run of form, and as you mentioned, we try to typically focus on the company, not the competition. Right now, in the marketplace as Oracle tries to stand out and differentiate where it's winning in cloud and hybrid cloud, this has been an area that the company is doing very well.
I'm going to keep moving, but a very successful launch worth noting. Pay attention. Oracle is on a very, very good run of form.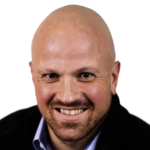 Daniel Newman is the Principal Analyst of Futurum Research and the CEO of Broadsuite Media Group. Living his life at the intersection of people and technology, Daniel works with the world's largest technology brands exploring Digital Transformation and how it is influencing the enterprise. Read Full Bio