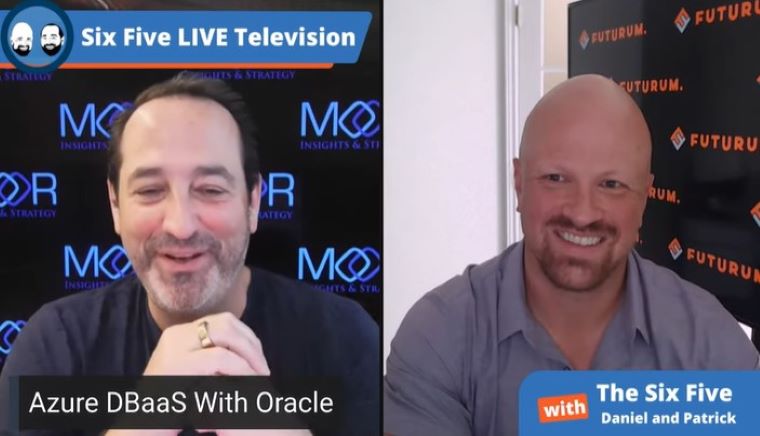 The Six Five team discusses Oracle and Azure's DBaaS.
Watch the clip here:
Disclaimer: The Six Five Webcast is for information and entertainment purposes only. Over the course of this webcast, we may talk about companies that are publicly traded and we may even reference that fact and their equity share price, but please do not take anything that we say as a recommendation about what you should do with your investment dollars. We are not investment advisors and we do not ask that you treat us as such.
Transcript:
Patrick Moorhead: One of the other bigger announcements they made at Inspire was they partnered with Oracle on basically Oracle database as a service, which you could be running an Azure application that was hitting an Oracle database, essentially a turnkey multi-cloud capability. They're doing peering high performance networking. So you're not necessarily experiencing that lag, but there's literally Oracle infrastructure inside of the Azure cloud, which I think is pretty cool.
Daniel Newman: Swear to goodness, Pat, we have the same brain because I legitimately had that up on my screen and was going to say, can we do a quick Seven, Five? Can we maybe not do the full five here? But by the way, I love seeing that the press release was Austin, Texas, and Redmond, Washington. But Pat, I think the thing here too, is that this is a story in which multi-cloud, this is a true example of the power of multi-cloud of if you kind of look at how these things can work together, it doesn't require extraordinary expertise on both platforms it's designed for simple integration. I've read some of the comments from Clay Magouyrk, this SVP of that business he basically said and it's an acknowledgement by the way that this public to multi thing is a real deal, that effectively, they talked about clients like AT&T and Marriott, just some of the world's biggest companies that they want both because they're running Oracle database and they're running workloads in Azure.
And basically these companies coming together and saying, let's solve this, let's solve this for our customers. Let's make this more accessible. Let's make this simpler to deploy. And so I was impressed by that. I was almost going to figure out how to fit this in as one of the six, but there was just so much news this week. It was just one of those busy, busy weeks.
Patrick Moorhead: Yeah, it was. And it's interesting. And I don't know if you've been getting hints out there in the industry, but birdies are whispering into my ears, "Hey, check out the new Gartner MQ, where there'll be more of focus on multi-cloud." So here we are, man.
Daniel Newman: Gartner, Gartner.
Patrick Moorhead: Gartner. Yeah, I know.
Daniel Newman: I've heard of them.
Patrick Moorhead: It's so funny. Somebody asked me if, "Hey, do you have a subscription there?" I'm like, "Are you crazy?" Short answer is no, but Daniel, I think we're going to see a lot more communications about multicloud in the future. And once again, I think our two companies are in the lead in talking about that. I mean six years ago, we were talking hybrid cloud and some companies were saying it's not real and it's not valuable. And here we are today, multicloud: is it important? Is it not important? I think we're going to have a lot to talk about. We both acknowledge that multicloud is hard, with you need a data fabric, you need a security fabric. You need a, yeah, networking security and data fabric to pull it off seamlessly. But when you look at deals like this, and then you talk, well, you look at what Walmart did, where it's arbitrating between three clouds and they built their own DevOps layer between it all gets pretty interesting.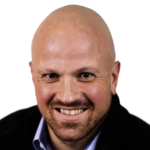 Daniel Newman is the Chief Analyst of Futurum Research and the CEO of The Futurum Group. Living his life at the intersection of people and technology, Daniel works with the world's largest technology brands exploring Digital Transformation and how it is influencing the enterprise. Read Full Bio