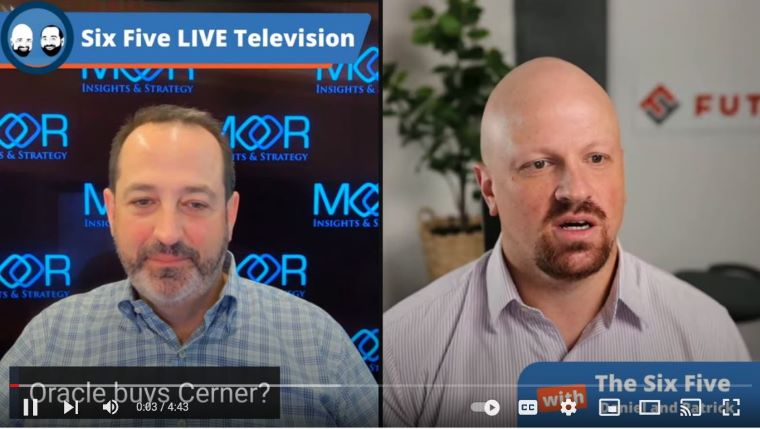 The Six Five team dives into the news of Oracle acquiring Cerner.
Watch the clip here:
If you are interested in watching the full episode you can check it out here.
Disclaimer: The Six Five Webcast is for information and entertainment purposes only. Over the course of this webcast, we may talk about companies that are publicly traded and we may even reference that fact and their equity share price, but please do not take anything that we say as a recommendation about what you should do with your investment dollars. We are not investment advisors and we do not ask that you treat us as such.
Transcript:
Daniel Newman: Oracle, some big news broke about their potentially buying Cerner. Both of us were quoted in a number of articles about this. You know, look, Oracle is absolutely a company on fire. In our last episode, we talked about their earnings. The stock has been one of the most robust as tech as been absolutely slaughtered over the last month and a half. Oracle is going up and that's because they're somewhere between a growth and an exciting tech play, but they're also a value play. They have a dividend. They do a lot of buybacks. They have a robust recurring revenue. They make profit. Their growth is fairly stable. They're old, but they're also new.
The idea of them entering more deeply into healthcare with a $30 billion acquisition of Cerner is a pretty interesting potential play for this company. This is a cited in The Wall Street Journal that they are far along in this potential deal at 30 billion. This would be the largest deal that the company has done. It would usurp the $10 billion PeopleSoft $9 billion NetSuite deal, and it would also be at a fairly significant premium somewhere around 25 to 30% over the $23 billion current valuation.
Now, Cerner's an interesting company. It's currently led by David Feinberg. David Feinberg came over as Google Cloud's Healthcare Chief, so he was really the one that was building out that industry. If you know about Google, the company's been very focused on vertically-focused, industry-focused cloud solutions, healthcare being one of the. As I see it, the healthcare industry is highly fragmented. You've got technologies like Cerner, like Epic that have long been noncompatible in many ways with centralized cloud. We all know the need for our healthcare technologies to be more integrated, to work more like every other application on the planet, but there's tons of complexity with that with data sovereignty, privacy, regulatory, HIPAA.
The idea of having a company like Oracle with its database capabilities but also its cloud infrastructure capabilities and growing SaaS capabilities to possibly be able to build something out that could be more robust and usable in the healthcare space seems like a pretty attractive way for the company to spend money, add revenue, and become an absolute pillar of a major industry that's got growth side in any economic situation. As I see it, a pretty exciting opportunity, Pat. I'll let you fill in the gaps.
Patrick Moorhead: Yeah. The way that I'd like… My first reaction was, first off, Oracle's done an incredible job on its horizontal enterprise SaaS applications, and whether that's Fusion or NetSuite, is really focused on a certain area like human resources, marketing, sales, operations, and finance. That's the way that they look at it. Sure, there are some tailor-made solutions for some verticals like Oracle really leans into the carrier market, folks like Verizon, people like that, but this to me is very vertical. You connect their horizontal capabilities with Fusion and NetSuite to the vertical capabilities that a Cerner would provide, it gets really interesting. I'm wondering if this we will see Oracle gobble up vertical key folks, key enablers?
I was on the board for 10 years and I was Chair for five years in Austin's really revered hospital, St. David's Medical Center downtown. I will tell you that this type of technology is the backbone of what they do. I mean, it's pretty much all wrapped around that in a very similar way that a manufacturer might be wrapped around an SAP or an Oracle, a database, something like that. I'm wondering if we're going to see Oracle, which by the way, saw their market cap fricking explode when they made their big cloud announcement, if we'll see more, but man, Oracle's on a roll.
Daniel Newman: By the way, did you see the announcement yesterday about Xerox? Xerox's not exactly the coolest. sexiest brand anymore, but I think they kind of committed to being all-in on Oracle as well. Not a bad win. If you're over 60, you're going to really appreciate that deal, but in all serious, just a lot of people, like I said, kind of shrugged the company off, but it's been a really great year overall for Oracle.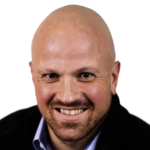 Daniel Newman is the Principal Analyst of Futurum Research and the CEO of Broadsuite Media Group. Living his life at the intersection of people and technology, Daniel works with the world's largest technology brands exploring Digital Transformation and how it is influencing the enterprise. Read Full Bio