NVIDIA Trying Hard to Get Gaming Cards to Gamers
NVIDIA Trying Hard to Get Gaming Cards to Gamers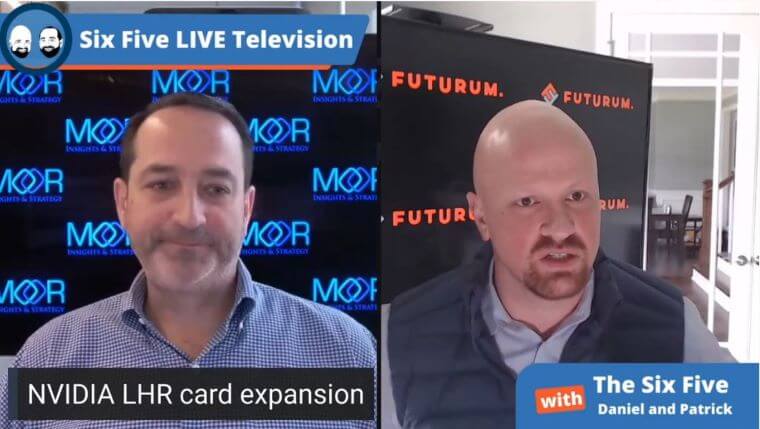 This Six Five team discusses how NVIDIA doubles down on improving the supply for gamers by introducing three 'Light Hash Rate' cards.
Watch the clip here:
If you are interested in watching the full episode you can check it out here.
Disclaimer: The Six Five Webcast is for information and entertainment purposes only. Over the course of this podcast, we may talk about companies that are publicly traded and we may even reference that fact and their equity share price, but please do not take anything that we say as a recommendation about what you should do with your investment dollars. We are not investment advisors and we do not ask that you treat us as such.
Transcript:
Daniel Newman: NVIDIA had some big news. By the way, they had some huge news today on a stock split. I don't know if you saw that, but yeah, that just kind of popped this morning, but they had some big news. You wrote a piece about it for them, because what do people talk about on our favorite business channel CNBC right now? We talk about cryptocurrency and we talk about semiconductors and so nothing better than a segment on our podcast where we can talk about cryptocurrency and semiconductors with NVIDIA's new LHR card update, Pat. Great piece on that. What's going on?
Patrick Moorhead: Big picture, if you are a gamer and you're looking for a gaming card, you are SOL, as my dad would always say. That's because the prices are up to two, sometimes three times more expensive than the retail price. It's insane. And you can't even get the higher end cards. Now is the challenge, the TSMC and Samsung can't crank out enough chips? Not really. The challenge is that the demand for those gaming cards is being chewed up by Ethereum crypto miners. Bitcoin miners are on ASICs, companies like Bitmain dominate that with full up ASICs, used to be GPUs by the way, used to be CPUs before that. But from an Ethereum point of view, it's all about GPUs and there's a couple ways that both AMD and NVIDIA tried to combat that. Trying to have antibot technology at the point of sale. None of that has worked.
The free market has actually worked. What NVIDIA is doing to combat this is twofold. First of all, back in February, they brought a directed line of cards, just for Ethereum mining, called CMP. And that is a real business. NVIDIA CFO on the last financial disclosure talked about that business, which was zero a few months ago, getting to a $150 million. Hey, it doesn't touch the size of the graphics cards, which is in the tens of billions, but it still means there is demand for that.
The second thing they did back in February, this was kind of a trial run is they did the 30/60. They reduced the hash rate by 50%. Not big enough, didn't really prove much out there. I can't say whether that that was a success or not, but what NVIDIA did is they added the RTX 3080, 37 and 3060 Ti to the reduced hash rate. And they have a moniker that's on the packaging and at the point of sale called LHR or lite hash rate, which means a 50% reduction. All this means is another opportunity for more gamers to get gaming cards, as opposed to crypto miners.
The things I'm going to be looking for Daniel are, is the driver hacked? Nothing is unhackable, as we've seen. The strongest government, DHS and military get hacked, there is nothing that's unhackable. It's all about how much time and resources that you want to get into doing it. But you know what? At least NVIDIA is doing something about it, they're doing something. I was so shocked at how much grief they were getting out there and I just don't understand it. At least they're trying and I don't know any other way, any other solution. Intel created an entire product line for Ethereum cryptominers and they have a limited hash rate product line. Anyways, I appreciate what NVIDIA is doing for gamers.
Daniel Newman: Yeah, Pat. I think you hit it on the head. Clearly the company understands that these are two markets that require demarcation and separation and segmentation. The crypto boom is currently addressing and definitely impacting resource availability to a very loyal and huge segment of NVIDIA's business and NVIDIA not addressing it would have been a pretty big risk factor. Clever what's going on there. And by the way, great insight. I don't think everybody fully understands. I know I had to do a little research on my own to understand the impact of the hash rates and how NVIDIA could intelligently wind down the cards to be useful for particular applications and not for others. It'll be interesting by the way, to see if the Ethereum boom on GPUs continues, we saw what happened with Bitcoin and over time, how it moved from a GPU to ASIC. And it will be pretty interesting to watch to see there.
Some big news from NVIDIA addressing a huge part of its market. By the way, another company that is reporting next week, expect that. Even speculation Pat, by the way, with their split. And I know I love this financial stuff. And since we're talking about it. And we're actually on time today. And since we're doing that, I will mention this though. There is speculation that NVIDIA could be added to the Dow 30 component, but if they are, they will likely be replacing one of Intel IBM or Cisco. This could be very interesting, but after the split, because of its price being at 150, the weighting it would have would make it a very likely addition, especially since its market cap is now surpassed all of the companies I just named.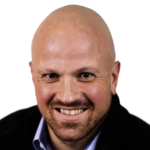 Daniel Newman is the Principal Analyst of Futurum Research and the CEO of Broadsuite Media Group. Living his life at the intersection of people and technology, Daniel works with the world's largest technology brands exploring Digital Transformation and how it is influencing the enterprise. Read Full Bio