NVIDIA/Siemens Partnership
NVIDIA/Siemens Partnership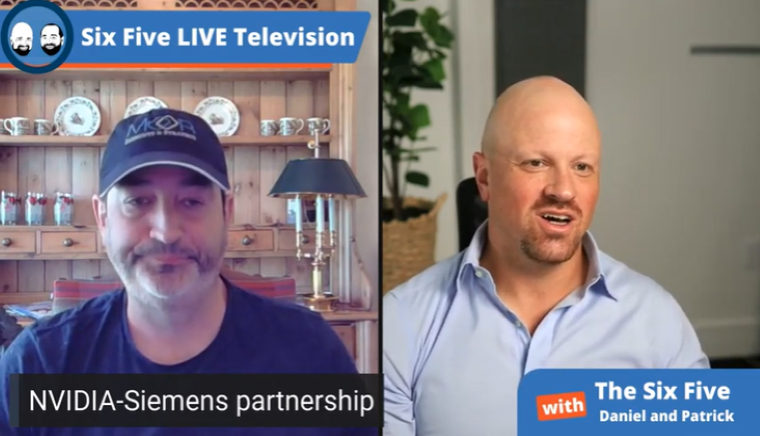 The Six Five team discusses the NVIDIA/Siemens partnership.
Watch the clip here:
If you are interested in watching the full episode you can check it out here.
Disclaimer: The Six Five Webcast is for information and entertainment purposes only. Over the course of this webcast, we may talk about companies that are publicly traded and we may even reference that fact and their equity share price, but please do not take anything that we say as a recommendation about what you should do with your investment dollars. We are not investment advisors and we do not ask that you treat us as such.
Transcript:
Daniel Newman: This is one of those where it's an interesting and fun ITOT collaboration. We've heard a lot about this over the last several years. It's moved at is somewhat rigorous pace, but to some extent, I think ITOT is still continued to flail a little bit, and I think these kinds of partnerships are important. So you got NVIDIA, which is building this metaverse or, quote unquote, omniverse technology, which is an enabler technology for companies to build digital twins, a synthetic replicate data in digital environments that you can basically build buildings, drive vehicles, test your bicycles and other hardware products using NVIDIA's virtual simulation software. But companies like Siemens, they're the ones doing this stuff, Pat. So these are the companies that are legitimately working side by side with some of the heaviest and most complex industrial environments to digitalize them.
We talk about things like the zero downtime. We talk about things like factories of the future. It is companies like Siemens. You hear us often talk about Honeywell. It's companies like that. These are the companies that are actually working side by side with the manufacturers and energy companies to actually build future destinations for utilizing data and technology. And so the partnership is, I would say, Pat, it's not like, holy cow, they're taking their technology and blending it together and creating some amazing digital twin technology. What it really seems to be is it's an enabler platform that's being partnered up on. And Siemens is building an accelerator platform really under the guise that companies aren't moving fast enough. That's my take on it. I've had a chance to talk to Siemens about this. Not necessarily moving fast enough in the direction of getting their industry four full digital environment up and running, and that the enablement is going to be a differentiator.
So making these technologies work together through this accelerator platform, through having an ecosystem environment, what Siemens is basically doing is it's encouraging the customers that are going to benefit from this type of transformation to be able to get access to the tools, the training, the technology, to be able to implement tech like NVIDIA's omni verse platform. Largely, Pat, I guess I'll just say this. I believe the digital twin, the synthetic autonomous replicated environments that you'll hear Jensen talk about a lot at NVIDIA are going to be critical. We need to be able to basically create, emulate and understand environments before we physically construct them. That could be all kinds of different things, but that's going to be the future. And by the way, that is going to be the portal to a metaversial future, is that we actually know that things that we're creating in these digital worlds, in these physical worlds are completely safe, they're tested, they're understood. That the data that's being replicated, like I said, it's symbiotic if you ask me.
Sometimes announcements like these are much more like here's the product, they've built a widget box, and this is what you're going to do together. I think right now they're more saying, this is a really great example of when IT traditional data center technologies marries companies that are at the Edge, building robotics and factories and healthcare machines, and how we put this together, get the data, and make it sensible, utilized, and put it into place at a faster speed to enable, Pat, faster digital transformation, because that's important. And we need to digitally transform our businesses. Just steps. I call it baby steps, but a good partnership between two companies that aren't really trying to speed along the digitalization of heavy industries.
Patrick Moorhead: Oh, I know. I mean, we do all this analog transformation right now, and we really do need to move it to digital. No, I'm just kidding.
Daniel Newman: It's all connected by coax, Pat.
Patrick Moorhead: Well, it is. And I mean, but if you connect the front end of the back end, I mean, you solve a lot of problems, though. No, just kidding audience. No, listen, this is a couple things going on here. So first of all, when it comes to the metaverse, really there's maybe one or two use cases that make sense. This whole notion of VR with training at this point, and the second is the digital twin. It just makes sense. When you have industrial tech companies like Siemens, who really don't have the resources to do some of the deep tech required, if you can't build it you have to partner. And I'm actually surprised this didn't happen quicker. But to be very clear on what they're doing, Siemens is connecting their accelerator partner ecosystem to the NVIDIA Omniverse.
So this is Siemens being part and buying into the NVIDIA Omniverse, which it is a huge one. When I think of companies, industrial tech, like Siemens, like Honeywell, they need to be doing things like this. Is this a big announcement? Maybe, but see, the metaverse is not about big home runs. I mean, the metaverse, I think, is about chipping away and finding use cases that make sense for companies to either make more money or reduce costs. And this, a digital twin, is a huge requirement, I think, for the industrial IOT. And I like to think of digital twins as having a man in the middle type of thing. Daniel Newman, you have to wonder if the robots, or the bots, or the machines were running it they wouldn't need a digital twin. Digital twin is because as humans, we have to see if a physical manifestation of something, even though we might be a thousand miles away. But anyways, these are kind of the things that I think about.
Daniel Newman: It's also, Pat, the kind of stuff that can bubble up in a quieter part of the tech world, in a quieter period in our tech world, because this is cool stuff that probably wouldn't normally bubble up to the height because of how much tech is going on, but in the July, August month sometimes we get to cover some different, cool, smaller changes that are going on in the market.
Patrick Moorhead: Have you ever thought about the metaverse though? Sorry, the digital twin as really this crutch between going all machines? Humans are the only ones who need the digital twin, right? Or am I looking at it wrong? So for instance, I'm managing a building a thousand miles away. I can zoom in, I can see everything in their physical sense, as I understand it. It almost seems like a crutch in a way, before the machines would take something over. But what do you think?
Daniel Newman: Well, I mean, if you look at how deep learning and neural networks work, eventually the building should, much like a rack of servers in the data center, with proper training eventually they start to learn how to cure certain things that are going on. It starts off, we're writing scripts, and then the machine learns and understands that when this happens, do this. And it's as simple as, like you said, air conditioning, the way it works. As silly as it is, Pat, the building learns. You teach it a behavior, it gets smarter, keeps learning. And what I'm saying is, it's like, oh, it's too warm. You know what I mean?
Patrick Moorhead: It took about 20 years to go to a lights out data center. When I was at AMD back in 2006, we were Google's number one supplier of microprocessors. And they had at that point only about 30 humans per data center. And here we are in 2022. So yeah, maybe it's a matter of time, but I kind of think this digital twin thing is just a man in the middle crutch until we-
Daniel Newman: I think it's fascinating though. Like I said, I think of it more from like a technology development, like the car of the future. How can you build it? We're gear heads, right? How can you build it, and drive it, and experience it in this completely replicated, like you create the city of Austin in a digital twin, then you design the car, and then you have the car just driving around. I mean, you can have everything. I mean, in the future, everything down to the pothole on Caesar Chavez to understand what the dynamics of the suspension. I mean, it's kind of cool, Pat. I mean, I do understand the crutch, but I also think it's kind of cool. Maybe we could be digital twin and someone could write some of this research for me.
Patrick Moorhead: I totally get it. By the way, the latest airplanes that are out there, commercial airplanes don't actually need a windshield, but we feel better when there are humans there to do that. So, Daniel-
Daniel Newman: I mean, we don't need a pilot, right?
Patrick Moorhead: Well, no, they actually don't need a windshield. I mean, they need a pilot. Well, technically we don't need pilots if you truly use the next generation of electronics out there, but we just feel better by having a man in the middle. Or a woman, by the way. I guess a person in the middle.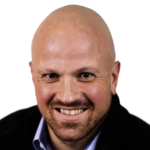 Daniel Newman is the Principal Analyst of Futurum Research and the CEO of Broadsuite Media Group. Living his life at the intersection of people and technology, Daniel works with the world's largest technology brands exploring Digital Transformation and how it is influencing the enterprise. Read Full Bio