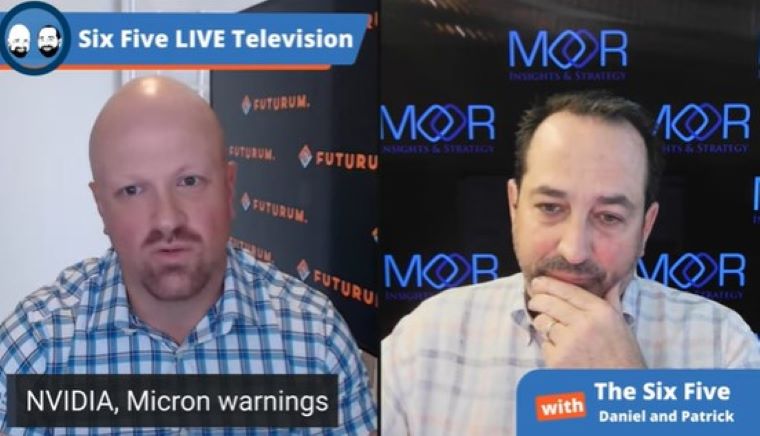 The Six Five team discusses NVIDIA and Micron warnings.
Watch the clip here:
If you are interested in watching the full episode you can check it out here.
Disclaimer: The Six Five Webcast is for information and entertainment purposes only. Over the course of this webcast, we may talk about companies that are publicly traded and we may even reference that fact and their equity share price, but please do not take anything that we say as a recommendation about what you should do with your investment dollars. We are not investment advisors and we do not ask that you treat us as such.
Transcript:
Daniel Newman: We're going to kind of keep the thread going here momentarily about Micron and NVIDIA, and Pat was just worth noting, so you and I have been pretty bullish throughout this conversation about the overall enterprise technology space, but we've called out the PC space a little bit, but there was a few warnings that came out this week that maybe brought some concern to what's going on in the entire chip space.
Now, while markets are rallying, the NASDAQs up 20% and possibly coming out of market. CPIs down, PPIs down, everybody thinks the world's good again. Well, Micron CEO, Sanjay Mehrotra came out and said that, "Ooh, we're not just seeing slowing in PC memory. We're seeing slowing in all memory, IOT, automotive, data center, which could mean weaker results." Even though last quarter, their results in the data center held them up pretty strongly.
And then on another note, NVIDIA came out and bombed. I mean, for NVIDIA, this was absolutely the bomb. I mean 6.7 billion versus 8.1. They came out two weeks early to basically let everybody know that this is going to be bad. Which is you got to remember, this is a company that's come over record after record after record result, huge growth, high double digits, sometimes triple in data centering and gaming. And so, off the top, really quickly about gaming. That's what they put as the big miss. I think everybody is speculating that it's not really gaming because there's some indicators in, we've talked to some of our manufacturers that are actually saying gaming is still somewhat strong, but what happens when you flood, I don't know the number Pat, but thousands, millions of GPUs into the market that are no longer being used for crypto mining and you make them available. I think that might slow down the demand.
We saw this in Best Buy's numbers because Best Buy had a rough quarter and the stuff all starts to tie together. This is a supply chain thread of what the real world looks like when you couldn't get the GPUs for a long time. Now you can get them. And it went from completely unavailable to widely available. I don't know how much we'll hear about the realities of crypto and the mining business during this crypto, winter and its impact on NVIDIA but I think it's bigger than it's being indicated here, Pat.
Of course gaming may have slowed down with other discretionary. Now on the other note, data center is only set to grow 1% sequentially, but it is still 61% year over year. So the data center's not as big of a problem, it looks like it's okay. But the overall growth of gaming was kind of shocking.
But the note from Arocha is probably more shocking than the rest of it because they had such a great quarter then the previous one. There was such a resiliency and strength. We heard from things like Lattice. We heard from AMD that had great results. And so it's kind of been interesting to watch this bifurcation between smartphone seemed to be holding up. PCs seem to be down. Gaming, it's not quite clear after a quarter. Enterprise, you got companies that are kind of looking strong. The Cloud seems robust so the pullback seems small, but some companies aren't growing as fast in the data center as others. So you're kind of seeing this bifurcation that's going on and what I've ultimately has come clear is it's really unclear what's going to happen for semiconductors going forward.
But what I will say and I stick to my concept deflationary tech will rule. Companies will keep spending in the data center. They're going to spend to reduce head count. They're going to spend to make processes more efficient. That means Cloud, SAS, Enterprise, Edge, AI. Consumer is more tepid, more volatile. That's all I can say about that. But I do think the top end premium products based on what TSM, Qualcomm and Apple have reported are going to do better just like vehicles, top end vehicles. People keep buying them because guess what? Rich people are rich in every single economy pack. So I'm going to pause there, but that is what's going on with the warnings.
Patrick Moorhead: Yeah. So Omnicom I mean, listen, they're ahead of Samsung and KIOXIA with technology. They're not as large from a fab point of view, but long term there's going to be demand and being first to market with technologies like 232 layer NAND is a big fricking deal. And then on NVIDIA, listen, I do believe that gaming is down a little bit. There's so many things going on in gaming. Gaming is down a little bit from pandemic. We're not just in our houses, but the second part is there hasn't been a major title that has swung people around the room and that is what gets people to upgrade graphics. The third thing is NVIDIA is about to lay in their next generation architecture. My guess is that it's going to be announced at GTC. So you have some inventory stuff going on.
The fourth thing is that every other coin except for Ethereum and Bitcoin, Ethereum 2 and Bitcoin is done on GPUs. I don't think this has any regard for the long term viability of the company or the long term viability of gaming as a market. It's going to get a lot cleaner. I think we've probably got, NVIDIA probably has two quarters of inventory needs to burn through. And at that point, the new 4,000 series is going to be out. NVIDIA, sorry AMD is going to be out with their new one and Intel will probably be taken down a few notches. My guess, below that $400 point. So nobody panic, nothing has structurally changed with NVIDIA or Micron.
Daniel Newman: I made NVIDIA my recommendation when I went on Squawk last time. I still recommend it. I'm not saying it's bad. I'm just saying this is the normalization process, Pat.
Patrick Moorhead: It's down to the reasonable price too.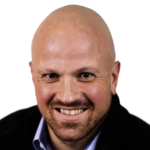 Daniel Newman is the Principal Analyst of Futurum Research and the CEO of Broadsuite Media Group. Living his life at the intersection of people and technology, Daniel works with the world's largest technology brands exploring Digital Transformation and how it is influencing the enterprise. Read Full Bio