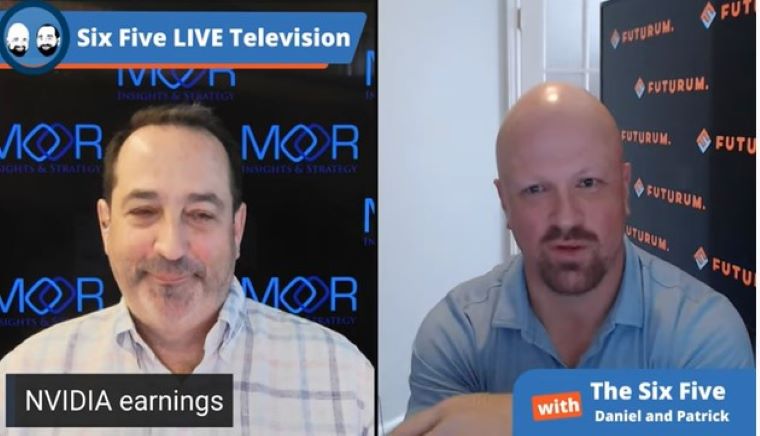 The Six Five team dives into the latest NVIDIA Earnings.
Watch the clip here:
If you are interested in watching the full episode you can check it out here.
Disclaimer: The Six Five Webcast is for information and entertainment purposes only. Over the course of this webcast, we may talk about companies that are publicly traded and we may even reference that fact and their equity share price, but please do not take anything that we say as a recommendation about what you should do with your investment dollars. We are not investment advisors and we do not ask that you treat us as such.
Transcript:
Daniel Newman: So NVIDIA earnings was kind of like a… It was almost a muted moment because we've kind of known for two weeks this was going to be a bit of a piñata. And the market almost forgot. It was like, "Oh my gosh, look how bad NVIDIA's result was." And then it was like, "Well, guys, two weeks ago." So anyways, dig in. Give me the scoop there.
Patrick Moorhead: No. I mean, I really couldn't believe some of the headlines, and some of the press's headlines and articles are actually machine-generated. And the only reason I know that is because you look at the bottom and it says, "Machine-generated by Zacks," or something like that. But these were real journalists who were writing about this. Again, they hadn't put out a warning three weeks beforehand. So there were really no surprises other than, I think, there were some verbalizations out there on crypto which I think spooked a lot of people.
All I'm going to do is talk about gaming and I'm going to leave the rest for you. Doesn't mean I don't want you to talk about gaming, but it's a very complex thing. Right? There's a lot of things going on with this gaming number that by the way was down 33% after growing, I think, for nine straight quarters.
Daniel Newman: And I think they were all records, Pat.
Patrick Moorhead: Yeah. Yeah. Exactly. So first of all, you have no new AAA titles that are really driving new card purchases. Okay? That's one impact. The other impact was the crypto cash, and I've always known that… By the way, anything that's not Ethereum and Bitcoin is likely done on GPU. So the other 200 coins you can buy out there on Coinbase are done on GPUs, and until we get to Ethereum 2.0, those are done on GPUs as well, but NVIDIA put in some special sauce into their driver that apparently drives those hash rates down. But anyways, crypto crashed and people are doing less mining, and therefore they don't need GPUs as much to do that.
Next impact. Company currently has the 3000 series of GeForce GPUs. I believe that we're going to have a hard transition to the 4000 series by the end of the year, and they got to clear inventory. Next impact, COVID impact. We used to all be sitting at our homes, and a lot of people, all they were doing was playing games, which was a motivation to have even better games, and we had stimulus checks that we know people went out. Some people bought iPhones. Some people bought PCs, but a lot of people bought GPU cards. So that's gone.
So this is not a simple scenario. None of this, to me, changes the fundamentals of, PC gaming is growing, not as fast as a rate as it was during COVID, but people are not sitting at home. Second of all, I don't think that NVIDIA is in any less of a competitive position. They still have 80% market share for discrete GPU cards, and I don't expect, with NVIDIA's new cards and AMD's new cards coming out, that AMD is going to make some sort of black-and-white, 10-point or 20-point share shift. So I think they're still looking good.
Daniel Newman: Yeah. First of all, I think that was a really good breakdown on what's going on in gaming. I think the one thing that you said that I would maybe just reiterate is the fact that the crypto/gaming relationship is much more interdependent than everybody wants to believe. So we've seen NVIDIA changing its product. I think it's the CMP that it's going to be rolling out. But right now, that's a very small amount of revenue that's going into another bucket.
But up to this point, they haven't really 100% been tracking which GPUs have been going for crypto and which have been going for gaming. But we're in the middle of a crypto winter. Crypto is down 60, 70, 80%. And the migration of people that were staying at home from work on free payroll from subsidies that were just becoming crypto miners are now maybe doing different things. Now they're getting their student loans forgiven, or whatever they're doing instead of crypto mining, and that means less GPUs.
You also ended up with a flood of GPUs that are going to enter the market, both secondhand. And of course, as inventories and supply chains relax even a little bit, that means there's going to be more availability. It's going to drive the elasticity down. It's going to make prices go down, which both price elasticity and availability are going to impact the market. Until that cycle of availability got dumped and the market sells through that next batch of big-volume sales to the OEMs and to its partners, NVIDIA could slow down for a period of time.
The areas I like though, and I went on record a few times saying this, is the trend lines, the secular trends. We're in the first two innings, three innings of AI. It is on an enterprise level, 61% growth in the data center. Another great quarter. By the way, the company is still larger than it was a year ago. So I just want to point that out. Even with this terrible result, you have a company that, yes, has been growing at 60%, trading at 80-plus forward earnings, which you can't valuate a company when you have Intel trading at eight.
If the growth slows to single digits, there's going to have to be a major earnings compression. But I think this was a quarter about normalization and resetting expectations. I think Jensen saw his opportunity. Let's tear the Band-Aid off. Let's get this influx of inventory out of the market. Let's get the next generation of cards out. Let's get our products for crypto in place.
Let's keep pushing forward with AI. We'll get our next generation there. And by the way, we've got the metaverse, which nobody else has the complete product stack that NVIDIA has to help develop. So for the Facebooks and Microsofts, all these companies are developing for the metaverse.
Right now, NVIDIA is the golden goose with the Omniverse platform, which hasn't fully even started to see the buying cycle there. And then the last point that I have to say, Pat, is automotive grew. So talk about a silver lining. That figure has been garbage for the last six, eight quarters. It has been flat to negative every quarter. You've been hearing Qualcomm and Intel and Luminar and all these companies coming out with win after win after win. It looks like NVIDIA is getting traction in China. You saw this quarter, it has some serious relationships being amped up with Chinese EV makers, and let's not look at that as a bad thing. There's a ton of volume to come out of China, and it seems that NVIDIA is finding its legs with its new DRIVE Orin with the Chinese automakers. Big volume, big opportunity.
Of course, I would like to see more growth in the US with the automakers that I'm buying from, but it's a super competitive market, and that hasn't gone as well. But Pat, I mean, it was a big growth number. Of course, it's a small overall number, so no one really talked about it. But I think I heard a guy… I don't tend to comment on other analysts, but this was a financial guy. A guy from Loop Capital said something along the lines that he thinks that it's possible that NVIDIA could get up to 30% of its revenue from automotive. I mean, again, I'm not-
Patrick Moorhead: Interesting.
Daniel Newman: What's that?
Patrick Moorhead: Interesting.
Daniel Newman: And my point is, is they… And right now, it's like 3%. And so, that has a little bit to do with the fact that the automotive BOM moving from where it's at to 20% of every vehicle by 2030. Even if NVIDIA is the third player in overall, there's probably a 10x potential for growth. I haven't done that formula yet, so don't hold me accountable. I'm just saying there's a big growth opportunity there, and that hasn't been an area they've capitalized on. So outside of gaming, not all that bad, Pat, and some good secular tailwinds in their favor.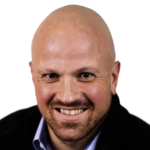 Daniel Newman is the Principal Analyst of Futurum Research and the CEO of Broadsuite Media Group. Living his life at the intersection of people and technology, Daniel works with the world's largest technology brands exploring Digital Transformation and how it is influencing the enterprise. Read Full Bio