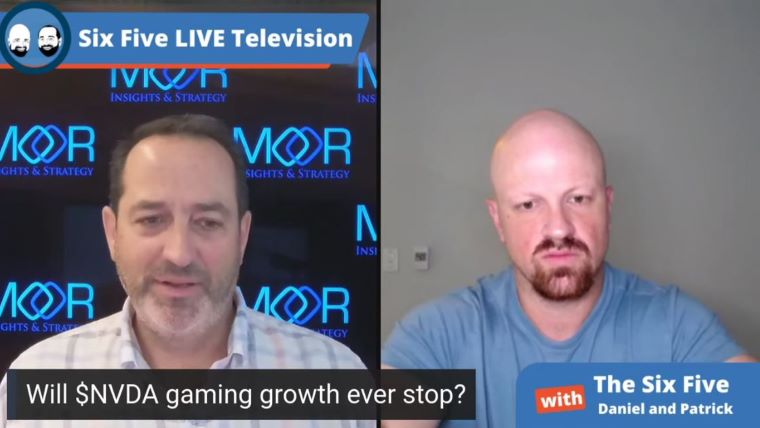 This Six Five team discuss the latest earnings report from NVIDIA.
Watch the clip here:
If you are interested in watching the full episode you can check it out here.
Disclaimer: The Six Five Webcast is for information and entertainment purposes only. Over the course of this webcast, we may talk about companies that are publicly traded and we may even reference that fact and their equity share price, but please do not take anything that we say as a recommendation about what you should do with your investment dollars. We are not investment advisors and we do not ask that you treat us as such.
Transcript:
Daniel Newman: Pat, I'm going to hand the mic to you. You're going to talk about NVIDIA earnings and NVIDIA gaming growth. And I'm going to talk about some other NVIDIA stuff when you're done. So just leave a little bit of air for me to breathe.
Patrick Moorhead: I feel like we're repeating ourselves every quarter on NVIDIA. They kicked butt on top line, gross margin, net income, and EPS. Revenue was up 68%, but I want to focus on gaming. Gaming was up 85%, which is just insane. And the meme for a long time, and I totally get the meme because it was deserved because when we went through the cryptocurrency bust, NVIDIA had been saying very similar stuff that, Hey, we believe that most of this is gaming. But one factoid that came out that impressed me was that 80% of Ampere, and Ampere is the latest and greatest with ray tracing architecture, is the low hash rate. And essentially, NVIDIA came out with low hash rate, essentially crippled it for doing Ethereum mining.
So if 80% is LHR, you have to assume that at least 80% of Ampere number, which is this gaming number, is real gaming. And that's the only way that I can look at it. Now, NVIDIA, I think so it doesn't get sued and it's conservative is telling people, well, we actually can't tell you what's gaming and what's not. And I appreciate this, but I stand back and I am absolutely amazed. This market, PC gaming market is accelerating, Daniel. And I could originally attach this to COVID, which was, we can't go outside so we're going to sit inside and play games, but more people are opening up, yet NVIDIA keeps cranking out record numbers for gaming. So gaming is hot, dude. And it is not a transitory thing. And for what it's worth, this could also have a positive effect on the overall PC numbers. And while yeah, you can buy a PCI express card and throw it into your gaming rig. A lot of people, to match that up with the right processor and memory should be a boon to every semiconductor space that's in gaming PC. So kicking butt. And we're going to have to see what AMD does. I mean, where's AMD in all this? Where's their knock it out of the park graphics numbers?
Daniel Newman: Yeah, I don't think they're going to have them because NVIDIA is busy taking all the meat off the bone. It's a very bare chicken out there for everybody else that's hungry. But good for Jen-Hsun, good quarter, Pat. I'll stick off the gaming because you covered that pretty well, but just as a whole, 10 straight quarters of outpacing all expectations, just massive growth. A record-breaking revenue, not only for gaming, though, but for data center and for Pro Viz as well, just huge overall revenue.
I mean, you're talking about a year ago, if we did 3.8 billion in revenue, this year, 6.5 billion. Billion, I'm saying it with a B, because it's not like a… That is massive revenue growth.
Gaming, as you mentioned, listen, data center though is hot, hot, hot, and this is a situation where NVIDIA finds itself in the exact right position in the markets it's in. It's in this gaming market where this expanded TAM just keeps coming, and they're grabbing such a strong share of that TAM.
But I actually would say, and at risk of putting myself out there a little bit, the data center growth opportunity is just monumental, just it's nascent at this point. We're just touching the surface of what AI is going to be doing in the data center and the power of the GPU, whether that's a subscription-based cloud offering, whether that's base command.
And here's the thing is I tweeted out and I got a lot of engagement on my tweet about NVIDIA's earnings, and a lot of people going, "How does a hardware company have 60-plus percent margins?" It's not a hardware company. It's their gaming AI. It's about software. It's about frameworks. It's about hardware. They have put together the whole package, and that is why the company has been so successful.
Just the list of announcements, it's starting to look like AWS's quarters with just the things they're doing, whether it's launchpad, Tensor RT 8, winning what? 342 of the 500 supercomputers in the top 500 super computing list. It's the ML [inaudible] result, winning, winning, winning, certified systems. It's what they're doing with DPUs and BlueField. It's the announcements of both Azure and Google making major commitments in their cloud offerings to roll out NVIDIA.
And like I said, the AI opportunity is still in its early days. And that's what's most interesting about it is they're getting a chunk of a market that's tiny compared to what this market is going to be. The overall growth in AI and the opportunity for AI is going to be massive. So if NVIDIA can continue its momentum, you can expect great things.
And then, of course, it's suiting other areas. Pro Viz had one of the biggest quarters ever. I mean, automotive, I mean, automotive is this area that over the next 10 years, the disruption we're going to see is going to be massive. I enjoyed listening to Cathy Wood yesterday as everybody's beating up her investment thesis at Ark, but she looks at things like AI, and she's looking at things like 3D, and she's talking about NVIDIA doesn't even understand yet how big these changes are going to be and how much this is going to change the future.
Jen-Hsun gets it, gets what he's building. It's hard not to be very positive about NVIDIA. It's hard to not think… And then, of course, last thing, just one comment about this, because we could spend a lot of time, Arm deal, at one point the valuation of NVIDIA I believe was tied to the expectation of Arm. I believe with its growth over the past several quarters, its valuation is not based on the Arm deal anymore. In fact, I think most of the market sees the Arm deal as a coin toss at best.
But whether they own Arm or they continue to license Arm,  NVIDIA is going to roll forward either way, if they get the deal, though. I actually see it as an exponential accelerator towards that trillion dollar market cap valuation. So very interesting run for NVIDIA.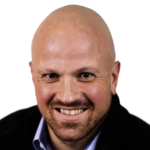 Daniel Newman is the Principal Analyst of Futurum Research and the CEO of Broadsuite Media Group. Living his life at the intersection of people and technology, Daniel works with the world's largest technology brands exploring Digital Transformation and how it is influencing the enterprise. Read Full Bio