NRF Impressions with Microsoft and More
NRF Impressions with Microsoft and More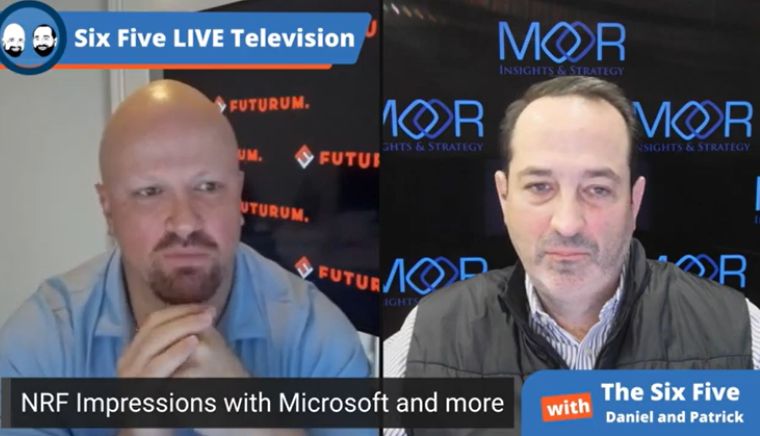 The Six Five team discusses NRF impressions with Microsoft and more.
If you are interested in watching the full episode you can check it out here.
Disclaimer: The Six Five Webcast is for information and entertainment purposes only. Over the course of this webcast, we may talk about companies that are publicly traded and we may even reference that fact and their equity share price, but please do not take anything that we say as a recommendation about what you should do with your investment dollars. We are not investment advisors and we do not ask that you treat us as such.
Transcript:.
Patrick Moorhead: Dan, last week we talked a little bit about NRF, which is the nation's largest retail technology trade show. Talked a little bit about what Google was doing in there, and if you want to chance that, just check YouTube or Twitter for that. But what else happened? You actually went to the event, Dan, as I experienced NRF from the comfort of my home.
Daniel Newman: Yeah. Don't rub it in. Honestly, it was great, and that's exactly how I want to broach this. I mentioned Microsoft, we did a huge resilient retail report for Microsoft that got launched at the event. Shelly Bransten, the corporate VP that basically runs Consumer Goods Industries, basically nominated to the board of NRF, presented our research as part of one of the keynotes at the event. So I'm very proud of that.
What we were focusing on this year was, how does retail stay strong between supply chain issues, between ecommerce and how digital is changing the buyer's journey? Let me just tell you that, as I walked the floor of NRF, there's two major observations.
One, it was in New York and the thing was packed. So I really do believe we're at the end of the whole virtual and hybrid. People that are part of important events are going back and being in person at events. This was a thousand percent busier than it was a year ago. So we saw it with CES, we saw it with NRF.
On the actual vendor side, the exhibitor side, NRF is a tech show. Pat, I walk in the door at the top level of this thing, and I walk through SAP, Microsoft, Cisco, IBM, Oracle, Salesforce, and you just name it, go down the line. Adobe, every major tech company is in a booth there. So if you go to NRF, it looks like a major enterprise tech show.
The bottom line is this, that the main theme I'm seeing here is that analytics are going to take the retail industry by storm in a new way. And let me explain what I mean by that. Historically speaking, ecommerce has been the analytics-friendly consumer retail vehicle. Why, because it's very easy to track behavior online.
Retail's been a lot harder. Ecommerce was supposed to eliminate retail. Eventually we were never going to go to a store again, Pat. We were just going to spend all our days on our couches ordering stuff from Amazon. Based on Amazon's growth, some of that is true. But I think when you buy things, whether it's a new Moncler sweater, or it's a vehicle, or you want to go shopping for your home, or your recreation, you want to buy a new bicycle, I actually think retail is great.
And by the way, simple things too, like grocery shopping. I don't know about you, I did a lot of that curbside stuff during the pandemic, but I don't really like getting the defunct produce, and the most likely to expire bread. When they come and bring the groceries out to you, you always get the worst stuff. I like going in and picking my avocados.
So the bottom line is, people like retailers, but for retailers to grow in a meaningful way, they have to get better analytics. What Microsoft and Salesforce and Oracles and a lot of these companies are showing are these very industry-rich cloud capabilities, plus these next-generation, frictionless, analytics-driven sales experiences, can use things, things like AI, sensors, IOT, camera technology.
We've all heard about Amazon and their just-walk-out technology. Well that's going to go to scale pretty soon. Microsoft has showed some displays of this in their booth, the ability to walk in, using low-end cameras and sensors, to be able to have people do that whole just-walk-out technology. So now, rather than just being proprietary to the Amazon stores, every major grocer chain is going to be able to start looking at stores.
They showed one example in Poland of a store, they're opening thousands of these small retail shops where people can walk in with their ID, or a credit card, fill up their baskets, and walk out. These stores require one human to manage five stores. And if you see in the future, with the camera technology now, they're able to look at where we're looking on the shelf, to be able to determine the positioning, how to sell to Frito Lay, how much Frito Lay pays to have something at eye level versus a lower level. We're starting to be able to get that rich analytic subset of data that we've been able to get from ecommerce for a long time, bringing omnichannel experiences much closer.
This is what big tech is really doing to drive the future of retail. And this whole resilient retail is going to come down to using better technology, which is what our study found, and it's going to be all about having better visibility into the supply chains of the future, which is going to be driven all by technology.
I could talk a lot more, but it was a really great event, had I think 20-something meetings in 12 hours. Just awesome. And so many of our clients were there, so many of the tech gins. It's great to see technology helping to revive the retail industry.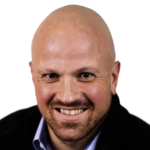 Daniel Newman is the Principal Analyst of Futurum Research and the CEO of Broadsuite Media Group. Living his life at the intersection of people and technology, Daniel works with the world's largest technology brands exploring Digital Transformation and how it is influencing the enterprise. Read Full Bio