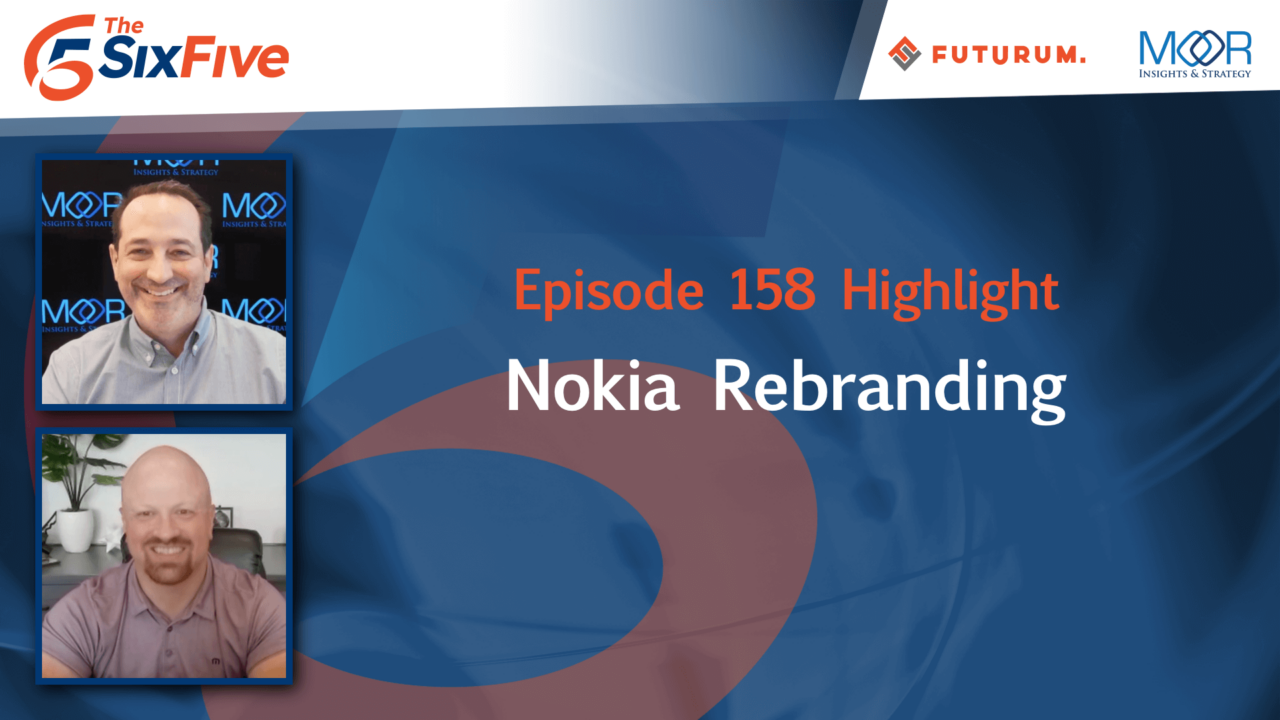 The Six Five team discusses Nokia's rebranding.
If you are interested in watching the full episode you can check it out here.
Disclaimer: The Six Five Webcast is for information and entertainment purposes only. Over the course of this webcast, we may talk about companies that are publicly traded and we may even reference that fact and their equity share price, but please do not take anything that we say as a recommendation about what you should do with your investment dollars. We are not investment advisors and we do not ask that you treat us as such.
Transcript:
Pat Moorhead: Nokia business to business rebranding that they did. Daniel, was this just another run-of-the-mill brand change, color change, or something different?
Daniel Newman: Pat, you and I had the opportunity to attend, I think it was Sunday right before the show, the Nokia relaunch. It was not just a brand relaunch but a brand promise relaunch. A lot of people out there, Pat, probably remember Nokia for the navy blue handheld devices of the early 2000s. I played that snake game a lot. It was pretty awesome. It actually dominated the market. You could truly say Nokia had a very strong, I don't know, dominance is always a risky word with companies that use that licensing in their strategy. But in terms of just their handset business, they became a bit of a global phenomenon. Certainly, a phenomenon here in the US. Having said that, the Blackberry became a very big disruptor to Nokia. After that, it never found its footing in the US the same way.
This is a company that has continued to be very valuable in infrastructure, very valuable in core RAN technologies, working with the big telcos. They never went away. But as we've seen with IBM, when you move away from selling PCs that people buy at a retail store to being much more critical at the B2B and service level layer, what can happen is brand becomes a bit muted. Then the market's awareness, understanding, and valuation of the brand becomes a little harder to sell. And so, Nokia, the CEO, it's top leadership got on stage and didn't only launch a new brand, which was cool, kind of abstract. If we flash it on here, you basically would say there are some incomplete letters. A little bit like Kia, the car company did. It became a requirement of our brain to fill in those gaps.
For me, it was no problem whatsoever. I thought the company did a good job of painting the picture, telling a story and the story with the company… Look at you and Pekka. There you go. It's not always about Pat. Is this about Pat?
Pat Moorhead: Sometimes it is.
Daniel Newman: Sometimes it's about Pat. There's Pat and Pekka. There's the new brand. As you can see, I think anyone that's known Nokia for a long time would see that picture, understand what the company is. The question is, is it valuable? Does it change? Brand exercises are always one of those things that have a combination of very tangible and very ephemeral. I think what Nokia is saying is, it's turned a corner. Global reputation and role is increasing. The value it's providing and driving to its telco partners and its ecosystem continues to increase. The company is looking to expand its valuation, grow how it's seen in the market as providing the capabilities of the next generation of communications in the 5G era.
It's also really wanting to let people know that we are still early days of 5G and its intentions to not only be part of 5G and 5G+, but into 6G, are palpable. Pat, and I'm going to be candid, I give a lot of market strategy advice, a lot of go-to-market strategy advice. I'm not a brand guy, meaning I have some intuitive feelings about brand. We're not agency guides. You ran marketing corporate for a very large company at one time. But what I would say is, to me the ephemeral part was less important. What was important to me was the fact that the company is in a pivot, it's in a transformation, and it's being very articulate about the importance of its partners. Those missing pieces of its letters were described as it being filled in by its ever-growing and ever more important ecosystem partners. I think that message landed at MWC. Obviously, the results of a publicly traded company, Pat, in the long run, but congratulations to Pekka and the Nokia team.
Pat Moorhead: There are better brand people than I. I have led, as a corporate vice president, a new brand inside of a company before. But, I'm not a brand guy. I'm primarily a strategy guy, which is why I really appreciated the company not just splashing up a new logo with a new jingle. But, tying in the corporate strategy. Pekka did a great job going through the strategic, called Our Pillars. Those were, in my strategy vernacular, those would be objectives. Then Our Enablers, which again in my vernacular, would be called our strategy. What does a company want to do? They want to grow CSP, not be confused with cloud. But, communication service providers faster than the market. Faster than an Ericsson, faster than a Samsung and I don't even know if we count ZTE or Huawei anymore. Maybe we do. The second one by the way, they also have to contend with the O-RAN folks in the future.
Second, expand the share of enterprise. These can be enterprise services like a private 5G. I think we saw the tie between them and Kyndryl and the great work they were doing on the next generation of connectivity. The third was actively manage the portfolio. I have to admit, I have no idea what they meant by this. I put that big question on one of my tweets Sunday. I want to figure, were they mismanaging their portfolio before? I don't know. Was this a, "Hey we're going to do some inorganic acquisition." That was the question I did ask Pekka. I did like the answer I got from him and the team. Secure business longevity in Nokia technologies. Essentially, this is mining the Bell Labs and all of the research with the big R. Fifth, build new business models. We saw this in things like Anywhere RAN. They were hinting to this in the metaverse value chain, which by the way, kudos to the company for doing this.
And then finally, as a service. I appreciated that it wasn't just splashing the logo up there. They put it in the context of strategy. The company does need help, particularly with enterprises, getting people off the notion that Nokia means 1990s era smartphones. Which by the way, my first smartphone was a 1990s era smartphone. Final comment I'll make is I saw this 3D hologram of the Nokia brand that was spinning around probably in seven or eight partner booths. I wasn't in every booth. That is hard to do. Congrats to the Nokia marketing folks.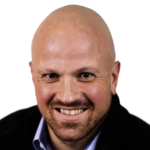 Daniel Newman is the Chief Analyst of Futurum Research and the CEO of The Futurum Group. Living his life at the intersection of people and technology, Daniel works with the world's largest technology brands exploring Digital Transformation and how it is influencing the enterprise. Read Full Bio