The Six Five team discusses Nokia and Kyndryl's latest collaboration.
If you are interested in watching the full episode you can check it out here.
Disclaimer: The Six Five Webcast is for information and entertainment purposes only. Over the course of this webcast, we may talk about companies that are publicly traded and we may even reference that fact and their equity share price, but please do not take anything that we say as a recommendation about what you should do with your investment dollars. We are not investment advisors and we do not ask that you treat us as such.
Transcript:
Patrick Moorhead: But hey, let's move from chip, chip, chippery into some news that I think is coming out right before Mobile World Congress and that is a tie-up between Nokia and Kyndryl. What is a carrier equipment company and a service provider up to here?
Daniel Newman: Yeah, so we'll link the press release in the bottom, because you know you and I, we try to not be so much news, try to be a lot of analysis. But yeah, it is a good question. Why would a large IT infrastructure service provider and a state-of-the-art leader as Nokia calls itself in networking technology at a three-year extension and expansion. So this is not a new tie-up. This is an expansion to an existing tie-up to basically focus on delivering the 5G and LTE private wireless experiences in industry 4.0 to their customers worldwide. And so interestingly enough, Kyndryl often doesn't get enough credit, because we sometimes give them a bit of a hard time as the company that was slowing the growth of IBM. But the company did serve a very important purpose and they do some very specialized kinds of systems integration and service providers.
We all know that there are these applications, Pat, for, gosh…last two or three years we've been talking private LTE. We've been talking about whether that's shipyards or large manufacturing warehouses and big metal buildings and high rises that having private networks and advanced LTE available is going to be critical, especially when you have large systems, robotics, manufacturing lines, plants, large distributions, and logistics centers. And so having the technology, the core technology, coupled with the companies that know how to design service and in implement is going to be critical.
Kyndryl has a big footprint. You know? This isn't a new alliance by the way. It was actually, I believe it was announced around MWC last year, so it's not something that's been out for a long time, but they've got track record here, Pat. They've got a hundred engagements that they're doing with enterprises around the world. They're doing implementations in 24 countries and they have been able to start to give some customer references, which is always important in terms of how they're helping to solve these private wireless challenges.
They got Dow Chemical, which is a huge industrial company in the US, that actually did partner, building out their private network for audio services, video, real time stream processing. And so this is a sensible tie-up, Pat. One of the things to note, and I think it is really important is this really is a tie-up that focuses on industry. It is very industrially focused, meaning big companies have been talking about this industry four transition for years. Industry four requires a robust and reliable connectivity system. And traditional wifi networks, traditional mobile networks do not cut the mustard. Basically what Nokia…cut mustard? Is that even a thing?
Patrick Moorhead: I don't know. You just invented it, so it's a thing now.
Daniel Newman: Have you heard that before or did that come out of my childhood? Anyway, these particular tie-ups are really important to giving the robust and needed connectivity for these industrial environments to actually be able to execute on the promise of industry 4.0, which by the way, unlike private 5G and LTE, we've been talking about Industry 4.0 for like a decade. So this is not new. These is really tactical, functional, and how companies are going to move forward in these more industrial, hardened environments.
Patrick Moorhead: So I want to focus not on the it's not new. What I appreciate most of all is they gave details about it. A lot of strategic alignments come out there and there's absolutely no example. And what I appreciated was that the two companies talked about what they're doing for Dow Chemical at a petrochemical processing plant in our beautiful state of Texas in Freeport. They're essentially leveraging connectivity solutions from the two companies for worker safety, remote audio and video collab, and real time smart chemical facility procedures. That was the element of reality that I appreciated of this, first of all. And you know, this is also by the way, I think a nice mark. North American president of Nokia, Sean McCarthy, came in and it's nice to see the increased outbound communication and the proof points and case studies that are going on. I'm sure he had a hand in this as well.
I had a chance last month to talk to Kyndryl chairman and CEO Martin Schroeder about what the company is doing and what his strategy is. And Kyndryl is definitely hitting in the right growth elements. There is a carrier telco transition that's going on from fixed function, eight different architectures, to virtualized solutions out there, essentially converting themselves into mini hyper-scaler data centers. And then you add that to all the action on the edge where all the data is being created and where all the transactions are actually happening and the need to have a more intelligent network for the industrial IOT. I'm pretty excited about this tie-up and I'm going to be actually talking to both companies today to get even more information.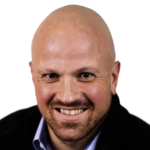 Daniel Newman is the Chief Analyst of Futurum Research and the CEO of The Futurum Group. Living his life at the intersection of people and technology, Daniel works with the world's largest technology brands exploring Digital Transformation and how it is influencing the enterprise. Read Full Bio