Nokia Addresses the Alarming Increase in DDoS Attacks
Nokia Addresses the Alarming Increase in DDoS Attacks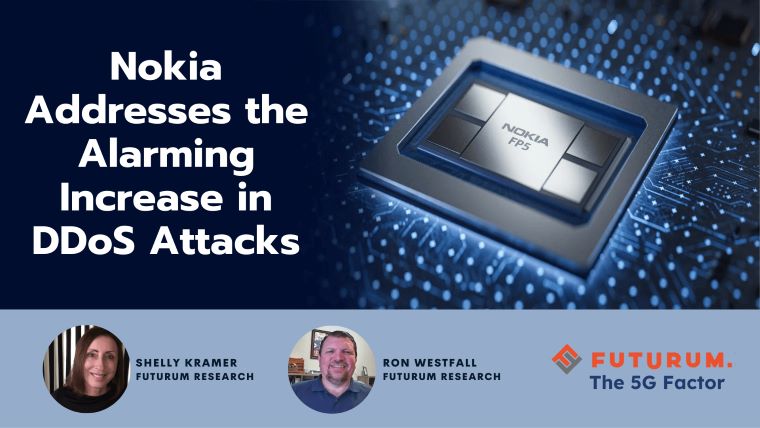 For this vignette of a recent episode of the Futurum Tech Webcast, part of the 5G Factor series, analysts Ron Westfall and Shelly Kramer assess Nokia's introduction of FP5, its fifth generation of high-performance IP routing silicon that targets enabling communications service providers (CSPs) to provide greater and enhanced protection against escalating network security threats as well as efficiently scale network capacity and enable new higher speed 5G and IP services.
Their conversation emphasized:
The urgency of solving the DDoS security challenge since between 2019 and 2020 the number of DDoS attacks grew by 154%.
Why the FP5's ability to deliver integrated line rate encryption for L2/L3 network services is integral to fulfilling CSP security objectives especially across the IP network security domain.
How Nokia bringing 800GE routing interfaces for service provider applications to market advances the ability of data centers to scale rapidly expanding workloads and supporting new applications and it is not too soon to consider 800G capabilities.
The Nokia's FP5 network processors support of driving down power consumption per bit by 75% shows that CSPs do not need to trade-off energy efficiency and sustainability objectives in strengthening their network security implementations.
Shelly and Ron concluded that the FP5 silicon solutions bolsters Nokia's competitive prospects in the Routed Optical Networking market segment and advances CSP prioritization of safeguarding their networks on a comprehensive basis.
Watch the clip here:
Or grab the audio by way of your favorite streaming platform here:
Don't Miss An Episode – Subscribe Below:
Disclaimer: The Futurum Tech Webcast is for information and entertainment purposes only. Over the course of this webcast, we may talk about companies that are publicly traded and we may even reference that fact and their equity share price, but please do not take anything that we say as a recommendation about what you should do with your investment dollars. We are not investment advisors and we do not ask that you treat us as such.
Transcript:
Shelly Kramer: We are now going to slide over and talk about Nokia.
So Nokia is doing something that I think is really exciting because as much as I love 5G, I also love security and the important concept and reality of the need to build everything with a security-first viewpoint, everything on a security-focused foundation, and that's a lot of what's going on here with the news out of Nokia. So denial-of-service attacks are a big deal, and we've seen a huge rise in denial-of-service attacks. And what those things are is that they disrupt network traffic and servers, basically overwhelming the surrounding infrastructure with a flood of traffic. And so, all of a sudden, you can't use your network, you can't access your network, your website is not accessible. It's really a big deal.
I want to talk a little bit about these kinds of attacks and why they're so dangerous. Basically, we saw, between 2019 and 2020, the number of DDoS attacks grew by 154%, okay? And generally speaking, financial services, telecoms, and government agencies have been the sectors most targeted by these attackers, but actually, as this has evolved in the last year or so, anyone, any organization in any sector is vulnerable to a DDoS attack. Why? Because they're incredibly easy to execute. They're like hacking 101 for threat actors, okay? And these hackers, they don't use malware, they don't use ransomware to hold a network hostage. They just threaten the network with one of these attacks, which will mean it'll completely shut down.
So we saw, between January of 2020 and March of this year, DDoS attacks increased by about 55%, and another 50% of these attacks actually used multiple vectors as part of their attack. And this is totally nerdy, but the biggest attack over the last 15 months measured 500 Gbps and used no fewer than five different attack vectors, okay? So we've seen these attacks increase in 2020 alone by 20%. And again, totally nerdy, from a network traffic standpoint, these attacks that are used to flood and disrupt networks have grown from about 75 megabytes about a year ago to 1.5 terabytes, which is a hundred percent increase, which is more of an increase than video gaming or video streaming has brought on networks, so this is a huge strain on network, it's a huge risk to networks.
And so, okay, what does all this have to do with CSPs? Well, they have to protect their networks against denial-of-service attacks. And in many instances in the past, CSPs have treated their networks and the security as nice to have or secondary, but not a foundational priority, and not only… That also has to include encryption capabilities along with attack prevention.
So all of this nerdy information sets the stage for why what Nokia is doing here is so important and why this announcement is really such a big deal. So they've got fifth-generation routing silicon, which they're calling FP5, and its goal is to be able to provide the ability to lock down an entire network. It's simple, it's more affordable than the solutions that were available before, it's built into the network, it's silicon-based, and it's actually in the routers themselves. So that means it offers the lowest latency possible, which is important because you need low-latency services for 5G.
The other part of this is that the silicon allows for the encryption of traffic at the edge, no matter how it's being transported, and at a very high speed. So when a CSP needs security on the network, they turn it on, the functionality is already built-in, it's an integrated part of the network, you can turn it on at any time, whenever you feel like it, there's my dog, and it doesn't impact performance because it's an integrated part of the network. So I totally nerded out about this. I think this is really exciting news, and I have a feeling you feel the same way.
Ron Westfall: Why, yes, I do. And I think, yeah, you hit the major point, Shelly, is that the new Nokia silicon is aligning with the key requirements for what can be characterized as Routed Optical Networking, or RON, as the acronym would go. And what is important is that it's enabling line-rate encryption, so clearly, Nokia is addressing a major requirement for any CSP out there, especially when it comes to, say, data center implementations.
And I think there are other aspects here that make it very attractive, first of all, that they are now offering 800-gigabit interfaces as part of their routing portfolio, so sort of like it's not too soon to talk about 6G, it's not too soon to start talking about 800-gig routing interfaces, and that's part of that scalability challenge you already hit on. The other thing that I think is going to be helpful for Nokia here is the fact that with the FP5 silicon technology, they're also able to deliver 75% reduction in power consumption on a per-bit basis. That number jumps out because-
Shelly Kramer: That's huge.
Ron Westfall: … we know, yes, yeah, security is essential, but it should require trade-offs in power consumption because of the overhead associated with encryption, for example. And so, this is a very compelling solution, and for that reason, I think it's reinforcing what I believe, is that Nokia is pretty good at consistently demonstrating their portfolio-wide security capabilities. Yes, the other players, like Juniper and Cisco and so forth, that compete in the Routed Optical Networking realm, do the same thing, but I think Nokia is just more consistent about, particularly when it comes to silicon-level security, being just that fundamental in terms of how they see the entire security landscape. And they also issue annual basis security threat indexes that have really done a great job of helping identify the problem with IoT security, for example. And so, yeah, these, I think, are very important takeaways from the Nokia announcement here.