Netcracker Digital Platform
Netcracker Digital Platform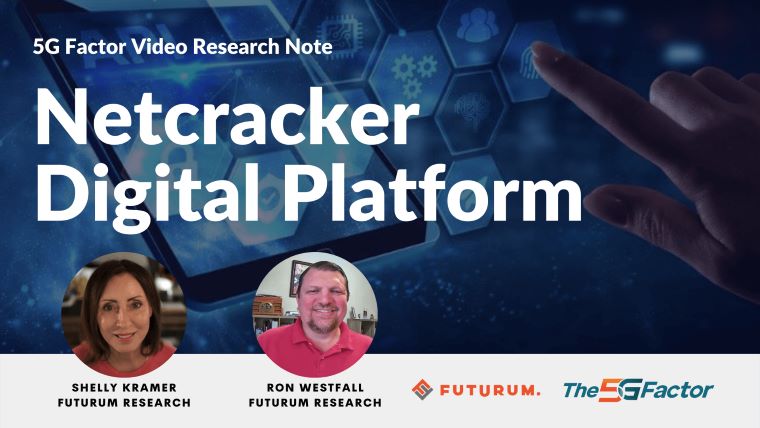 For this vignette of a recent episode of the Futurum Tech Webcast, part of the 5G Factor series, analysts Ron Westfall and Shelly Kramer break down the new Netcracker Digital Platform unveiled at MWC 2022.
Their conversation highlighted:
How the open, modular, digital-native design of the platform is capable of accelerating the innovation that CSPs require to drive growth and overall business value.
Why support for the 3GPP-compliant 5G converged charging system (CCS) is indispensable to providing SLA-based charging, multi-access edge computing (MEC), and slice-as-a-service (SlaaS) models on a standardized basis.
Netcracker Digital Platform provides a full automation solution for every domain (RAN, MEC, Transport, Core) that now includes Open RAN and MEC Orchestration. One notable differentiator addressed is that Netcracker is providing a complete intelligent Open RAN domain and optimization solution that works across multicloud far edge, near edge, and central data center fabrics.
Ron and Shelly view the new platform can augment CSP objectives to drive new business growth by cultivating new value from rapidly expanding 5G/edge experiences, becoming more essential to their customers' digital lifestyles and increasing importance to their enterprise/vertical market collaboration goals. This applies specifically to attaining 5G monetization goals, especially as 5G standalone network deployments gain momentum.
Watch the video vignette here:
Watch the entire episode here:
Or stream the audio of the entire episode here:
Don't Miss An Episode – Subscribe Below:
Disclaimer: The Futurum Tech Webcast is for information and entertainment purposes only. Over the course of this webcast, we may talk about companies that are publicly traded and we may even reference that fact and their equity share price, but please do not take anything that we say as a recommendation about what you should do with your investment dollars. We are not investment advisors and we do not ask that you treat us as such.
Transcript:
Shelly Kramer: We're going to kick it off talking about some news from Netcracker that came out of the Mobile World Congress event in Barcelona in late February. At that event, Netcracker announced a new monetization and digital experience capabilities. They're now embedded in the Netcracker Digital Platform and that affords some pretty amazing benefits to CSPs. Ron, why don't you take it away and talk a little bit about why this is a big deal.
Ron Westfall: Yes, and I think it's still going to be a major thing of what it came out of Mobile World Congress, we'll be talking about it through the next two quarters at least. And I believe the Netcracker Digital Platform announcement is a good example of it. And the reason is that's offering an open, modular, digital native solution that's going to be key to the ability of communication service providers to monetize 5G services. After all, they're investing a lot of money and time to building out these networks, particularly getting to a 5G standalone implementation. And the Netcracker Digital Platform is purpose-built for that scenario.
For one, it's supporting 5G converged charging system, and that's going to be critical for being able to support things like SLA-based charging as well as SlaaS or Slicing as a Service and not to confuse with the guitarist for Guns N' Roses. But through SlaaS we can anticipate the ability to support multi-partner B2B, to X billing and settlement scenarios. Obviously, the operators are keen on getting a cut of that pie.
And in addition, I think another key highlight of that announcement is that it's supporting full automation for the RAN, the mobile edge computing, the transport and core domains, and all these have to be orchestrated in order to assure 5G monetization on a realtime basis, or certainly in a flexible agile manner that aligns with, say, network slicing or use case networking, or however you want to characterize it. Being able to use the 5G network to meet the very specific and unique needs of customers, especially on the enterprise side.
Also, I think what's important is that it's aligning with O-RAN, API priorities. And that is another example of where the ecosystem is going to be playing a major role in the ability at the operators onboard partners, leverage developer innovation and so forth, just to simply make 5G services more sexy, more fun, or certainly more business friendly and so forth. So, yeah, I think this is definitely an announcement that will have impacts across the 5G ecosystem and including, in particular, the 5G monetization segment.
Shelly Kramer: Yeah. And that's so important. This is really all about powering business growth, helping to power business growth and value creation, helping CSPs accelerate their internal digitalization, that's a big one to say quickly, digitalization efforts, helping build immersive digital experiences. And then, as you said, providing innovative and adaptive 5G business models. This is about business agility. It's about stimulating innovation and collaboration. It's really about establishing a foundation for allowing CSPs to maximize revenue and profitability and that's what everybody wants. Right? So, I think this is important. This platform is an amazing platform. So, I think we'll see… And of course, Netcracker isn't the only company in the 5G space focused on CSP monetization efforts. So, I think we're going to be talking about that a lot moving forward, because it's a very big deal.