NEC Buys Aspire Technology to Advance Open RAN 5G Adoption
NEC Buys Aspire Technology to Advance Open RAN 5G Adoption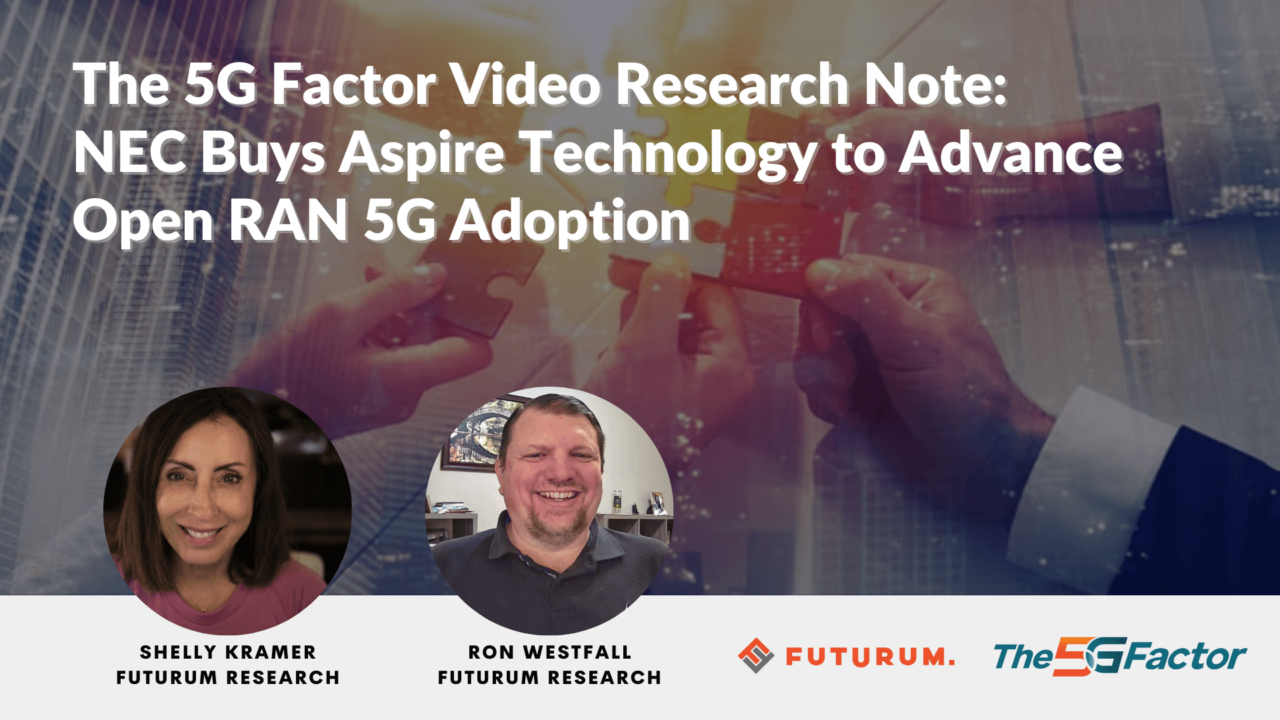 For this vignette of a recent episode of the Futurum Tech Webcast, part of the 5G Factor series, analysts Ron Westfall and Shelly Kramer examine NEC Corporation's decision to acquire Aspire Technology in a bid to strengthen its Open RAN systems integration credentials and help accelerate ecosystem-wide adoption of Open RAN 5G.
Their discussion highlighted:
Why NEC made a good in buying Aspire Technology and locking in the company's solutions and services that span across the full network lifecycle for legacy and open architectures, ranging from 2G to 5G, and making the strategic commitment to use its expertise and experience across expanding Open Networks and Open RAN environments.
How the location of Aspire's Open Network Labs in Europe (Dublin, Ireland) is noteworthy since O-RAN Alliance heavyweights Telefonica, Deutsche Telekom, Orange, Telecom Italia (TIM), and Vodafone are vocally advocating European Commission support in the advancement of the Open RAN ecosystem throughout Europe.
Through the Aspire deal, NEC's Open RAN portfolio development strategy now encompasses Open RAN components for disaggregated hardware and software, xHaul transport, converged core, automation/orchestration software, and systems integration (SI) services, gaining the expertise and assets needed to deliver increased levels of system design and integration across 5G environments, especially 5G standalone networks.
With the Aspire Technology assets, NEC also boosts the portfolio capabilities and sales prospects of its subsidiary Netcracker across the business, operations, and infrastructure layers of the 5G environments that NEC targets.
Ron and Shelly believe the Aspire Technology acquisition will prove critical in advancing the Open RAN mission across global 5G networks. NEC has already established its Open RAN bona fides and they expect that the acquisition addresses the major integration challenges that have concerned mobile network operators during their early Open RAN implementations. Now NEC is in a stronger position to fulfill the interoperability and integration requirements of mobile network operators throughout their intricate Open RAN 5G and open 5G environments.
Watch the video vignette here:
Watch the entire episode here:
Or stream the audio of the entire episode here:
If you've not yet subscribed to The 5G Factor, hit the 'subscribe' button while you're there and you won't miss an episode.
Disclaimer: The Futurum Tech Webcast is for information and entertainment purposes only. Over the course of this webcast, we may talk about companies that are publicly traded and we may even reference that fact and their equity share price, but please do not take anything that we say as a recommendation about what you should do with your investment dollars. We are not investment advisors and we do not ask that you treat us as such.
Transcript:
Shelly Kramer: So we're going to shift a little bit and talk still about kind of global adoption of Open RAN 5G, but we're also going to talk about strengthening one's 5G portfolio and the news out of NEC that they were acquiring Aspire Technology was big. Aspire Tech is a Dublin-based company. It provides tech solutions and systems integration specific to designing and integrating open networks. Let's talk about the significance there again, as we move toward global adoption of Open RAN 5G. I know you have thoughts on this one.
Ron Westfall: Yeah, no, this move leapt out at me because I think it's a really shrewd one by NEC.
Shelly Kramer: Right.
Ron Westfall: They really have upped their game in terms of their profile across the Open RAN ecosystem, specifically let alone the overall 5G market. And so by acquiring Aspire Technology, they're definitely locking in valuable systems integration skills to complement their already existing portfolio that extends across different hardware, software assets. And part of the reason why NEC is prominent is that it's been working with major operators, such as Telefónica, specifically in Germany, as well as Rakuten, which has definitely been blazing-
Shelly Kramer: Right.
Ron Westfall: …The headlines in terms of advancing Open RAN capabilities in commercial networks.
Shelly Kramer: Absolutely.
Ron Westfall: And what's interesting is that NEC in Telefónica, Germany are already deploying Open RAN and vRAN small cells in Munich to kick off Telefónica Germany's own venture into supporting Open RAN across commercial networks. And so, yeah, this is really cool because as I noted the NEC already has this portfolio, disaggregated hardware, software, Exhall, Converge Core and automation orchestration assets, and that is specifically linking the automation and orchestration assets to its Netcracker subsidiary.
Shelly Kramer: Right.
Ron Westfall: So I also see the move enhancing Netcracker's ability to play a more significant role in terms of supporting 5G service enablement and also operations enablement and so forth, wherever it's needed. And to kind of wrap this up. I think it's noteworthy that as you noted, Aspire is headquartered in Dublin, Ireland.
Shelly Kramer: Right.
Ron Westfall: So it's, you know, naturally in Europe and it's in Europe that you have these major operators, not just Telefónica, but Deutsche Telekom, Orange Telecom, Italia, all rallying behind Open RAN as something that is identified as a strategic imperative.
Shelly Kramer: Right.
Ron Westfall: They're even looking to enlist the European Commission to support basically an official Open RAN Alliance to, you know, give more heft by having political backing in addition to the technological and business backing.
Shelly Kramer: Right.
Ron Westfall: So stay tuned. I think this is going to up NECs is particularly in Europe in terms-
Shelly Kramer: Yeah.
Ron Westfall: …Of, you know, winning more deals further down the line in this important, but growing space.
Shelly Kramer: Yeah, absolutely. I think it was a really smart move.