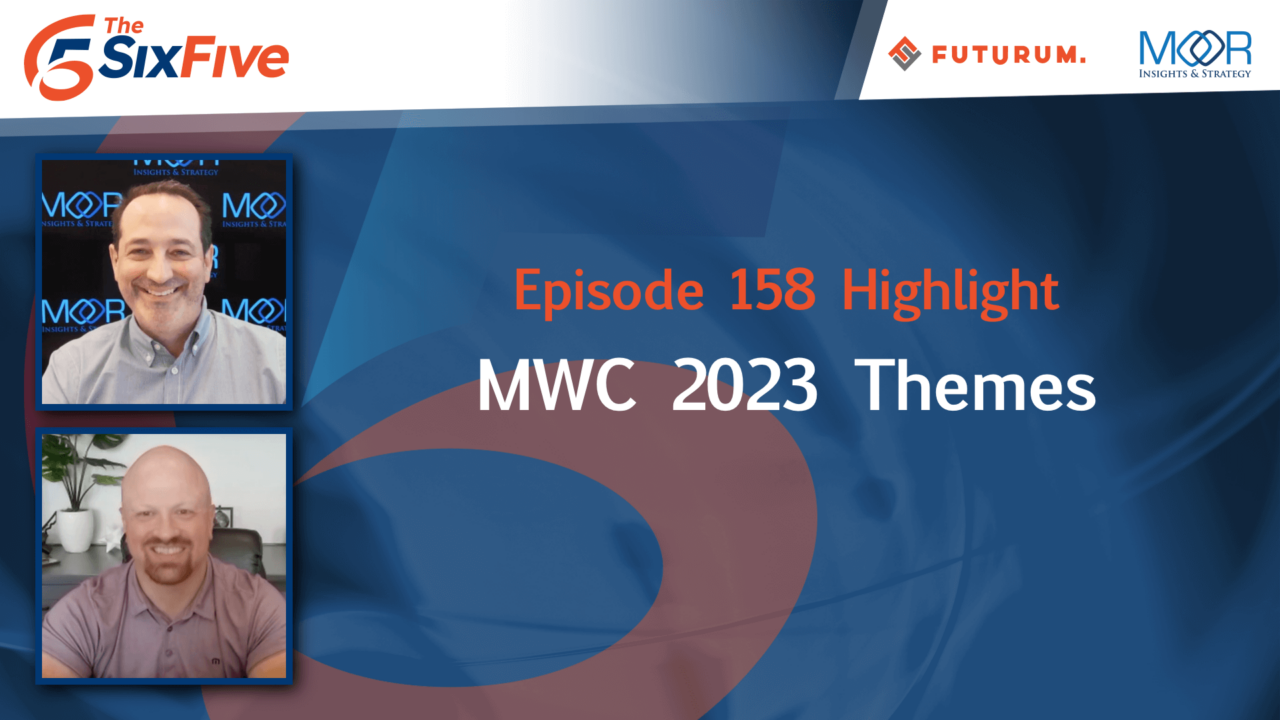 The Six Five team discusses themes from Mobile World Congress 2023.
If you are interested in watching the full episode you can check it out here.
Disclaimer: The Six Five Webcast is for information and entertainment purposes only. Over the course of this webcast, we may talk about companies that are publicly traded and we may even reference that fact and their equity share price, but please do not take anything that we say as a recommendation about what you should do with your investment dollars. We are not investment advisors and we do not ask that you treat us as such.
Transcript:
Pat Moorhead: MWC 2023 themes. You can listen to this segment or maybe watch these six hours that we did on videos and you can catch all this. Actually, do that both. But, I'm going to kick this one off. How do you pull five days into five to 10 minutes? I'm going to give it my best shot. The biggest themes that I saw – first of all, we have to give 5G credit for what it's brought right now. While I know it's not what everybody expected, and I'll get to that in a little bit later, why I think we think that. It did bring an incredible amount of spectral efficiency to the table for carriers, where they could deliver the same amount of bits at 20% of the cost. And that is a really good thing. What the industry did that was different, in 4G versus 5G, is at the end of a 10-year 4G run companies like Uber came out, right?
So we had to build the network first and then the developer showed up after that. It makes sense, right? At 5G, the industry piled on at beginning of the build out and we're about five years into a 5G build out. If you track this to 4G versus 5G, five years from now, the network will be done. And that's where you will have, supposedly, swing-you-around-the-room type of applications that everybody was talking about. Part of the 5G, wa-wa or let down is self-inflicted on the industry. But heck, even in the US, ARPU is up. The ARPU for US carriers is actually up based on 5G. What was the talk? First off, APIs was the name of the game. And whether it's the GSM APIs, but if you think about those developers I talked about is, let's say you are a global ISV and right now you have to, let's say, write to 20 APIs. One for Verizon, one for Deutsche Telekom, one for AT&T, one for SK in Korea. The industry's getting smarter and whether it's GSM type of interface as… Heck, Ericsson's Vonage. I always wonder if I'm saying that. Is it Vonage? Is it Vonage?
Daniel Newman: I say Vonage. I've always said Vonage.
Pat Moorhead: Bumped into to their CEO in the Admiral's club on the way there, interestingly enough. But, there's an agreement amongst carriers to use a common set of APIs. This would mean, theoretically, that regardless of what carrier and regardless of which carrier equipment vendor you are, that would absolutely blow the doors off speed of getting incredible 5G applications there. Cloud-based networks, whether it's Cloud RAN, whether it's Cloud Core, that was a huge talk. We did a ton of interviews with executives and sat down, not on video, discussing this with executives.
By the way, on the RAN side, whether it's vRAN, whether it's O-Ran, whether it's open RAN or RAN RAN, the current RAN, it doesn't make a difference. These can all be cloudified. But, vRAN and Open RAN and O-RAN can be done a lot easier. Private 5G, this was a big topic that was discussed last year. It's actually becoming a reality with vendors out there. Whether it's a Bosch, whether it's a BMW, whether it's an energy company, people showing off their wares and talking about it.
And the final one I'm going to hit, and Daniel, I definitely left you oxygen on this one, was Metaverse. Check out Moor Insights and Strategy analyst Anshel Sag. He went through probably what 25 companies were doing in the Metaverse. You might say, "Wait a second. Metaverse is dead, right?" Guess what? Apple is going to come to market this year and everybody wants to get their pound of flesh out at the show to show what they can do because love or hate Apple, mostly hate, they do create markets. They do understand how to optimize and experience. That's what I saw. These were some of the key themes that I thought were interesting.
Daniel Newman: Yeah, I mean some of the big hooks, cloud networks, private 5G, they definitely were persistent year over year. I think one of the themes, if you back out even a little further Pat, was the macro, the way it's being described in the media versus the way companies and technology leaders are thinking about it. We've had a number of sit-downs. Top executive, CEOs. I walked away from the event saying, I think the economy has challenges but there's a lot more optimism. That maybe even some of the worst of the inflation, some of the worst of the austerity that we are going to see during this period is starting to come to an end, which is also very opportunistic for tech because I've relentlessly talked about the deflationary aspects of tech. If you're building optimizations, automations, artificial intelligence, anything else that scales well, I think in the tech space there's going to be a lot of opportunity.
I think generative AI, despite the fact that it really isn't the right location in many ways being mobile and at the edge, it still found ground. You and I did a really interesting Six Five with Qualcomm CEO, Cristiano Amon, talked a lot about stable diffusion, which is a really interesting app because some of the generative AI that we're going to want to do is going to need to happen on device at the edge with limited bandwidth and access to the network. Companies like Qualcomm, and other companies that are building on-device AI capabilities, are going to become very interesting there. Which, right now, I think all the talk is really about what's happening in the cloud. The cloud providers are getting most of the credit. There'll be more coverage of the overall ChatGPT space. Pat, you and I, Friday, we're going to have to talk about Microsoft Salesforce, so we'll come back to that one.
The other interesting theme, Pat, and this kicked off every show that we had, was Mobile World is back. Shows of this size with an impact on a global scale like we had with the pandemic don't always survive. They certainly don't always come back. This was a show, it was a wall to wall show, up to 2019, walking through the halls of, Hall three, down the main row over from where Qualcomm and Cisco down to where Samsung is. On the other side, Pat, last year was a bit of a ghost town. It was obviously a lot of rules, a lot of COVID related restrictions. I don't think people wanted to travel yet. That's over. Again, another what the media's saying versus reality is reality is this show is back. Anyone that would tell you otherwise would be, I think, disingenuous.
I think that the criticality of the edge to the core network continues to gain momentum. I think the monetization in the carrier and telco ecosystem is becoming more clear. I think first it's going to be about making connectivity pervasive. I think over time, what you talked about with things like metaverse, again not metaverse in the sense of Meta as the social media company, but metaverse in the sense of building applications that enable people to do their job more effectively, in a shipyard or in a large manufacturing facility, that's going to start to gain momentum once again. And then of course data transport – how we move to be able to move data from one place to another is going to be massively impactful.
Everything as simple as just high quality communications and connectivity all the way down to moving mega peta-zeta-bytes of data from cloud to edge to enable a network to enable edge applications to be implemented and utilized, which by the way all creates opportunities and challenges for the mobile world and telco ecosystem, Pat. A lot more there. You have a Forbes piece, I'm going to put out a Forbes piece. There were some very specific things, some neat partnerships announced. Check out all our other videos. We did so many videos. We did partnership videos. We did CEO videos. We have surprise guests like Pat Gelsinger, Intel CEO, who did our first Six Five sneak attack. You can see me genuinely shocked when, those pushups, Pat, if you're listening to this, you are strong. I get it.
Pat Moorhead: Great stuff there on Mobile World Congress. I'm glad you put in there that it was definitely alive. I don't even remember seeing any masks. Nothing wrong with wearing a mask if you want to wear a mask. I see them all over New York City and San Francisco. I did not see them at Mobile World Congress.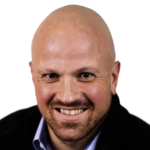 Daniel Newman is the Chief Analyst of Futurum Research and the CEO of The Futurum Group. Living his life at the intersection of people and technology, Daniel works with the world's largest technology brands exploring Digital Transformation and how it is influencing the enterprise. Read Full Bio