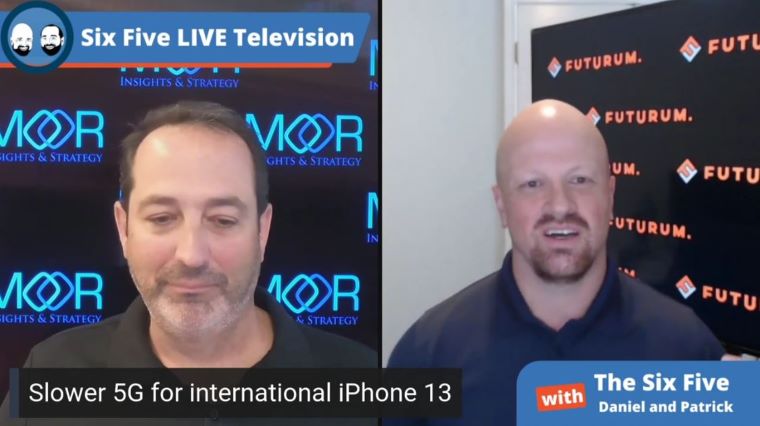 The Six Five team discusses mmWave and Apple.
Watch the clip here:
If you are interested in watching the full episode you can check it out here.
Disclaimer: The Six Five Webcast is for information and entertainment purposes only. Over the course of this webcast, we may talk about companies that are publicly traded and we may even reference that fact and their equity share price, but please do not take anything that we say as a recommendation about what you should do with your investment dollars. We are not investment advisors and we do not ask that you treat us as such.
Transcript:
Daniel Newman: And this actually takes us to our final topic, which I'd like to touch on here, which most people don't know that 5G is not all created equal Pat. And you and I can actually go back a few years and remember 5GE or what was it?
Yeah, when AT&T got a lot of rife for this, but they had their whole enhanced 4G LTE, and they were calling it like the… Was it 5GE? Was that what they were calling it? I'm trying to remember that. And it was basically not real 5G. It was fake 5G.
But in the beginning it was something that phones, both iPhones and Samsung phones that were on AT&T's network, people thought they were on 5G for a period of time when they were really just getting enhanced LTE. Then 5G came and every company sort of does this at their own pace.
Companies that are using mostly the Qualcomm components, Samsung, OPOs, Xiaomi's, they're all putting in the newest, like you said, 5G RF systems, and they're embracing all the channels for millimeter wave. And they're doing it on every device around the world to make sure that as these networks, as the service providers spin up these new networks, the phones are going to be as capable as possible to deliver the best experience.
And just for those out there, there's kind of two bands. There's millimeter wave and then there's sub-6. Sub-6 5G is kind of this robust, reliable, mid low band 5G that basically is a lot like 4G LTE in terms of the speed, the dependability, reliability. In terms of your experience as a user, it'll feel pretty similar.
But millimeter wave's whole nother level. This is where you're talking about getting gigs speeds up and down in places. It's very specialized, it was built for 5G, and it's a complete unique offering that's associated with 5G.
And so on a worldwide basis, the question I have about this, Pat, is everybody thought with this second generation, the iPhone 13, which is now the second phone that Apple has offers 5G on a worldwide basis, the first generation, okay. Apple typically slow rolls everything. Remember when the first iPhone came out, it was on the Edge network.
Didn't even use 3G, even though 3G was available. Now we're all the way to five and millimeter wave is established. It's been deployed on all these devices for a long time, Pat. We're in a second launch. And this isn't only a second one, but this is a super cycle. This is the 13. This isn't the 12 plus pro max interim launch.
And yet again, for whatever reason, Apple decided on a global basis, it did not need to deliver millimeter wave. Meaning basically anybody that buys an international Apple iPhone 13 is still going to be essentially using the sub-6 version of 5G, which again, will feel a whole lot like the LTE experience that they'd had prior.
And so this is where you look at lagging innovation. It's not that the company can't do it because they have the relationship with Qualcomm. They have the internal silicone building that they're doing. They could have developed the millimeter wave because they're doing it in the US, Pat. They're doing it in the US and people in the US already get this experience.
But they're basically saying, we're going to give you the lowest possible quality 5G experience on the globe to this 22% market share that we have. And here's my bet Pat, is that they know that when they do another cycle in six months, they can make that change then, and they'll sell a whole bunch, eight, nine figures more phones, and people will buy them.
And so this is the question I have for the market Pat, t's not just about envision. It's about how long does the market put up with the fact that Apple actually delays offering the most innovative solutions and products to its customers, because they know you will pay for two, three, four versions of actually the same product in order to get tiny iterative improvements?
And this is just one more example of Apple doing this. And on a global basis, as a guy who still uses an Apple, not going to lie about that, I do use a Samsung too, but it pisses me off.
Patrick Moorhead: So Daniel, I made this comment in our initial calling on this, and it's really a half-life. If Apple continues to do things like this, then it starts to erode the brand. Apple's smart, and they probably will come back next time with something that doesn't piss people off. I think it's a cost reduction effort, right?
That's what this is. It's, I'm going to save the money of the RF backend and the testing and all that stuff. And I know that my users, once a 5G millimeter wave is available in their backyard in a bigger way, they'll have to go out and buy my new phone. So Apple knows where it can stomp on its users. It knows where it can't.
And I don't think it's going to make much of a difference at all, but I think that we do need to call things out like that because I don't think it's right. But in the end, Apple is a dominant market player, has a monopolistic market share in the United States. And it's just leveraging what it can do, because it can.
Daniel Newman: Absolutely. Well you think they'd do the opposite then. They'd give less in the US where they have dominance, and they'd give more globally to try to convince people. I can't figure it out entirely Pat, but everything you mentioned is correct. Maybe it's about margins. Maybe it's about cycles and more sales, more revenues.
Greater returns to shareholders. But what it isn't about is it isn't about being the most innovative company on the planet. So let's just stop putting those two things into a single thought. All right, we've got to wrap up here.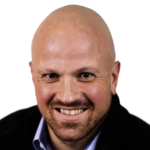 Daniel Newman is the Principal Analyst of Futurum Research and the CEO of Broadsuite Media Group. Living his life at the intersection of people and technology, Daniel works with the world's largest technology brands exploring Digital Transformation and how it is influencing the enterprise. Read Full Bio