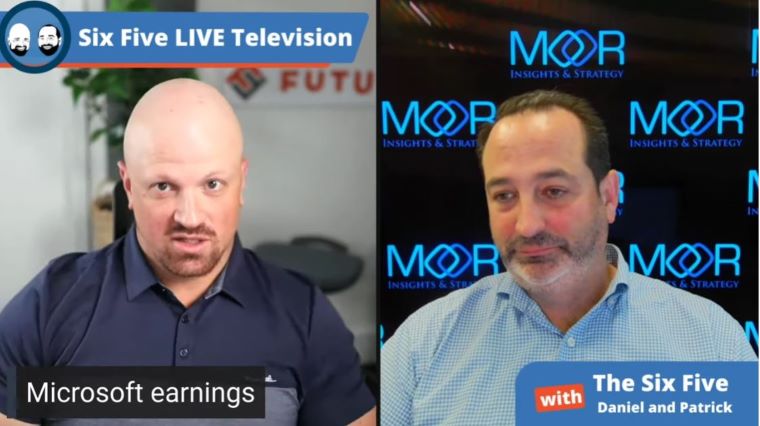 The Six Five team dives into the Q3 earnings coming out of Microsoft.
Watch the clip here:
If you are interested in watching the full episode you can check it out here.
Disclaimer: The Six Five Webcast is for information and entertainment purposes only. Over the course of this webcast, we may talk about companies that are publicly traded and we may even reference that fact and their equity share price, but please do not take anything that we say as a recommendation about what you should do with your investment dollars. We are not investment advisors and we do not ask that you treat us as such.
Transcript:
Patrick Moorhead: Why don't we talk about Microsoft's great quarter?
Daniel Newman: Well, as I had predicted and I sometimes like to do victory laps, I learned it from a friend of mine. I said that the enterprise tech companies, the ones that have a larger focus on enterprise, were going to do remarkably well this quarter. Let's just say Microsoft did not disappoint with its results. The company delivered on the top line, delivered on the bottom line, had record revenue. It was a little closer, the growth had slowed a little bit from where it had been the past few quarters, but the sentiment around Microsoft, 46% growth for Azure yet again, 18% overall revenue growth, pretty much growth in every category of the company at strength, and Xbox, it had a great number in surface. by the way, Pat, you remember surface had some pretty lousy quarters actually, when everything else was blowing up for PC. So, it seems they've been able to get that in order, record revenues and their LinkedIn businesses, dynamics growing solid, especially on the cloud side at over 30%.
But you know what Pat, like I said, Microsoft's so big that we could literally spend like the whole show, just trying to break down the Microsoft piece. So, a couple of observations that I have is one is I've been saying a lot about the deflationary aspects of tech. Microsoft is a great example of a company that's selling to enterprises, has that motion down very well, understands that companies are going to need automation, they're going to need AI, they're going to need cloud, they're going to data, they're going to need SaaS based apps, they're going to move to OPEX. These are the things that companies are going to do to make themselves more robust during what's going to be a downturn. Let's be very, very straightforward about this, while the earnings this quarter were good, the market's overall downturn is going to last for some time.
I mean, Pat, you and I had dinner, last night we were at a dinner together. I think the word stagflation came out and we are actually heading towards a risk of, we saw GDP didn't grow this quarter. So, we're already in one quarter. Two, right? Is it two? And, you're in our session, technically speaking, but that actually means companies are going to be thinking about efficiency. There's already an issue because there's a low availability of labor, you got a tight workforce. Companies have had to spend a fortune to hire people. If they can utilize technology instead to displace some of that hiring, they're going to be thinking about it and they're going to be looking for ways to get more efficient. So, I think Microsoft overall has a really good, diverse mix of products, they're growing in the cloud, they're making good investments, they're getting industrial focused, vertically focused and this quarter provided a very good indication across its businesses that it's going to be in good shape for the long term.
Couple things just to watch is one, the acquisition of ActiVision. That's getting some regulatory scrutiny. I don't know if that'll get done right away, it might take some time. My prediction is in the end, it does get done, Microsoft seems to be better at dealing with this regulatory stuff right now than some of the other companies. But yeah, like I said, going back, I think the growth in cloud, the strength in business applications… And by the way, seeing that there's still good demand for Surface and Xbox, these are all good indicators, and they did actually guide pretty positively, which really is the trifecta. Good results, good guidance and good performance. So, I think a good quarter from Microsoft.
Patrick Moorhead: Yeah. You know a company's doing really well when the discussion is the rate at which they beat on the bottom and the top is slowing down. I love that type of measurement. Just to be added to the conversation here, let me focus in on a couple things that Microsoft pulled out in the call that I thought were interesting. So power, the power business, right? Essentially the low code/no code is a $2 billion business and is the fastest growing business that's at scale. That is absolutely tremendous. I mean, it makes sense, given that Microsoft has, I call it low code/no code and a whole hell of a lot of code with things like Visual Studio and GitHub. So, that's huge, Azure just blew it away. Azure, one of these at scale businesses, couple customer announcements with Nike and Unilever, at least from the words, it looks like they're going all in on it.
The company also made a statement about them being SAP share leader, which I thought was quite interesting, and as we know, SAP doesn't have its own IAS, but what it does do, is it works with folks like Azure and Google Cloud and AWS to run workloads in the public cloud. A couple of other things that I thought were interesting, security is a $15 billion business, in the past year, Microsoft supplanted Cisco as the largest security company out there, and I thought that was super interesting. One little security tidbit, AAD had over 550 million active users. That is a big damn number. Those of you who don't know what Azure Active Directory, essentially, if you have an application environment and you want single sign in for all of your applications, you can pick something like AAD to be that portal to get logged in, so that's 550 million people logging in… Basically, getting approved to get into applications per month.
Another big thing is, and funny enough, didn't get a lot of play was that Windows continues to take share, and I dug into that a little bit and Microsoft actually took share from Apple and Google Chrome. By the way, as we saw from the Intel numbers, as we're going to talk about, and as we saw from HP, Chromebooks just went in the absolute toilet in the past three months, and something that I did a little bit of a deep squint on was, it says enterprises are adopting Windows 11 faster than any previous OS. Little surprising to me because of Microsoft going so hard on the consumer side initially, and in my opinion, maybe muddying the message on security to big businesses, and also saying, "Hey, it's Windows 11, but hey, wink, wink, nudge, nudge, it's actually Windows 10," right?
So, not exactly giving enterprises a reason to change, but I believe what Microsoft says, I'm going to take them on their word. So, that was a big surprise that I had. Finally, VIVA, which is essentially a program to better manage remote employees, keep them engaged, let them check in, over 10 million miles. That's fricking phenomenal, right? That means 10 million employees are on VIVA right now. That's a big number. So, just to close the loop, Daniel, like you said, if it's business, it's Microsoft. Not that they don't have a consumer business, but it's certainly not the focus right now.
Daniel Newman: They're very insulated from some of these macro factors, Pat. But one of the things I did want to just circle back to, and we don't need to really dive into this… By the way, they did have a crazy good security number, and I know that's just a weird thing, but their security business is exploding, and-
Patrick Moorhead: Right. Yeah, I talked about the 15 billion.
Daniel Newman: Yeah. I mean, it's just crazy though. It's just very interesting because their name is not a first I think of, but they are absolutely knocking it out of the park there.
Patrick Moorhead: Yeah, I mean their insertion point is everywhere. They've got the leading overall security, I call it the security arbiter with Azure Active Directory, to give single sign on for pretty much everything. They're really going after the endpoint play with PCs, and 92% of the PC market is Windows. Okay? And even a higher enterprise number is that, and then you've got everything in between, then they've got Azure. So yeah, it makes a lot of sense there.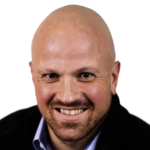 Daniel Newman is the Chief Analyst of Futurum Research and the CEO of The Futurum Group. Living his life at the intersection of people and technology, Daniel works with the world's largest technology brands exploring Digital Transformation and how it is influencing the enterprise. Read Full Bio