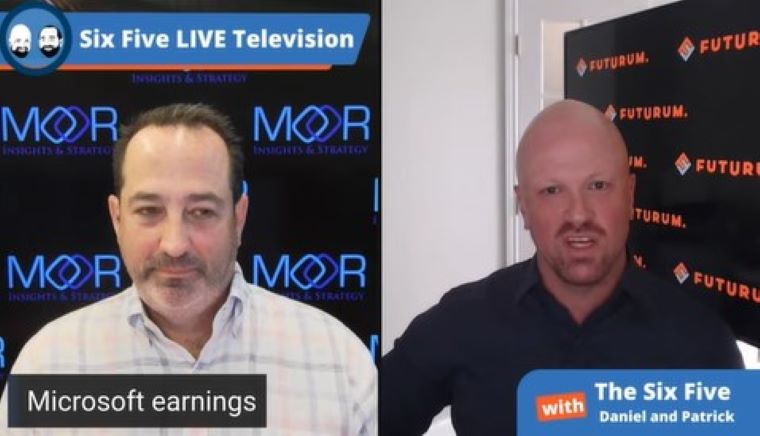 It's The Six Five team's favorite time of the quarter: Earnings Palooza! Hosts Daniel Newman and Patrick Moorhead discuss Microsoft's latest earnings report.
Watch the clip here:
If you are interested in watching the full episode you can check it out here.
Disclaimer: The Six Five Webcast is for information and entertainment purposes only. Over the course of this webcast, we may talk about companies that are publicly traded and we may even reference that fact and their equity share price, but please do not take anything that we say as a recommendation about what you should do with your investment dollars. We are not investment advisors and we do not ask that you treat us as such.
Transcript:
Daniel Newman: Let's start off with Microsoft. So kicking off the week the big tech earnings this week on Tuesday, Microsoft and Alphabet had the chance to go on Bloomberg Tech and talk about this. So, I'm fully versed. Pat, it was funny.
The first day was like such a signal throw. So both Alphabet, we'll get to them in a little bit at Microsoft, they both missed on the top and the bottom line. However, they both came really, really close on the top and the bottom line. I thought it was kind of interesting as we looked at their numbers because in both instances it wasn't like, oh my gosh, they got crushed, this is terrible. It was like, wow, they grew YOY.
I believe Microsoft grew 12% on a YOY basis, but obviously a pretty significant deceleration against how good the growth has been. Now having said that, the growth has been really, really good. So you're getting into this window now where you're comparing if you go back a year in Microsoft time, these were record quarters. So they're still growing over record quarters and their misses were very close.
They missed on the earning side, Pat by about 6 cents. And I want to be very clear. I can give them 6 cents back. If you take FX, if you take the Ukraine, Russia, and you take the lost revenues tied to the shutdowns in China, it equated to almost exactly 6 cents in earnings. So the company would've been right at its expected $2.29 a share had you taken out those things.
But you can't take out those things because those are real issues. But those are things that I think if you're an investor, you can look past and say, "We probably won't have these shutdowns forever," although it's starting to feel like it. We probably at some point might resolve the conflict in Russia and Ukraine although it's starting to feel like that may last forever too. And this strengthening dollar probably will tame at some point. We've never seen the dollar quite this strong before, at least not in my lifetime, Pat, I can't speak for yours because you're a lot older than me.
Patrick Moorhead: Thanks buddy.
Daniel Newman: So the big number that everybody is going to ask about every time is going to be the cloud business, Azure. 40% growth. So that was a bit of a pullback from the past. But over the last few weeks rather than kind of getting too granular about Microsoft, there's been a lot of debate in the marketplace in the media with business press kind of saying that this cloud bubble was about to burst.
And so after IBM came out pretty strong, the first public cloud provider of the group, Microsoft came in at 40%, a little pullback. But remember these are large number growth issues too. The number keeps getting bigger, which means that percentage starts to become harder to continue to meet time and time and time again. So people have said for quarter after quarter after quarter this is bound to get lower.
And basically there's been a little bit of volatility, but Microsoft's keeping that number at 40 plus percent is a pretty strong result as a whole. Intelligent cloud showed strong growth and across the portfolio, Dynamics 365, another area that I focus quite a bit on showed growth above 30%, which means enterprise app investments are still growing as well.
I'm going to leave windows and some of that stuff to you because I know you spend a lot of time on that stuff and surface as well. But what I will say is I think Microsoft is probably one of the most interesting bellwethers as we try to figure out what's going to happen in tech because they have exposure to both consumer and enterprise. They have small business and big enterprise clients. They have both cloud and prem. And of course the company is so diverse that it really can show you where you might see acceleration and deceleration.
I've been saying for a while that I think deflationary tech and things like enterprise and automation and AI will remain strong. Largely the numbers that you saw indicate that that's the case. But they actually did fairly well in the other categories too. So I'll leave it there. Pat, I'll pass it over. But it was a miss, but it wasn't a bad miss. And I don't think it was a really bad quarter. They seemed to be pretty on top of what their earnings are and I'd like to see them beat, but I'm not upset about this result.
Patrick Moorhead: Listen, I'm going to take a victory lap because in the end I nailed it on my analysis. I think everybody was wrong because they leaned way too much into the spreadsheets and they didn't fully understand the impact of foreign exchange. You can't hold a company accountable when foreign exchange within three to six months vacillates so quickly. That's not like a treasury mistake. And if you look at revenue was hit 4%, gross margin, 5%, EPS, 5%. That was my lead in to my analysis. They had a freaking great quarter.
And I think if I look at all of the earnings that went out this week, Microsoft won. And I know we don't talk about that in equity land, but they did. I mean, look at the numbers on AWS and Google Cloud and then look at Azure. I mean, 46% constant currency. It's obscene. Now AWS has a larger revenue base, but I got to tell you, you just cannot deny that they are on the move.
Microsoft has a very large consumer business, right? Gaming was down 6%, Windows was down considerably. And a lot of that is tied to consumer. But when I look at Office 365 was a little light at 15%, right? I'd like to see a SaaS business in the 20% range, but Dynamics 365, 30%. LinkedIn was crazy, right? Record engagement up 29%. And I think they're benefiting a lot from the great resignation, right? Like where do you go to post your resume and where do recruiters come in to siphon it off?
One of the biggest places is LinkedIn. So they had an absolutely great quarter. Heck even surface was up 10%. Now, YOY, if you look at the previous quarter a year ago, it was a tough quarter for the surface team. They were not getting supply when a lot of the rest in the industry were. But as we've seen, the overall market was down 15%, 20% depending on whose numbers you trust.
Intel laid a giant egg on the PC market, is you saw they were saying that the market was down 10%. So Microsoft even did well in PCs. And we also saw that the Mac was down 10%. So again, sorry I usually don't call my own number, but when I nail it, I nail it and everybody talk even hemming and hawing… Wait a second. Isn't that what Biden uses? No. Talking about, oh, they missed their numbers. Yeah, they did but they didn't.
Daniel Newman: Well, I think you've hit that one pretty well, Pat and I think we both can cheers our ability to read the market. I think a lot of people are missing those seculars too that a lot of components of Microsoft's business are just simply not going to get whacked. I've got this kind of concept and I'm going to roll into the next one because I don't want to spend too much more time here.
But I got this kind of concept that there are just certain companies that are above the fold right now, that are just… Remember the banks too big to fail? Well, they were probably deserved to fail, but these companies are actually too important to see macroeconomic issues smash them.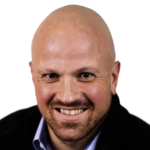 Daniel Newman is the Principal Analyst of Futurum Research and the CEO of Broadsuite Media Group. Living his life at the intersection of people and technology, Daniel works with the world's largest technology brands exploring Digital Transformation and how it is influencing the enterprise. Read Full Bio