Microsoft Acquiring Activision
Microsoft Acquiring Activision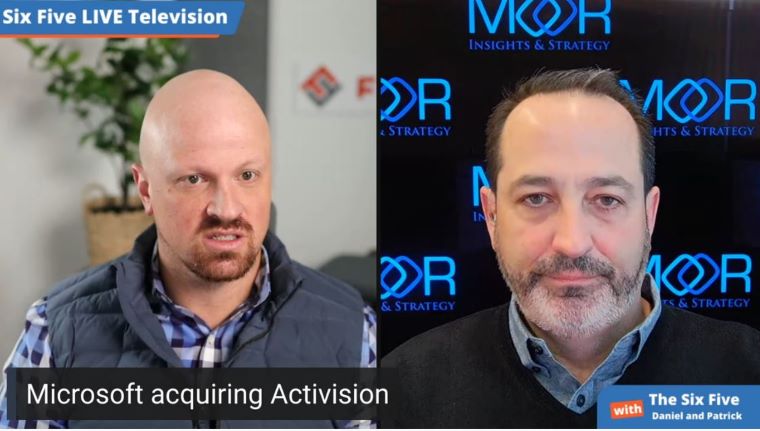 The Six Five team discusses Microsoft acquiring Activision.
Watch the clip here:
If you are interested in watching the full episode you can check it out here.
Disclaimer: The Six Five Webcast is for information and entertainment purposes only. Over the course of this webcast, we may talk about companies that are publicly traded and we may even reference that fact and their equity share price, but please do not take anything that we say as a recommendation about what you should do with your investment dollars. We are not investment advisors and we do not ask that you treat us as such.
Transcript:
Daniel Newman: Let's hit them all right now, Mr. Moorhead, and I'll start off here talking a little bit about probably you could say the biggest story of the week. That would be that Microsoft announced that it was going to spend 68.7 billion to acquire Activision Blizzard.
This is a mega huge gaming franchise… I'm not a super gamer, by any means, but just looking at what's going on here, you're talking about an acquisition of a company that's going to give Microsoft more than 400 million monthly active users that play their games. What would you say their biggest title is, Pat?
Patrick Moorhead: If I judge it based on my son, Pico, economically, it's Call of Duty, head and shoulders above on the revenue side. I mean, who doesn't appreciate the God of War, and that's exactly what it is. Whether it's World War II, they do futuristic war and war everywhere all day long. My son is not a huge Call of Duty player. Gosh, he was ranked top 500 in Overwatch when it came out. We've attended multiple Activision Blizzard events the two of us. World of Warcraft, huge, iconic. StarCraft. I mean, listen, it's a super interesting acquisition for sure.
Daniel Newman: Yeah. It's definitely a big one. But it's also interesting on a few other fronts, Pat. You and I can't help but talk about the market and getting our faces ripped off. It doesn't really matter anymore whether you're a 401k holder, a crypto holder. Hopefully, if you're well diversified in something pretty long term, you're not getting too hammered. But if you're in anything risky right now, you've probably seen anywhere from a 40 to 70% pullback.
Microsoft largely has been able to be steady. I mean, it's fallen maybe about 10%, which is nothing compared to most of the names right now. But making a 68.7 billion all-cash deal right now when the market's pretty turbulent, not to mention buying a company that's under, I would say, a little bit of scrutiny based upon on a few recent culture issues that have gone within Activision Blizzard, in my opinion, showed an extraordinarily bullish move by Microsoft, which, if this deal gets done…
Antitrust is another area to speak about, but if this deal gets done, Microsoft will become, I believe, the largest gaming company in the United States, and I think the third largest in the world. But could obviously very quickly grow and surpass the others. I think it's Tencent and Sony are one and two right now today. But they would quickly become competitive to surpass that.
The cultural thing is going to be interesting. They've made a big commitment to do better. I think of Microsoft, Pat, as a company that does extraordinary diligence in any acquisition they're going to make. I just do not see them having made this if they felt that the cultural issues would not be repairable. I made those comments to a number of media sources. I stand by that.
I actually think, Pat, here's the thing on the antitrust, I just put this out there, it's not that this doesn't require some scrutiny. It does. It's too big of a deal not to look at. But it's so not the biggest fish to fry right now. The competitors in gaming, whether that be Nvidia and GeForce, whether that be Google and Stadia, whether that… They have big competition, Amazon. You've still got the whole Twitch world.
Of course, just like I said, you have Sony. You have Tencent. You have a lot of big companies that can compete in gaming. There's still Electronic Arts and all these other companies that are out there. I just don't see it as being anti-competitive off the bat, especially if you compare it to things like the App Store, which still hasn't been dealt with. And even after the most recent ruling, got an injunction and therefore it's business as usual for Apple. So it will get scrutinized.
I see it going through because also, Pat, I think it's fair to say Microsoft has largely gone under the radar on all the antitrust stuff. I don't see that changing here. [inaudible] has bigger, bigger fish to fry. Said it in writing, saying it again. Don't know what you think on that.
Patrick Moorhead: Could take. As usual, you're on top of all of the antitrust stuff because it's just-
Daniel Newman: I like that stuff. Interesting.
Patrick Moorhead: You know what? I like it too, if it weren't for that it has to do with government.
Daniel Newman: Yeah, yeah, yeah. Well, I mean, the whole point is I tend to like that… Try to think about what our government can try to not screw up, and hopefully they don't screw this up. If the big companies are no longer allowed to buy the littler companies, you've created a big rift in a massive ecosystem. That's what they're built to do. And so, yes, we need to keep it competitive. Yes, we need to regulate, but not in a lot of the ways that we're trying.
Not very effective. Shows a lot of disconnect. Don't want to go down that path right now because I'm going to sound bitter and I don't mean to sound bitter.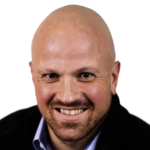 Daniel Newman is the Principal Analyst of Futurum Research and the CEO of Broadsuite Media Group. Living his life at the intersection of people and technology, Daniel works with the world's largest technology brands exploring Digital Transformation and how it is influencing the enterprise. Read Full Bio