Micron to Invest $150B in Global Manufacturing and R&D
Micron to Invest $150B in Global Manufacturing and R&D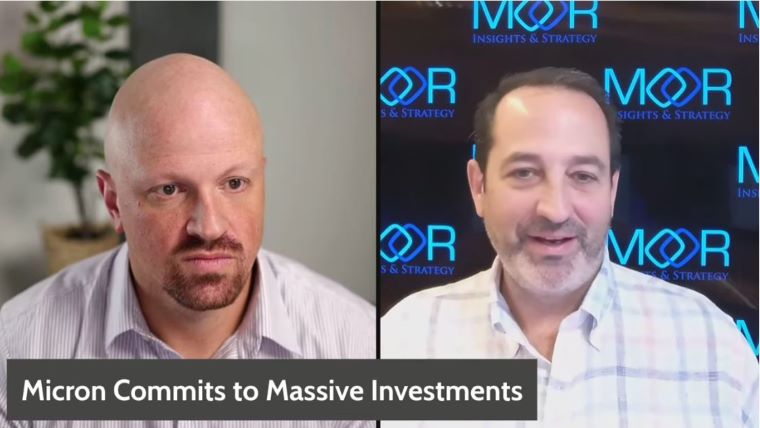 The Six Five team discusses Micron's commitment to invest $150B in global manufacturing and R&D.
Watch the clip here:
If you are interested in watching the full episode you can check it out here:
Disclaimer: The Six Five Webcast is for information and entertainment purposes only. Over the course of this webcast, we may talk about companies that are publicly traded and we may even reference that fact and their equity share price, but please do not take anything that we say as a recommendation about what you should do with your investment dollars. We are not investment advisors and we do not ask that you treat us as such.
Transcript:
Patrick Moorhead: So let's move to Micron. Micron came out. We're used to $20 billion commitments, $60 billion commitments over five years. Micron came out with a $150 billion commitment over 10 years for what they described to lean into memory. And it'll be memory and storage, but it's easier, I think, just to say memory. But let me just give a little backdrop of, aside from the number, why memory is going to be so important.
So first off. On the consumer side, if you want faster twitch of applications, you want to it in memory. You on more memory. We see it in PCs, we see it in Smartphones. Apple came out, albeit a different kind of memory, 64 gigs just on the MacBook Pro, the 16 and the 14 inch. And also what we see in semi conductors is that due to Moore's law and the lack of ability to crank out these massive dye products, HBM becomes the interconnect between, let's say, the CPU and the GPU, or the FPGA. We see it with Xilinx. I mean, we see it with high end data center graphics cards, the ability to connect those things together. But the opportunity's even bigger, Daniel, in the data center. So today, we can offload networking. We can offload the CPU, and we can offload storage.
And what I mean by offload is, you dis aggregate it. It's not all one thing. And you can leverage it as one fungible asset. But the one remaining thing that you can't compose today in the data center is memory. If you want more memory for an application, you can do it the slow way over a technology called RDMA, which goes at the speed, basically, of a network card, which is to too slow. And that enables you to take what might be a scale up application and scale out. But if you need more memory, you need to buy a new CPU, because this CPU is linked with memory. I had great conversation with the gentleman at Micron, Raj Hazra, who runs memory over there. And I also had a great conversation with Jeremy, who runs storage, but this new technology called CXL is going to enable hyper scale data centers, AWS, Azure, GCP, IBM, Oracle to compose memory.
And I've talked to all of them, Daniel, and they are super excited about this technology, although none of them are publicly talking about it, although every one of them could do that. I believe that is going to enable just an absolute boom for Micron, which again, leads to the requirement to invest $150 billion into fabs. And I'll end with, Micron wasn't specific on where they're going to get the money, but they were absolutely saying, like Intel, that they're going to look to the governments to dig into that for the very important reason of supply chain and national security. And whether that's national security in the United States, or over in Western Europe, or, for that matter, in Southeast Asia. Everybody wants their own fabs.
Daniel Newman: Yeah. You make a great series of points there, Pat. The 52 billion or so that was, I think, put in the Senate bill, that's still sitting in the House, hasn't passed certainly isn't going to cover all this investment. I also believe the amount of investment that has been put forth in the various infrastructure bills for semiconductors simply isn't enough. The consensus globally is that some, if not, much more semiconductor manufacturing, especially at the leading edge needs to be done here in the US, where effectively we're doing zero right now, if you don't count stuff that's being built either for self purposes, because I know IBM builds some of their own for themselves, but they're not actually building for anyone else anymore.
Patrick Moorhead: Technically 12% in the US, but that's not leading edge.
Daniel Newman: That's what I meant. Zero leading edge, sorry, 12% total semiconductor manufacturing. Now we do have Samsung, and TSM, and Intel broke ground on their additional fabs. There are things happening. This is multiple year process. And to your point, Pat, 30% of the semiconductor market is memory and storage. And these are different. It's a different process than CPUs. And so, I always like to say, memories and storage don't get a lot of affection the way GPUs and high powered CPUs often are fun to talk about, Pat, but try running an application without memory and storage and see how that works for you.
It's kind of like when I told you about being challenged that semiconductors are not eating the world. And then you said to me, "What are you going to run your apps on, air?" I mean, look, this is the world that we live in is, this is an opportunity. Going back full circle to the Intel conversation. Look, Gelsinger gets the one thing is that we need to able to make more semiconductors. Even if Intel can't grow it's TAM on all of its different products, they can make money manufacturing chips for these other companies that are growing.
Patrick Moorhead: That's right. They've already showed they won the ramp business with the federal government. Guess what? AWS and a lot of vendors who have not spoken up will have to fab their stuff at Intel.
Daniel Newman: It's going to be a public opinion thing, Pat. How do you not work with a US based company that's creating US based jobs? And by the way, that's part of the story here with Micron is, not only is it about manufacturing more and being opportunistic to make money, it's about doing good for this supply chain issue. You're going to do more R&D, you're going to create more jobs. By the way, this company's based in Boise. It's not a San Jose. They're actually distributing the tech around the world. And part of the reason I think sometimes they don't get as much coverage is because they're in Boise. By the way, beautiful part of the world. You should visit it if you haven't been there. I'd go there over San Francisco anytime. No offense, San Francisco. Actually, take it for what you will.
But truth be told, good stuff for Micron. The company is on the rise. It's got some serious competition, but it's actually not as competitive as, I would say, some of this stuff in CPU, GPU is right now, and Microns doing very well. And it's good to see this, Pat. It's good to see the company stepping up. I am going to be interested to watch where $150 billion comes from, but the long tail gives the company time to create that cash flow, create that growth. And we all know one thing. Computing isn't slowing, and therefore memory and storage won't slow either.
Patrick Moorhead: Absolutely. What a great topic to end on. We kind of wrapped everything from regulation to Moore's law, to national security, to supply chain all into one Micron conversation. Here's the thing, Daniel. When you go 10 years out and you put a big number out you can be off by a factor of a lot, and you're not going to be scrutinized. I think net-net, we can all agree that memory is more important than it's ever been out there. And I would say, it should be on the same pedestal as a CPU and a GPU right now. I just think that the investment that the CPU and GPU companies have put into the awareness compared to the memory companies is probably a factor difference of a thousand. So it's going to take a while for that to sink in, but we can't say it's not a reality, because it is.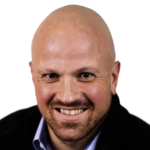 Daniel Newman is the Principal Analyst of Futurum Research and the CEO of Broadsuite Media Group. Living his life at the intersection of people and technology, Daniel works with the world's largest technology brands exploring Digital Transformation and how it is influencing the enterprise. Read Full Bio