Mavenir's Acquisition of Telestax
Mavenir's Acquisition of Telestax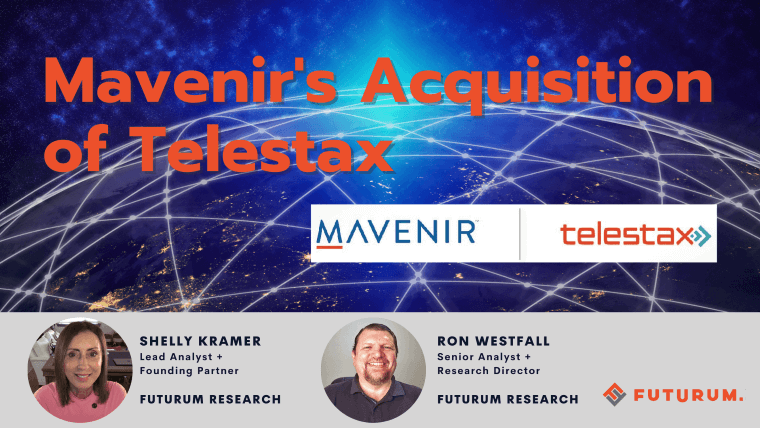 For this vignette of a recent episode of the Futurum Tech Webcast, Part of the 5G Factor series, analysts Ron Westfall and Shelly Kramer examine why the Mavenir acquisition of Telestax improves the Mavenir Engage proposition and alters the competitive dynamics of the Communications Platform as a service (CPaaS) market.
Their discussion covered:
How Mavenir's 5G and mobile networking expertise can swiftly differentiate the CPaaS capabilities of the Mavenir Engage platform as many of the established CPaaS providers, such as Vonage and Twilio, as well as tech titan like Cisco, Microsoft, and AWS targeting the space, don't have such in-house capabilities today.
Why 5G and API enablement are instrumental to unlocking enterprise value across verticals such as IoT, smart cities, and connected car, as well as providing turnkey applications and boosting use case networking for logistics, fleet management, AI/ML chatbots, voice biometrics verification, immersive commerce/entertainment, and additional use cases.
How the deal strengthens Mavenir's portfolio to address emerging WFH, BYOD, and CPaaS security requirements across enterprise and managed service environments.
Ron and Shelly see Mavenir making additional inroads in the CPaaS realm as operators increasingly prioritize 5G monetization and CPaaS technology evolves to assimilate a wider range of mobile/5G capabilities that fulfill digital workforce demands.
Watch the clip here:
Or grab the audio by way of your favorite streaming platform here:
Don't Miss An Episode – Subscribe Below:
Disclaimer: The Futurum Tech Webcast is for information and entertainment purposes only. Over the course of this webcast, we may talk about companies that are publicly traded and we may even reference that fact and their equity share price, but please do not take anything that we say as a recommendation about what you should do with your investment dollars. We are not investment advisors and we do not ask that you treat us as such.
Transcript:
Shelly Kramer: Speaking of major telcos, I want to talk a little bit about Mavenir's acquisition of Telestax, which I know is all about 5G monetization opportunities, communication platforms as a service, which we're seeing more and more of those. Talk with us a little bit about this. I know you discovered it.
Ron Westfall: Right on. Well, that many years at the office here, we've mentioned them at least three times in our conversation here and that's good. Yes. The Telestax acquisition, I think, is a [inaudible] when both companies are headquartered in Texas for one and Telestax definitely has a pedigree and acumen in the communications platform as a service market segment. And what I think is important here is that yes, Mavenir now can enhance its existing Mavenir engage platform to improve things like messaging, programmability, campaigns, on and on all these capabilities that come with existing CPaaS implementations. And what I think is important here is that obviously Mavenir has 5g and mobile expertise that many of the established communication platform as a service providers don't have inside their portfolio today. And this includes companies like Twilio Vonage, some of these are somewhat household names, but also other companies like Bird Message that definitely have made inroads in this market.
But what's also important to note here is that you have players like Microsoft, like AWS also Cisco also targeting a space. So Mavenir has its work cut out to further differentiate a CPaaS offering here. However, what I think is going to help them is the fact that unlike almost all these other players, they have that in-house 5g portfolio capabilities or overall mobile capabilities. And I think that will be a kickstart to their ability to leverage Telestax capabilities, to make quick inroads in this heavily crowded market. And so this is going to be good for Enterprise customers and certainly service providers that are targeting Enterprise's now with their own CPaaS type of implementations and which is also increasingly overlapping with unified communications as a service and so forth. It's all about making Enterprise's smarter when it comes to platforms like we're using right now, just making communications more flexible, especially with the work from home becoming more mainstream for many major Enterprise's, as well as other key trends.
Shelly Kramer: The whole BYOD, bring your own devices. The work from home, even as people start going back into the office when/if that happens, as things are a little dicey right now, but I believe there's always going to be some kind of a hybrid situation. And so being able to serve the Enterprise work from home employees and support the BYOD policies and things like that, I think that's really a big deal here.
Ron Westfall: No doubt. And I think it's also about security. They also emphasize voice biometrics, certainly interactive voice response capabilities. And this is again, aligning with Enterprise is accelerating adoption of 5g and also making service providers more adept at differentiating and monetizing their 5g offerings. So yeah, this is something that I think the whole ecosystem will pay attention to, and it will force some of these established market leaders in that segment to become more advanced in how they integrate mobile 5g capabilities with their offerings.
Shelly Kramer: Absolutely. Super important.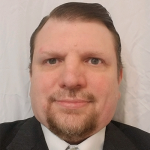 Ron is an experienced research expert and analyst, with over 20 years of experience in the digital and IT transformation markets. He is a recognized authority at tracking the evolution of and identifying the key disruptive trends within the service enablement ecosystem, including software and services, infrastructure, 5G/IoT, AI/analytics, security, cloud computing, revenue management, and regulatory issues. Read Full Bio.