Mavenir and Aspire Technology Aspire to Advance Open RAN Market Availability
Mavenir and Aspire Technology Aspire to Advance Open RAN Market Availability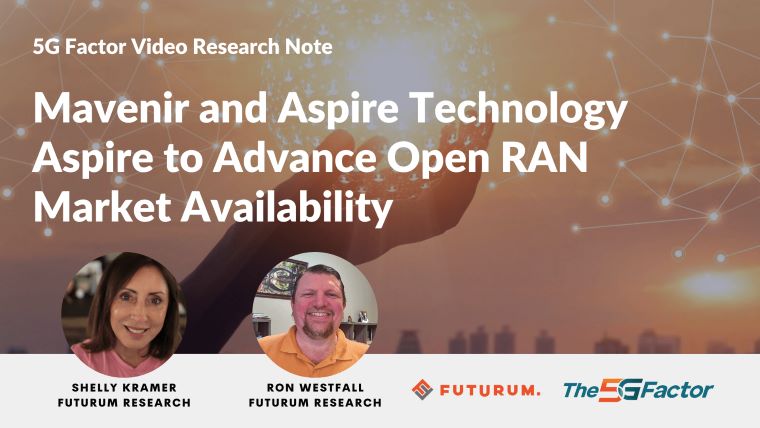 For this vignette of a recent episode of the Futurum Tech Webcast, part of the 5G Factor series, analysts Ron Westfall and Shelly Kramer examine the collaboration between Mavenir and Aspire Technology to accelerate the market availability of O-RAN split 7:2 compliant Remote Radiohead Units (RRUs) using Aspire's Open Network Labs in Europe.
Their conversation focused on:
How Mavenir and Aspire are working together in using Aspire's Open Network Labs at Dublin to provide third-party RRU integration and testing assurance, catalyzing integration and testing of new O-RAN compliant radios and frequency variants with Mavenir CU/DU software.
Why the support of O-RAN split 7:2 compliant RRUs is critical to advancing Open RAN adoption since the O-RAN Alliance specifies a multi-vendor fronthaul interfaces between the RRU and DU, by introducing a specific category of split 7:2 to ensure the control, data, management, and synchronization planes are clearly defined and accepted.
The significance of Aspire's Open Network Labs location in Europe since O-RAN Alliance heavyweights Deutsche Telekom, Orange, Telecom Italia (TIM), Telefonica, and Vodafone are vocally advocating advancement of the Open RAN ecosystem throughout Europe.
Ron and Shelly view the proposal of the five major European operators that the European Commission develop a European Alliance for next-generation communications infrastructure, akin to existing alliances focused on cloud and semiconductors, as providing a major impetus for Open RAN progress across the European 5G ecosystem. The incentives for promoting Open RAN include assisting mobile network transitions away from proprietary RAN implementations, maintaining competitiveness with swiftly expanding 5G markets across North America and Asia, as well as helping meet supply chain, national security, sustainability, and domestic job creation goals. They conclude that the Mavenir and Aspire partnership aligns with accelerating O-RAN Alliance Open RAN adoption aspirations.
Watch the video vignette here:
Watch the entire episode here:
Or stream the audio of the entire episode here:
If you've not yet subscribed to The 5G Factor, hit the 'subscribe' button while you're there and you won't miss an episode.
Disclaimer: The Futurum Tech Webcast is for information and entertainment purposes only. Over the course of this webcast, we may talk about companies that are publicly traded and we may even reference that fact and their equity share price, but please do not take anything that we say as a recommendation about what you should do with your investment dollars. We are not investment advisors and we do not ask that you treat us as such.
Transcript:
Shelly Kramer: So, all of these things, network modernization, coverage expansion, private networks, indoor project are all driving this and so what we're going to talk about next is a partnership between Mavenir and Aspire technology to accelerate the testing of OpenRAN compliant radios with a lab in Europe. So I know you have a little bit more background on that, let's hear it.
Ron Westfall: Yeah, this is an exciting partnership. And one that we definitely addressed in terms of providing a perspective. What I think is an important takeaway here is that it's supporting the 7.2 interface specification. And what's important about that particular specification is that it's enabling multi-vendor front hall interfaces between the remote radio unit and the distributed unit. And why that's important is the fact that obviously it's supporting the virtualization of RAN technology, it pretty much goes hand-in-hand with that. But again, that multi-vendor aspect, the ability of a CSP to take advantage of that rich 5G ecosystem being able to have a lot more flexibility than a traditional RAN implementation to pick and choose who they want to partake in their 5G deployments. And what is, I think key also, is that this ensures the control, data, the management and synchronization planes are clearly defined and accepted. And that's something I think that the O-RAN alliance is obviously keen on having is the fact that this is not just something that's in a test lab, it's something that out in the field is going to be able to enter work on a very rapid basis. It's something that's not going to be stalled out in 12 months of testing and validation so forth.
And to that end as Aspire's Open Network Labs is definitely set up for this, to enable all these different players, including obviously Mavenir, but any other vendor out there that's going to support a remote radio unit that wants to gain rapid acceptance or at least rapid consideration, here is your ticket to do that. And the reason why I think this has impetus is I think it's interesting that Aspire Technologies is based in Dublin, Europe, and that the O-RAN Alliance, at least certainly the heavyweight operators that are a part of it that are based in Europe, that is Orange, Deutsche Telecom, Telecom Italia, Vodafone, and Telefónica are all lobbying for the EU to embrace OpenRAN technology strategically, not just in principle. And that means, for example, they're recommending that the European Commission set up a European Alliance for next generation infrastructure that pretty much aligns with that it's already been set up for cloud and semiconductor technologies, for example. And the reason why this is important is that they are wanting to take advantage of the fact that governments throughout the EU are viewing OpenRAN as fulfilling some very important objectives that are pretty much parallel what we talked about, the Department of Defense initiatives, that is the national security, being able to have more supply chain stability, and also being able to quite simply, have more opportunity to develop domestic sources for 5G technology.
So it's also about job creation, but again, having more confidence that what 5G technology is deployed, it's definitely going to be safer. It's going to be more reliable than say working with a party that is based in China, for example, a company, the traditional RAN deployments. So I think this is definitely drawing stark contrast as to where the priorities are going and as a result, follow the investments and this is going to be important. And so I think Mavenir and Aspire technologies are definitely setting themselves up to be able to support this and also capitalize on this opportunity.