Marvell Industry Analyst Day 2021: Marvell Debuts AtlasOne Chip
Marvell Industry Analyst Day 2021: Marvell Debuts AtlasOne Chip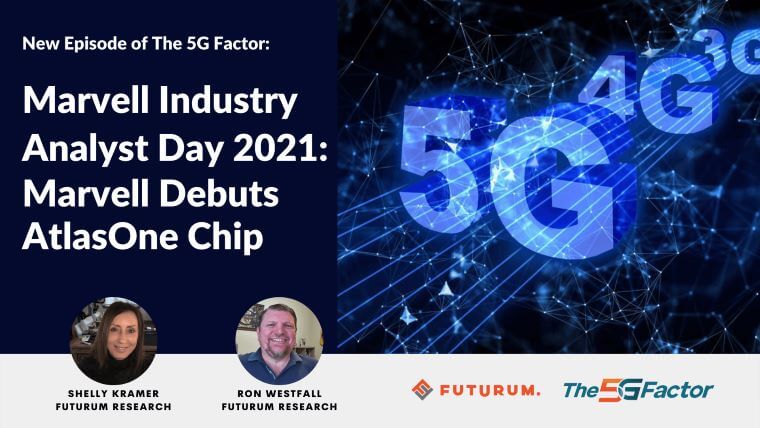 For this vignette of a recent episode of the Futurum Tech Webcast, part of the 5G Factor series, analysts Ron Westfall and Shelly Kramer examine the debut of the Marvell AtlasOne chipset, the company's 50Gbps PAM4 chipset solution for 5G fronthaul, targeted at improving performance for integrated radio access networks (RAN), as well as Open (O-RAN) and virtualized (vRAN) architectures. To meet growing 5G capacity demands, mobile operators are prioritizing fronthaul solutions that scale beyond 25G. The Marvell AtlasOne chipset, optimized for performance improvement and up to 25% lower power consumption, is part of Marvell's electro-optics portfolio aimed at easing vRAN and O-RAN adoption.
Their conversation highlighted:
Marvell's AtlasOne chipset 25/25 proposition: Adding 25 Gbps to fronthaul capacity to attain concurrent 50G capacity as well as potentially lowering power consumption by up to 25%.
How advancing fronthaul capabilities across O-RAN fabrics and vRAN implementations enables edge optimization by reducing footprint and lowering both power and solution costs.
The AtlasOne chip's support of integrated security delivers built-in Ethernet link MACsec protection augments other security technologies like Layer 3 IPSec security, enabling mobile operators to improve overall cybersecurity including safeguards against DDoS attacks, malware, ransomware, etc.
Why AtlasOne's support of segmented routing provides the source-based routing techniques key to simplifying traffic engineering by removing the need to obtain network state info from transit routers and nodes for instance.
Ron and Shelly concur that the new AtlasOne chipset strengthens Marvell's overall 5G ecosystem influence, especially in the O-RAN and vRAN areas, providing a strong complement to existing Alaska Ethernet PHYs, Prestera switches, and OCTEON Fusion RAN portfolio offerings as well as boosting mobile operator use cases in areas like ultra-reliable low latency communications, fixed wireless access, and hybrid workforce applications.
Watch the video vignette here:
Or listen here:
If you're watching the 5G space, be sure and subscribe to our YouTube channel to catch the show, or find the podcast in your favorite streaming channel and subscribe. You won't be disappointed!
Don't Miss An Episode – Subscribe Below:
Disclaimer: The Futurum Tech Webcast is for information and entertainment purposes only. Over the course of this webcast, we may talk about companies that are publicly traded and we may even reference that fact and their equity share price, but please do not take anything that we say as a recommendation about what you should do with your investment dollars. We are not investment advisors and we do not ask that you treat us as such.
Transcript:
Shelly Kramer: So we are going to start the show talking about our friends at Marvell and their new AtlasOne chip, which is all about expanding the company's 5G ecosystem wide influence. And let's talk a little bit about this chipset offering, Ron. I know that you covered Marvell's Industry Analyst Day here, and so fill us in.
Ron Westfall: Oh, you bet Shelly. And yes, I know Daniel Newman, our chief analyst and Nigel Alvares the VP of solutions marketing also talked about the Analyst event in a webcast. And that is a recap of everything that Marvell addressed that day. Here for 5G Factor, I want to drill down on the AtlasOne chipset debut which is very important, not just only for Marvell's ability to expand their 5G ecosystem influence, but for the higher industry. And on the technical spec side, it's a 50 gig PAM4 chipset.
And what it does, it aligns with the mobile network operators expanding demand for fronthaul capabilities that scale beyond 25 gigabits. And that also acquires lowering power consumption. And this chipset actually lowers power consumption by 25%. So 25 is like a magic number her because it's adding 25 gigabits to the overall bandwidth capacity while reducing power consumption requirements by 25. But also, in addition, it's enabling more flexible shifting bandwidth capacity in the fronthaul realm.
And that's going to be important because we know that unexpected spikes in mobile traffic can cause interruption in service, and sometimes it's due to this part of the network. And with this new integrated capability, mobile operators will have just that, the agility to respond more dynamically to unusual traffic or again, those traffic surges that can be unexpected. And as a result, maintain continuity of quality of service and so forth for 5G. In addition, it's also, I think delivering some important capabilities such as edge optimization.
Again, lowering the footprint and lowering that power consumption to a lower quite simply overall solution costs for optical electro capabilities in the fronthaul segment of the network. Also, it's supporting integrated security which is important as we know across the board in particular MACsec capabilities, which is ethernet link security. And combining that with other security capabilities such as routing level Ipsec. Helps the operator prevent the things like those dreaded distributed denial-of-service attacks and mall-
Shelly Kramer: Very brutal.
Ron Westfall: … and all the nasty stuff. Yeah.
Shelly Kramer: Yeah. Well, and very important because CUS attacks are on the rise that they have been absolutely off the charts in the last year, and that is not expected to slow down anytime soon if ever. So this is really baked-in security is tremendously important.
Ron Westfall: Oh, no doubt. And so, yeah, the timing is actually very well received. And in addition, it's also enabling segment routing capabilities. And what's the innovation here is that it's supporting source-based routing information to improve traffic engineering capabilities. Before segment routing was more available, the carriers had to basically deal with having to look up network state information at transit routers and transit nodes, and that just added complexity and delay.
And so, with the support of segment outing capabilities baked into the chip, that will definitely improve the overall efficiency of 5G networks, particularly in the fronthaul segment. And so, I think what's also important here is that Marvell is definitely advancing the O-RAN and the vRAN capabilities that mobile network operators are putting more emphasis on. The O-RAN Alliance clearly was formed just for that very capability.
And it's combining the AtlasOne capabilities with other Marvell product lines such as the OCTEON Fusion chipsets and as well as the Prestera switching capabilities. That it shows that Marvell is really spreading its wings more, that it's becoming just more integral to how any supplier is going to strategically advance 5G networking capabilities, not just in the fronthaul, but in terms of the end-to-end 5G networking.
And this is important because obviously the operators are betting and need for new applications to win and take off. That includes ultra-reliable low-latency communications that we see throughout, for example, manufacturing and industrial environments. Also, it's supporting, again, that dynamic sharing of the capacity across radio units to quite simply make the 5G network more efficient.
And finally, also, supporting new applications such as fixed wireless access as well as hybrid workforce. And combine all these together, and it's just a winning combination for operators. And I think we really are becoming more close to seeing these become mainstream, becoming quite simply monetize because of innovations like the AtlasOne chipset. So this is good news for the 5G ecosystem, for sure.
Shelly Kramer: Absolutely. Good news and exciting news, so that's awesome.