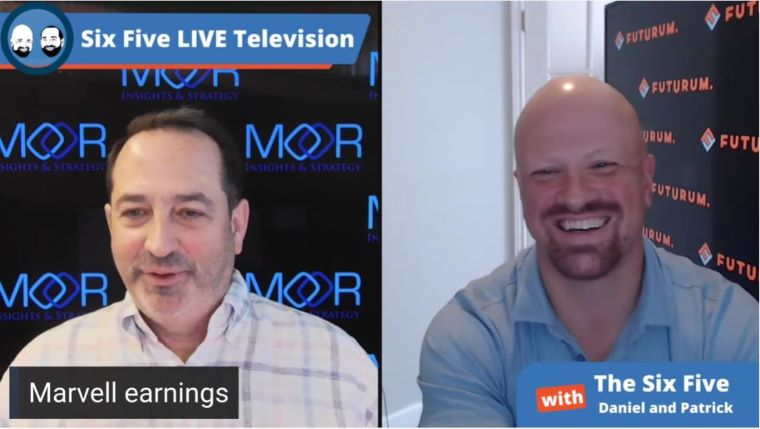 The Six Five team dives into the latest Marvell earnings.
If you are interested in watching the full episode you can check it out here.
Disclaimer: The Six Five Webcast is for information and entertainment purposes only. Over the course of this webcast, we may talk about companies that are publicly traded and we may even reference that fact and their equity share price, but please do not take anything that we say as a recommendation about what you should do with your investment dollars. We are not investment advisors and we do not ask that you treat us as such.
Transcript:
Daniel Newman: A company called Marvell Technology. You and I… Sometimes, I feel like we get a little giddy when we talk about Marvell. And as analysts, we need to be cautious about that. But there are just these companies that… And it's a little bit like Jim Anderson's Lattice. We do that with him too, where they're just doing everything right and they're really reaping the rewards. About a year ago, I wrote a piece on MarketWatch where I basically said Marvell has joined the must-owns of semiconductor names.
And this quarter is just another quarter with further evidence that Marvell knows how to operate, that the company has gotten closer and closer to 90% of its business being exposed to data center, enterprise cloud, and away from consumer. That's been Matt's strategy, Matt Murphy, CEO, and that is making such a big difference right now as the consumer markets do become more at risk and the semis being the leading indicators of that risk. So you saw them beat. They were almost perfect. I mean, it was right on earnings. It was right on their revenue, and that represented a 41% year-on-year growth.
But they're growing op inc, they're growing EPS, and they're guiding nicely to about a 29% growth. And guess what the market's doing? Selling. Why are they selling? Well, you and I talked about this offline. It's not as obvious as others. It wasn't a really bad reset in the guide, but I do think that there is some leading indicators, if you listen to Benioff's comments, you listen to Dell's comments, you listen to NVIDIA's comments, that there is some harsher economic situations and that this guide, and then maybe that expected beat of the guide, is going to be harder and harder to achieve even for Marvell.
I guess, if I'll try to give you a little more on this one, I've said for a number of quarters in a row, I like where their exposure is, data center, carrier, enterprise, automotive. Those are areas to be in. I like that they've pulled a lot of their risk away from consumer. I like the fact that they're very aggressive in partners. They're very aggressive in this cloud-scale silicon, these custom relationships that have really bear fruit for the company and results for their shareholders.
I don't know if there's more they can do, Pat. I just don't know right now in this current market. You saw them shift effectively away from the risk to the de-risk, in my opinion, almost from 40 to 90% in a few years. They've got the right clients, the right business, the right growth rates. They're in the right markets, Pat. I'm going to keep this one short. It was a good quarter. I don't care if the market's selling. We don't recommend buying, but maybe this would be one to look at.
Patrick Moorhead: Yeah. I like to separate Wall Street's pricing and movement with long-term value of a company, and I know that is kind of an oxymoron because the share price should be basically all future cash flows compounded on each other. So essentially, I think Wall Street's very short term, at least here in the United States. Yeah. We've known that for a long time. But I think it's important because when you see a stock like Marvell that's down this morning, 6%, some people might look at that and say, "Gosh, what's wrong with the company?" And it has absolutely nothing to do with this.
You've heard the moniker or the meme "sell on the news". Marvell, in each successive four quarters, has beaten less than it has before. Okay? So for instance, in Q3 2022, it beat EPS by 12%, and then three and a half, and then 1.34, and here, it was around 0.87% on revenue. In Q3 of last year, beat by five and a half percent, then one and a half, and then one, and then they had a slight miss. So as those investor expectations went up, getting trained that the company was going to beat by a certain amount, and then you put out a forecast that's over 10 points lower than your current quarter's year-over-year growth rate, people are going to react.
Daniel Newman: Deceleration.
Patrick Moorhead: Yeah. And by the way, I'm still amazed at the growth that they had in the cloud, which was 48% growth. That's huge, right? Carrier is on a $600 million annual run rate, the 5G element alone. They're getting content gains inside of the enterprise. I mean, they doubled their auto Ethernet year on year and, by the way, didn't contribute to that revenue, but they brought out the first auto switch for the car, kind of cool. Had an Ethernet switch inside of the car.
But anyways, none of this numbers stuff, at least from a price standpoint, has any impact on the company. I'm actually surprised at how much they grew when you compare to how Intel did for the quarter. It was a pretty big shocker, particularly when you look at the data center, because they're in the same data centers as Intel, and somehow Intel didn't grow, but Marvell did.
Anyways, good quarter, good company. Like I always get around to, I sometimes feel I'm way too positive on the company, but this amount of change for five years, six years going from 38% data infrastructure to 89% is completely unheard of. Before Matt and team took over that company, it was a consumer company. It was 62% consumer, and now it's 89% data infrastructure.
Daniel Newman: Like I said, I love it, the de-risk.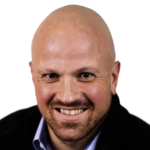 Daniel Newman is the Principal Analyst of Futurum Research and the CEO of Broadsuite Media Group. Living his life at the intersection of people and technology, Daniel works with the world's largest technology brands exploring Digital Transformation and how it is influencing the enterprise. Read Full Bio