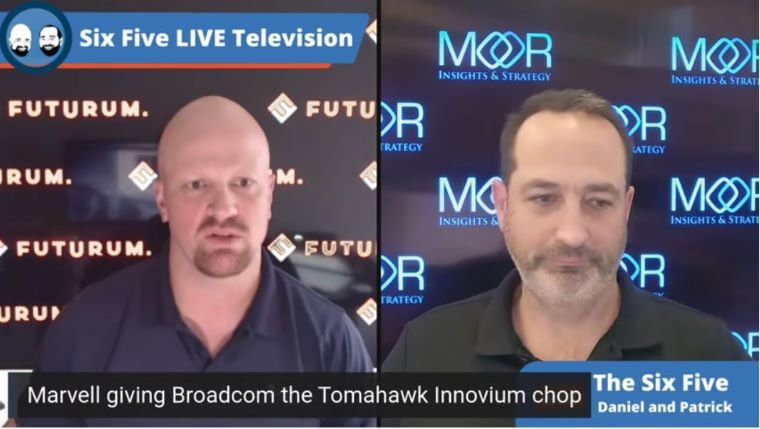 The Six Five team dives into the recent purchase of Innovium from Marvell.
Watch the clip here:
If you are interested in watching the full episode you can check it out here.
Disclaimer: The Six Five Webcast is for information and entertainment purposes only. Over the course of this webcast, we may talk about companies that are publicly traded and we may even reference that fact and their equity share price, but please do not take anything that we say as a recommendation about what you should do with your investment dollars. We are not investment advisors and we do not ask that you treat us as such.
Transcript:
Daniel Newman: So Pat, the other day, you and I did a quick Six Five Insider Edition, had some executives join us from Marvell to share a breaking piece of news that happened early… Was it Wednesday morning? I'm just checking my timeline. So Marvell made the announcement for a net some of about $955 million that it was going to be acquiring Innovium.
Now this by no means, Pat, is a name that everybody knows, but when it comes to switching for cloud-scale fast switching, there's a couple of different types of switching, but this is an area that Marvell hasn't historically been able to play in that Broadcom in its Tomahawk series chip has been by far, I believe, it's north of 50% of market share that you know they've had. And so, this is in this 50G series. Innovium has a nice and growing percentage of the market. They're saying in the next year, this could be about $150 million in revenue. And now I do want to clarify this, people that read the release and asked me some questions about this thought there was $150 million. The way Marvell is looking at this is through synergy and through growth momentum. You've got a company that's fast growing with Marvell could reach $150 million in revenue in the next year. There's feature-rich switch and then there's this cloud-scale switch space, and this is going to make Marvell. It's going to enhance this INFI, the $10 billion INFI investment, with what they're doing with optics and light. Again, check out the podcast. It's in the show notes because we had two of the most senior executives, including Chris Koopmans, president of Marvell, join us to talk all about this.
But really interesting, Pat, what they're doing. Getting in with Tier 1 cloud customers, taking advantage of the data center market scale, and Marvell has just been on fire. I don't know what else to say. I've quietly watched their stock price roar up. A lot of very good moves. Matt Murphy joined us at that Six Five Summit. Had a great chance to talk to him about his vision. Company's being very strategic, both inorganically and organically, to grow, diversify, making great partnerships.
This was a really good move in a very specific area that was clearly needed. It was something that the market asked about after the INFI acquisition, and without waiting very long, they bought the number two. And I'm sure Broadcom is nervous that with this acquisition, Innovium is going to be a much bigger threat to them because they're going to have all of the resources of Marvell at their disposal.
Patrick Moorhead: Yeah. Listen, whenever a market doesn't have three serious players, then there's an issue, and Innovium does. It's really split between, not evenly, but about 30% Innovium, the rest Broadcom. I talk to a lot of customers and they respect Broadcom but they don't like Broadcom and they want more, they want more competition.
Just to do a top view of what the architecture looks like, let me nerd out just a little bit. So as we see here, we've got the full array of, I'll call it classic Marvell, Innovium and INFI, with the ability to play in the core switch, spine switch and the TOR, the top of rack switch. And you've got this cool little chip here, coherent ESP, in this fiber connector which basically connects everything at light speed. Marvell has been very successful in lower speed copper. Now they have high speed copper and high speed photonics, really winding out or rounding out the offering.
And I looked up their stock five years ago. They're up 435%. And by the way, five years ago, they were really known as a mixed kind of consumer-play, hard drive controller, right? It was Marvell, right? We all knew Marvell. They jettisoned their consumer stuff with the exception, of course, for hard drive controllers that would go into a PC, and then they made a bunch of acquisitions and this is yet another. I would call this more of a tuck-in acquisition than anything else, but hats off and congratulations to everybody there.
By the way, some of the investors in Innovium look really smart. Strategic investors were Qualcomm ventures and Xilinx, right? That makes a ton of sense so congrats to them, and also Capricorn was in there as well. Dipender Saluja, and he was an early investor in Innovium, so Dipender, congratulations. Two outs in, I guess, six months.
Daniel Newman: That's when you're doing it right, Pat. And the people that get behind these companies early and have the vision, the gall and the resources to play in this space will certainly be rewarded handsomely in this era we are in of cloud scale. The scale of money is outrageous but, wow, very exciting, very solid for Marvell. The story keeps getting better. Pat.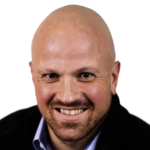 Daniel Newman is the Principal Analyst of Futurum Research and the CEO of Broadsuite Media Group. Living his life at the intersection of people and technology, Daniel works with the world's largest technology brands exploring Digital Transformation and how it is influencing the enterprise. Read Full Bio