Making Markets EP19: Quick Take on Marvell Technology
Making Markets EP19: Quick Take on Marvell Technology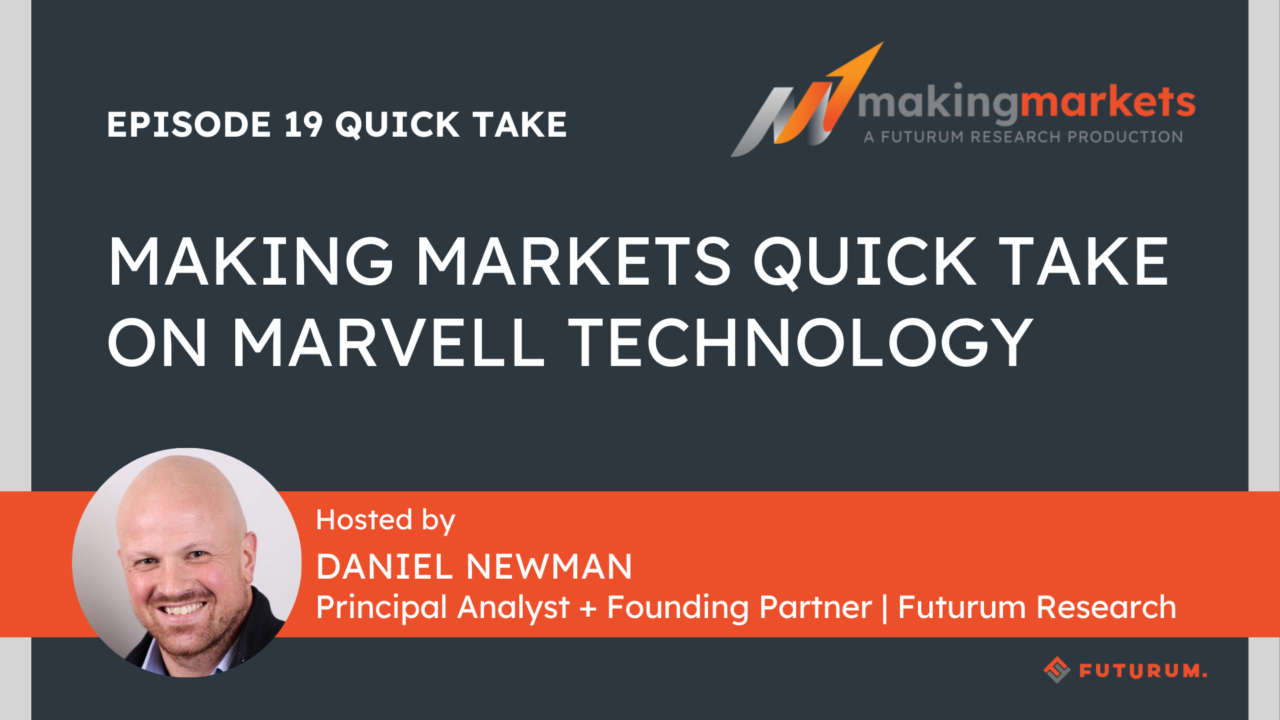 In this Making Markets quick take, host Daniel Newman dives into Marvell Technology's stock growth of more than 80% for the year and the drivers behind that. Their demand is high, they haven't been hindered by supply constraints, and they're in all the right secular trends — with a huge channel of partners in 5G, Data Center, Enterprise, and Automative — and all those businesses are growing really well.
You can grab the video here and subscribe to our YouTube channel if you've not yet done so.
You can also listen below or stream the audio on your favorite podcast platform — and if you've not yet subscribed, let's fix that!
Disclaimer: The Making Markets podcast is for information and entertainment purposes only. Over the course of this podcast, we may talk about companies that are publicly traded and we may even reference that fact and their equity share price, but please do not take anything that we say as a recommendation about what you should do with your investment dollars. We are not investment advisors and we do not ask that you treat us as such. 
Transcript:
Daniel Newman: So let's wrap this show up and let's talk about Marvell. I wrote an op-ed piece on Market Watch, in my opinion column that said, "Marvell Technology breaks away from the pack, joining the list of quote unquote must own semiconductor stocks." Essentially Marvell is no longer. Earlier in the year, I looked at four semiconductor companies outside of the known entities that people should be looking at. I had picked Lattice Semiconductor. I picked Applied Materials. I had picked Micron and I had picked Marvell. Now I feel like I got it pretty good in my initial picks. Of course, Micron at about a 15% or so return has been my weak sauce in that group. And all the others have come in at over 70% at the time of this recording. And Marvell, after its earnings, after it blew the numbers out of the water, saw its stock absolutely jolt to in the 80% plus growth for the year.
This stock has been on an unbelievable run. It's just doesn't matter about supply constraints. Their demand is high. This is a company that's in all of the right secular trends. While enterprise tech is not always sexy and does not always drive as much excitement and as much media coverage, what it does is it drives a huge channel of partners that can buy this stuff at scale. And you've got a company, Marvell, that's in 5G, they're in data center, they're in enterprise and they're in automotive. And all of those businesses are growing really well. And let me just give you a couple of numbers here. The company came out at $1.21 billion record revenue, and at 61% growth on a year over year basis, but it grew in all its categories. In the data center, which is 40% of the company's revenue, it grew 109%.
Enterprise, 20% of the company's revenue, grew 56%. Carrier, 18% of the company's revenue, grew 28%. And in automotive, the company, it's only 6% right now, but the ethernet connected vehicle is going to be a huge part of the autonomous opportunity. The one I talked about with Mobileye and Intel, and that grew by 114% on a year over year basis. So while I still believe some of those staple names, Nvidia, AMD, Intel, Qualcomm are very, very respectable. And of course, as I mentioned with Intel, that's a company that's fighting the good fight, but Marvell is now clearly on the same level in terms of requirement for both investors. And of course, companies that are building next generation technologies and collaborations to be paying attention to. They're doing innovative stuff. They've made some great acquisitions. The Inphi acquisition brought its optical networking to the next level.
Innovium was a purchase that maybe wasn't a everyone known name, but in terms of the company's ability to deliver in cloud and hyperscale cloud, that has been a big acquisition that will continue to enable its long term growth. So my thesis, the company's made the right bet. Matt Murphy, CEO, he's been on this show as well. He was actually my first guest, which was pretty awesome. He took over a company in a delicate state and he absolutely has done all the right things. He moved them out of consumer. He moved them into enterprise. That pivot has paid off and the company is in the right spaces, on the right bets with the right total addressable markets. And I tend to believe that we are only actually in the beginning of a nice, long healthy run for Marvell.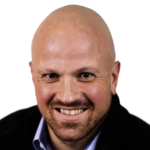 Daniel Newman is the Principal Analyst of Futurum Research and the CEO of Broadsuite Media Group. Living his life at the intersection of people and technology, Daniel works with the world's largest technology brands exploring Digital Transformation and how it is influencing the enterprise. Read Full Bio