Making Markets EP18: Quick Take on Qualcomm's Investor Day and Earnings
Making Markets EP18: Quick Take on Qualcomm's Investor Day and Earnings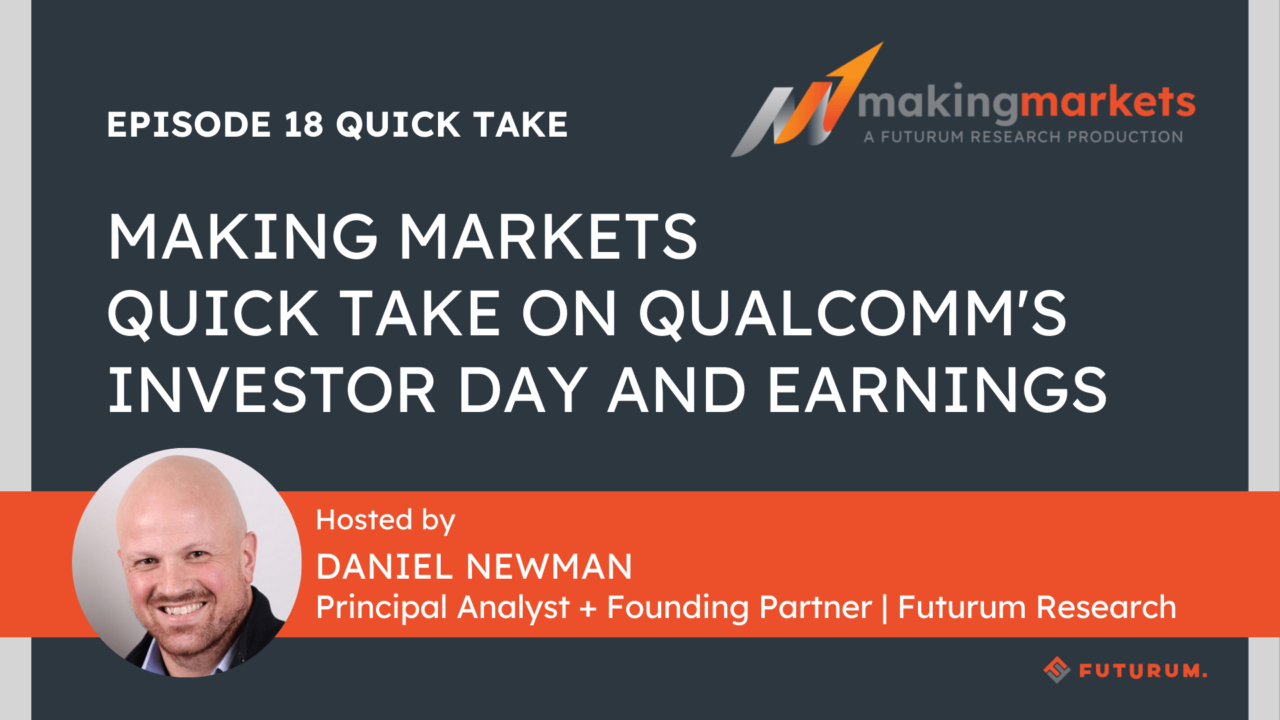 In this Making Markets quick take, host Daniel Newman talks with Qualcomm CEO Cristiano Amon about the company's most recent Investor Day and earnings. They also discuss how Qualcomm's technology roadmap is answering many of the technology demands they're seeing across every industry.
You can grab the video here and subscribe to our YouTube channel if you've not yet done so.
You can also listen below or stream the audio on your favorite podcast platform — and if you've not yet subscribed, let's fix that!
Disclaimer: The Making Markets podcast is for information and entertainment purposes only. Over the course of this podcast, we may talk about companies that are publicly traded and we may even reference that fact and their equity share price, but please do not take anything that we say as a recommendation about what you should do with your investment dollars. We are not investment advisors and we do not ask that you treat us as such. 
Transcript:
Daniel Newman: Cristiano Amon, CEO, Qualcomm. Welcome to Making Markets.
Cristiano Amon: Very happy to be here. Good to see you, Dan.
Daniel Newman: It's actually a real pleasure. You are a first. This is the first time, I started this series during the pandemic and every interview I've done has been over video. And what a place for us to kick off here in Hawaii, at the Snapdragon Summit, to get to sit down face to face and do the first in-person episode. So, thank you so much. I know you've got a ton going on here at the event.
Cristiano Amon: No, no, no. Look, I completely agree. It's good to see people. And if the place to do that is Hawaii, there's nothing wrong with that.
Daniel Newman: There's something in the air here. I'm telling you, you just can't help but feel good. I've actually been following you around the country, kind of on accident, but over the last few weeks you've had earnings, you had your big Investor Day in New York, so I was able to make it up for that. And so I've been hearing the story from you now and this timing of doing this interview is great because I heard it after earnings. I had a chance to opine a little bit myself. And then I heard it again at Investor Day and now we're hearing it through a slightly different lens, and I'll talk about that later. Just talk a little bit about coming out of earnings, coming out of Investor Day, the run up that the company saw. How are you feeling? How are you reacting to these recent events?
Cristiano Amon: Look, we were incredibly happy that finally, finally I think the Qualcomm story started to be understood. It's being heard. I really thought a lot about what we're going to do on Investor Day. Now, let's say leading to Investor Day. We're a large cap company. We had five quarters, consecutive quarters of 100% year-over-year growth in QCT. Those are metrics that you have on a startup company, not on a large cap company. We see demand for technology happen across every single industry. We see our one technology roadmap being the roadmap that many of the industries need to go to. And I felt that it was time at Investor Day to provide a comprehensive story that let investors understand this incredible opportunity we have with Qualcomm. And of course, I needed to go pull the Apple bandaid, which I did.
And I said many times, you're making a mistake if you're looking and trying to define Qualcomm as a company that is in a one end market and one customer relationship.
There's an incredible opportunity for the company. And I think the key message I want folks to understand is there is a logic to everything we're doing. In a way we have been defining the pace of innovation on phones, but now everything else is going to be connected. We designed actually 5G with that in mind, we have those billions of devices. And then what I wanted to tell investors is if you believe, and they do, if you believe in the valuation of the hyperscalers and the cloud companies it's because you are assuming you have an exponential growth of data going to the cloud, while we're just a company on the other side of the data center connecting all those devices.
And there's no other company that actually can do what we do in making those devices connected with advanced processing and on-device artificial intelligence. And I think that was understood. And as part of that, that we now have many end markets and we just showed that we can expand our SAM by seven X to 700 billion from the company that started back down with a 15 billion SAM by just doing MSMs, MDMs, and license. And I was happy that the message was heard, was understood. And I think we're in the beginning of something big.
Daniel Newman: Yeah, I think that is something really large. And by the way, for everyone out there, when he mentioned taking care of Apple, there's been a lot of speculation out there about how big and the contribution that apple makes to Qualcomm. And the company was finally able to reveal at its Investor Day that it's really a low single digit impact and that's huge. And the market, by the way responded, it was actually really interesting to see. It was almost a parabolic kind of response that it went straight up and I think a lot of people had no idea and you kind of broke that mold.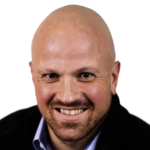 Daniel Newman is the Principal Analyst of Futurum Research and the CEO of Broadsuite Media Group. Living his life at the intersection of people and technology, Daniel works with the world's largest technology brands exploring Digital Transformation and how it is influencing the enterprise. Read Full Bio