Luminar Day Announcements
Luminar Day Announcements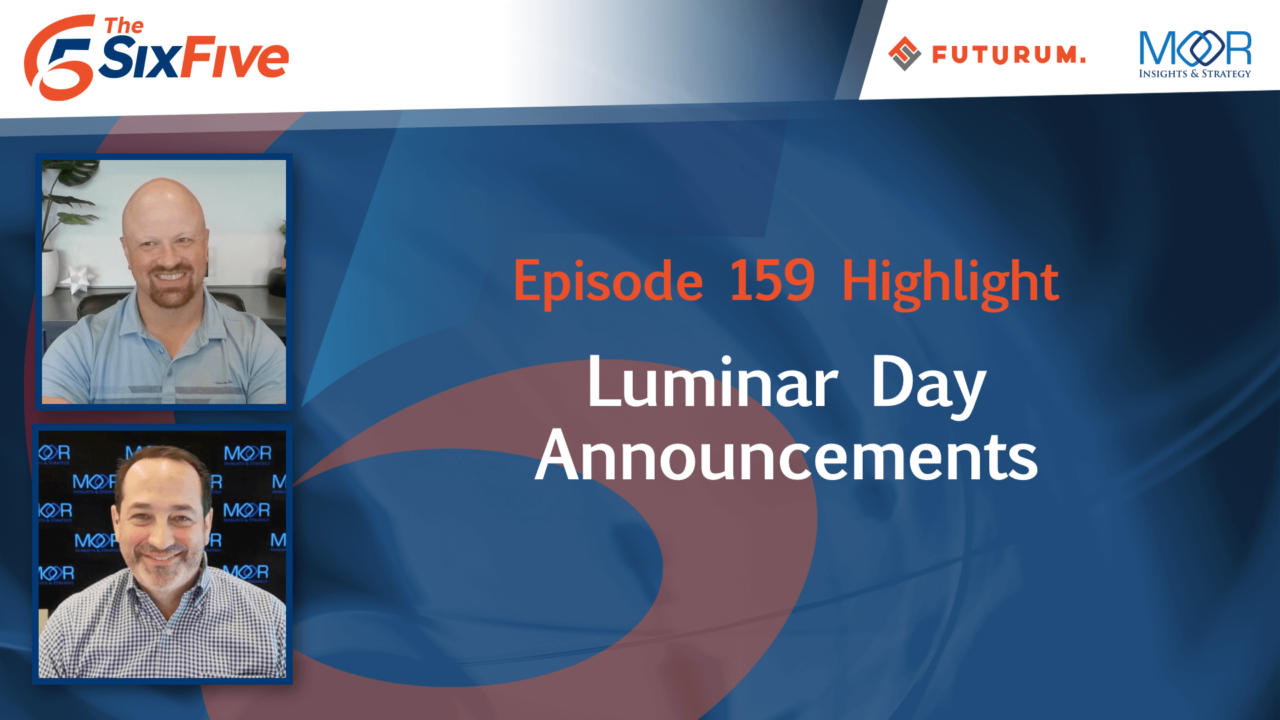 The Six Five team discusses Luminar Day announcements.
If you are interested in watching the full episode you can check it out here.
Disclaimer: The Six Five Webcast is for information and entertainment purposes only. Over the course of this webcast, we may talk about companies that are publicly traded and we may even reference that fact and their equity share price, but please do not take anything that we say as a recommendation about what you should do with your investment dollars. We are not investment advisors and we ask that you do not treat us as such.
Transcript:
Daniel Newman: We've had a lot of interactions with Luminar and we, of course, saw them at CES, and we talked about it quite a bit there. But Luminar, in the midst of what I would say as an autonomous driving and safety revolution, continues to be a company that the market needs to pay attention to.
And so CEO Austin Russell took his strategy, his vision, his roadmap to the investor community when they did their investor event on February…was it the 28th, Pat? I believe it was the 28th. And so what happened at this event? Well, the company unveiled its future technology, it talked about its partnerships, it looked into some of its safety profile capability, talked about its future AI engines, and then also announced some new interesting commercial deals. I believe, Pat, and this is interesting, established itself as a semiconductor company. So now it's Luminar Semiconductor, and that's out of a combination of semi subsidiaries.
At scale, what's going on? Well, I think first and foremost investors want to know who's using Luminar. While they have a number of different partners, I think one of the big ones that it was really able to lean into is Mercedes-Benz. Now, you and I, as F1 fans, know Mercedes tends to always be a strong competitor in that space. More interestingly is Mercedes-Benz is one of the leading automotive manufacturers in the world. It's a company that's not only known for luxury but also known for safety. And with this, Luminar continues to get support including the utilization of its next-generation Iris Plus sensors into their vehicles.
Who else though? Well, the company was able to talk about Volvo, talk about Daimler, talk about Polestar, and a number of others, Pat. Was it The rising that was in China? Many, many others. The new Iris Plus is all about expanded range. And lidar is all about adding that next layer of sensor depth that creates safety that we often see is unachievable using current vision technology that is mostly and best known from Tesla. The company had a number of other announcements, and I'm going to just pick a couple things and then I'll leave a little bit for you to talk about. But one is it's really leaning into its manufacturing in Mexico, which is pretty interesting given the global supply chain and what we've heard across the market as it relates to manufacturing in Asia. Luminar deciding to manufacture in Mexico is something I think we're going to hear more about across the semiconductor industry in the coming years.
I guess I would say, Pat, the other thing that I thought was really interesting is the company's getting creative with its partnerships. I'm not sure if you're familiar with Swiss Re, but a reinsurance company. Luminar-equipped vehicles, the bet is there safer and have a lower likelihood of a crash than other vehicles. How can a market benefit from that? How could a potential buyer of a vehicle with this technology benefit from that? At their investor day, the company announced a partnership with Swiss Re to basically move into finding new ways to deal with insurance, and lower costs, and ideally over time give more benefit to drivers in the secondary insurance market that are going to use cars that are equipped with Luminar's lidar technology.
And Pat, I just think this is really interesting and creative. Why do more people not get focused on safety features? When lidar technology is now under $1000 or can be done in under $1000 per vehicle, you'd have to think that over the course of an insurance lifespan, just an order of magnitude, lower percent chance of an accident, should be repaid to somebody through a lower cost of ensuring that vehicle. While this first move may or may not be the thing that breaks into this space at scale, seeing the company think about it this way is really interesting to me as the insurance market really hasn't caught up with technology available to personalize how much each driver pays. And you and I buddy, I don't know that we actually really want that, but I think that you could, right, the snapshot concept. That's a couple things. Like I said, so much more but I'm going to leave a little bit for you to cover here.
Patrick Moorhead: I mean, they just had a tremendous amount of announcements. I'm a little disappointed that I wasn't able to attend but lock in on something and we got to go from there do first in first out. No, it was a huge day. I mean, new sensors manufacturing ahead of schedule. They updated their number of design wins. They have a new AI engine. And like you had just discussed, a new insurance program, which by the way, I absolutely freaking love. I don't know what was a little bit of a turnoff to investors because it did dip, stock did dip after this day after going up about 60% based on the deal with Mercedes.
Two things that investors had to think about, right? How does this insurance program fit in and how does the chip roll-up fit in? I think investors are missing the point. Again, we're not giving investment advice this is for entertainment and educational purposes only. It's a means to an end. I don't look at the insurance program as a business, I look at it mostly as an exclamation point to go out there and say, "The cars that have lidar are safer." It's disappointing that the traditional insurance companies haven't embraced that, but I actually think this is where this is going. You can imagine insurance that's half the cost of other insurance carriers if it has a Luminar lidar sensor in it. That in itself is a huge statement. I think people shouldn't confuse combining three other semiconductors subsidiaries into something that is dramatically different. To me, I looked at that as a streamline and the ability to better bring together the combination of receiver, laser, and the processing chip to get extra advantage up there on the competition.
This isn't new, these companies are already working together. I am interested to see in the future where it goes, right? Do they sell pieces and parts to different customers aside from it? That is an absolute TBD there. Listen, the company's on a roll. Their stock even going down is up 44% in the past month. It's up 45% down from going up around 60%. Wall Street is not always the best indicator of value or growth. We look at it but it is one measuring stick and they are moving up and to the right.
Daniel Newman: And Pat, this week has been an absolute macro mess. The commentary from Fed chairman Jerome Powell has been incredibly hawkish. We saw a run on a big Silicon Valley bank where people are now worried about potential stability of our banking system. Sometimes when you look at how individual stocks perform, you just have to remember the arbiter isn't always the actual performance of any individual company but the bigger macro picture. I think it's gotten a nice jolt, and I think it's doing the right things, and over time equilibrium will be found.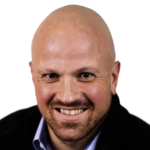 Daniel Newman is the Chief Analyst of Futurum Research and the CEO of The Futurum Group. Living his life at the intersection of people and technology, Daniel works with the world's largest technology brands exploring Digital Transformation and how it is influencing the enterprise. Read Full Bio