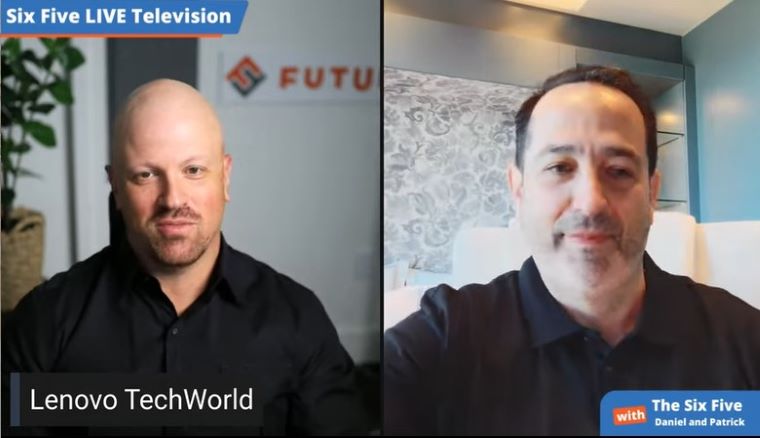 The Six Five team discusses Lenovo's TechWorld.
If you are interested in watching the full episode you can check it out here. 
Disclaimer: The Six Five Webcast is for information and entertainment purposes only. Over the course of this webcast, we may talk about companies that are publicly traded and we may even reference that fact and their equity share price, but please do not take anything that we say as a recommendation about what you should do with your investment dollars. We are not investment advisors and we do not ask that you treat us as such.
Transcript:
Patrick Moorhead: We'll see. So hey, let's move to the next world and that is Lenovo TechWorld.
Daniel Newman: Yeah. So jumping in, by the way, I mean how could we not give Lenovo a little bit of attention today given the fact that we'll be hosted by Lenovo the next couple of days here at the Grand Prix? But Lenovo before the Grand Prix had a pretty big week this week. It had its Lenovo TechWorld. If you were sort of following a social media, you would see the likes of Kirk Skaugen, Ken Wong, Susan Blocher, people that we regularly work with and their executive just absolute energy coming out of this event.
The company's CEO I think surprised a lot of people making an appearance at this year's event. And it was interesting because with the company's Motorola products, with its Intelligent Devices, which by the way, you're going to be up next week I think spending some time with the Intelligent Devices folks. They'd spent a lot of effort not just leaning into what we hear about these days which has been a lot of data center because they've had great launches. We talked about their most recent launch here on the show couple weeks back. You could check that out.
But also spend a decent amount of time talking about this intelligent transformation, this intelligent digital transformation. So the CEO, and I want to say his name but is it Yang Yuanqing?
Patrick Moorhead: YY.
Daniel Newman: What's that?
Patrick Moorhead: YY.
Daniel Newman: YY. I've seen it but I've never said it out loud. But anyways, he really spent his time talking about this future of digital twins, the metaverse, virtual and physical workspaces, and then the evolution of what he calls the ICT Company.
So Lenovo metaverse, I mean we think of Meta and metaverse, we think of NVIDIA and metaverse, maybe even Microsoft and metaverse. But I don't think the manufacturers, the ICT hardware, the big companies like Lenovo, Dell, they've been around the periphery but spent a lot of time talking about a vision of the future, things like digital twins and how their company, their edge-computing devices, their server devices and their software that they're working on building out is going to help build metaverse and robotic solutions.
They also are building devices, the AR glasses themselves. So, Lenovo is planning to be in the game. Now, I think Lenovo is thinking of a much more industrial approach. I don't necessarily think they're sitting back thinking about competing with Apple and Facebook and Oculus. I think they're thinking more about in a manufacturing plant, in a warehouse, the things that we've seen where instructions and information is going to be presented.
Also, the development of next-generation collaborative spaces, the company's thinking a lot about how do we move forward in a post-pandemic world with remote work and hybrid work and create intelligent, collaborative environments and hybrid workspaces. That was another thing that he spent time talking about which was very, very interesting.
Now, Pat, I think at the core, you and I know the portfolio of the edge and data center has absolutely been growing at a clip that could impress any analyst in this space. Now, this is Kirk's team. They've got a big enhanced lineup of ThinkSystems, Think Agile, ThinkEdge. They're running on both AMD and Intel. And that's been a big catalyst for the company's growth in these areas, Pat.
But Lenovo is one of these companies that sneakily and quietly continues to impress and grow and gain more market share. And they're moving in a really great trajectory. I look forward to spending a couple days with them here at the race hearing more about the business. But seemed like a really good Lenovo TechWorld, the executives, the employees, everything I saw in my social feed was encouraging. What they announced and talked about also piqued my interest.
Patrick Moorhead: Lenovo is the only company on the planet that does smartphones, tablets, PC, server storage, networking, software solutions and cloud and as a service. They're the only ones left. Huawei's no longer in smartphones. So, this is their once-a-year chance to tell the one Lenovo story that combines all of these together.
Some of the high points for me, yeah, I'm going to spend next week with the Intelligent Devices folks in New York. But they came out showing a Motorola smartphone that you press a button on the side and the screen raises up a few inches. And I think that was a … I like to call it, and it sounds negative but it's positive, a David Letterman stupid pet trick which is, "Hey, I'm going to wow you with something that's just amazing." And it does continue to wow even to this day.
On the Kirk Skaugen Data Center Group, there was an announcement, a big MOU between Lenovo and VMware to collaborate on the edge. And it's interesting, very infrequently do you actually see the words MOU or anything specific about some sort of strategic collaboration. And many times, we just blow it off because they happen so often. It's two companies agreeing that they're going to work together.
Well, what struck me here is this is with VMware and Lenovo, not VMware and Dell. And this is one of the first times I've seen VMware do something big which was infrastructure at the edge where Lenovo happens to be quite competitive. In fact, Lenovo has the broadest array of edge infrastructure out there. It's like, "You want it fanless, we got that. You want water cool, we got that. You need GPUs, we got that. You want to put something in an elevator shaft the side of a McDonald's, we have that."
So, that really struck me as incredible. It was also a reminder that in the metaverse, Lenovo is one of the few companies that's still investing in doing their own headset devices and platforms. Dell and HP have largely exited that market and they're leveraging other vendors out there. We haven't seen Apple yet with their head but they'll probably going to do that in 2023.
But all in all, Lenovo TechWorld was a good expression of what the company does end to end, the only company that has that array of technologies. The last two or three years, I had given the company feedback that you're operating as three funnels. You really need to do something more about that. You need to put solutions together other than just selling a server and PCs or selling a phone, a tablet and a PC together. You need to put end-to-end solutions together.
And under the leadership of Susan Blocher and a lot of the product folks getting together, they have put these end-to-end solutions together which quite frankly is very pleasant to see. I understand the previous two to three years, the company was trying to make its data center division and its smartphone division profitable, which they were big money losers before but now all three divisions are profitable. And now, you're seeing the investment of tying all those three businesses together and adding a fourth business on the services side which has its own general manager. So, all in all, really good.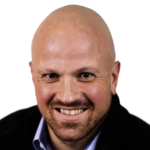 Daniel Newman is the Chief Analyst of Futurum Research and the CEO of The Futurum Group. Living his life at the intersection of people and technology, Daniel works with the world's largest technology brands exploring Digital Transformation and how it is influencing the enterprise. Read Full Bio