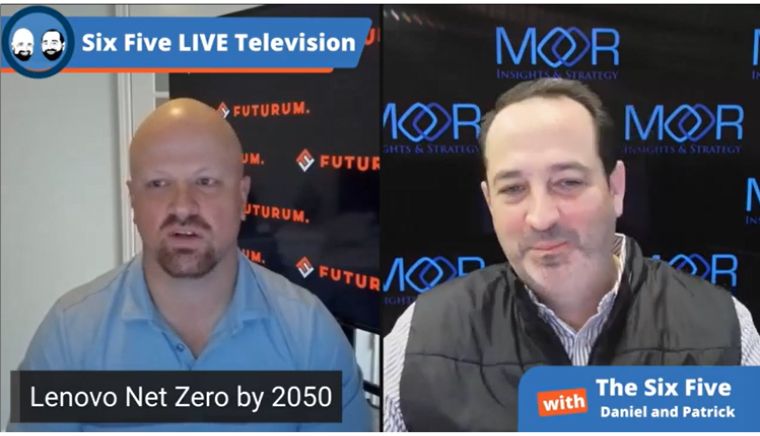 The Six Five team discusses Lenovo net zero by 2050.

If you are interested in watching the full episode you can check it out here.
Disclaimer: The Six Five Webcast is for information and entertainment purposes only. Over the course of this webcast, we may talk about companies that are publicly traded and we may even reference that fact and their equity share price, but please do not take anything that we say as a recommendation about what you should do with your investment dollars. We are not investment advisors and we do not ask that you treat us as such.
Transcript:.
Patrick Moorhead: Lenovo Net Zero proclamation by 2050 in Davos at the World Economic Forum. I saw YY in his parka there, looked like he was freezing his tail off, but bringing the ecological joy to the world.
Daniel Newman: You and I are not by any means pure-on super fans of all these sustainability SG. We're looking at practical and meaningful ESGF first. We want companies that are doing things that are truly measurable, that are adding value, that enable companies to continue to be market competitive. At the same time, being thoughtful about mother earth, and the process, and achieving goals that can-
Patrick Moorhead: Did you say mother earth?
Daniel Newman: I was having a little fun-
Patrick Moorhead: Are you one of those mother earth people?
Daniel Newman: Hold on, mother earth, I was having a little fun with this. Let me go. Let me go.
Patrick Moorhead: Okay, dude, just checking. I'm just checking.
Daniel Newman: Dude, let me go, man.
Patrick Moorhead: All right.
Daniel Newman: Dude, these socks I'm wearing are actually recyclable.
Patrick Moorhead: Dude, I don't even wear socks. I just put a paper bag over them. A recycled paper bag.
Daniel Newman: All right, come on. But you and I both agree, I think we can say we both agree that it's not that sustainability has a problem. There was too much greenwashing. And now what we're really saying is that we want companies that are executors, that are going to do meaningful things that can be measured and show that these sustainability efforts are good for both the earth and for business. Because companies that are out of business aren't going to be able to employ people. They're not going to be able to enable and meaningfully contribute to things like this.
So what I liked about it is very simple, Pat. As far as my experience shows, Lenovo is a very high on the say-do ratio. I like that. Very high in terms of executing things they say. Lenovo doesn't tend to do a lot of things, in my opinion, that are just sort of marketing for the sake of marketing. I think Lenovo really saw this as an opportunity to show some market leadership. They did a 2050 goal here, they want to reach Net Zero, they got this approved by the Science-Based Targets initiative, which is a UN and worldwide fund for nature partnership. But they were the first PC and smartphone maker, according to this, and they're one of only 139 companies that have their plan that's been validated by these science-based targets.
As I said, and kind of started out with this thing Pat, is, I don't like companies doing green for green. It's not a posturing thing. And I think there was way too much of that that's happened over the last couple of years. But like I said about Lenovo, what I like is that they are an executor. They are not a company that does a lot of what I would call flashy marketing. They do a lot of practical marketing. I think that based on the leadership group that we know, including Kirk and YY, Ken, and others that we've talked to over there, this is not something that they're getting involved in purely just for the illusion of, "Hey, we're green." This is something I think they believe.
Between the materials, between the emissions and carbon footprint, that they're going to be able to show some leadership, in doing this in a way that is practical, sustainable, and still good for their enterprise. This is a company that has tough margins. This is not a high margin business. The device side of their business is their largest revenue stream, and it's not a high margin business. But I think in their mind, they're going to be able to probably provide some example of how this gets done, and again, meets those practical and pragmatic lines that I'm looking for from these companies.
The only thing I would kind of throw back at is, I get a little frustrated, Pat, at times about the 2050 number. I do understand you have to set horizons in the distance to try to get from where we are today to something as much as a zero, or net zero. I'm hoping to hear from them, and other companies that are making commitments that are 20-plus years into the future, about ways that they can provide us updates, data-driven, that their efforts are being met in a way, again, that's practical and meaningful. Because it's kind of like you and I saying we're going to be the biggest analyst firms in the world by 2050. We can make that prognostication, and it'll be very hard for anybody to tell us it's not the truth, because a lot can change in 27 years.
So I think as we make these longer term targets, companies are going to need to be very aggressive, to say, "Here's what we're going to do in the next five years, 10 years, 15 yrs," so that people like us, that are looking at more practical, analytic-driven ESG efforts, can feel confident that it isn't just a marketing kind of posturing that's being done.
Patrick Moorhead: I would like to see holistic approaches to this that actually incorporate some of the downstream downsides. Sometimes, I think especially for folks who, I don't know, may be younger, or idealism over things, they're not being fed the information on what the potential downside is.
For instance, western Europe outsourced its energy policy to a 16-year-old girl, Greta Thunberg, and made some decisions that essentially put western Europe in the hands of Russia, and energy with natural gas. And had the US not swooped in and saved western Europe0- by the way, western Europe bought most of its natural gas from Russia, and now it buys most of it from the United States. It gets boated in, not kidding, from the United States. And that was kind of a bullet dodged. Then Russia has signed a deal with China to sell its excess energy to them for a lot cheaper. So bullet dodged, but we've got instances of countries like Sri Lanka, who had a coup on the government, a complete overthrow. They had a 98% ESG score by the World Bank, but they got overthrown because they banned pesticides. And when you ban pesticides and you don't come up with the alternative, you can't make food, and Sri Lanka ran out of food.
So there are these downstream impacts that I don't feel like we're completely looking at. I'm with you on 2050 or a 2040, you have to set a goal, but we have to get smarter about what we're going to do downstream. I'm appalled that we haven't completely put our arms around nuclear energy. I'm optimistic about what we will be able to do with fusion, but I put fusion up there with quantum computing. Which is, I love the theory, a lot of amazing experiments, I couldn't tell you the year that it's actually going to be out there and spun up.
I really understand Darius Dominczak, I appreciated his comments, CEO at Honeywell. He is a huge provider of technology to energy producers. And let's do it understanding the downstream effects, and also the overall cost and benefit analysis. I'm in 100%. With that said, congratulations, Lenovo, on the gutsy hatchet you threw out into the sea.
One thing you said, Daniel, was spot on, which is, Lenovo's a company that actually has something to do with it. They actually do their own PCBs, do their own PCAs in certain industries, and they do a lot of their own final assembly. So they actually have factories, not companies like Apple who don't own factories, and who don't actually manufacture, and go through other entities to do it. So Lenovo has the ability to truly, not just leverage their suppliers; guess what, they're part of the supplier and some of their vertically integrated businesses. So hats off, Lenovo, good job.
Daniel Newman: Yeah. By the way, just one quick note, there is a 2030 set of shorter term goals out there that you're supposed to be complying to. To my point of shorter-term goals, those will be important to watch.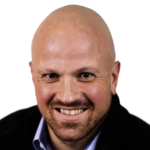 Daniel Newman is the Principal Analyst of Futurum Research and the CEO of Broadsuite Media Group. Living his life at the intersection of people and technology, Daniel works with the world's largest technology brands exploring Digital Transformation and how it is influencing the enterprise. Read Full Bio