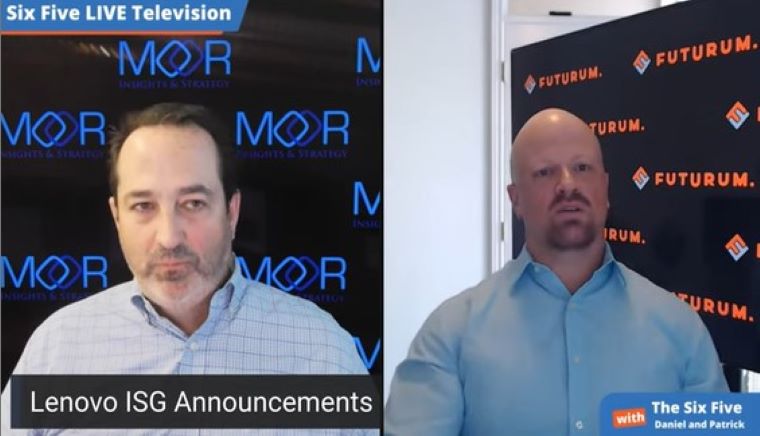 The Six Five team discusses Lenovo's ISG Announcement.
If you are interested in watching the full episode you can check it out here.
Disclaimer: The Six Five Webcast is for information and entertainment purposes only. Over the course of this webcast, we may talk about companies that are publicly traded and we may even reference that fact and their equity share price, but please do not take anything that we say as a recommendation about what you should do with your investment dollars. We are not investment advisors and we do not ask that you treat us as such.
Transcript:
Daniel Newman: All right, so let's talk a little bit about Lenovo. We've got a couple of quicker hits here, which is good because we've had a couple of really long ones.
Patrick Moorhead: Hey, why do you apologize, man? It's either good content or it's not. People can tune in, they can tune out.
Daniel Newman: I look back and I say, why didn't you call the 620? Because we clearly have no ability to talk about anything in five minutes. This is a quick one. 15 minutes later we're still rapping about it. Lenovo had a big debut of a huge expansion of its server line, refreshed 50 server storage range, Edge, cloud products all at one time. Now, I think this was about 10 days ago. They announced new Think systems, Think Agile, Think Edge, servers with storage. And they did it, by the way, Pat, interestingly enough, using all three, Intel, AMD and ARM processors. And they even did some integrated offerings with NVIDIA Enterprise software baked in as well. Pat, Lenovo, you and I have worked quite a bit with their leadership team with likes of Kirk Skaugen here in the US who basically leads this business and expand.
The company just keeps doing things that are really interesting, getting it right, winning business, and by the way, doing it in a very humble way, just look at the numbers every quarter and you just keep seeing them grow. They keep gaining market share and they're doing so, by the way, building all this hardware technology that's going to be very successfully enterprise, but concurrently doing really good with partnerships and doing really good with building out as a service. So we talk a lot about GreenLake from HPE. We talk a lot about some of the other consumption services. Lenovo's doing that too. So they're basically targeting offerings, they're building new hardware, they're connecting it to their true scale management and infrastructure as a service offerings. They're even going down the converged path, building open ecosystem products that work with the likes of Nutanix, VMware and Microsoft.
So I guess overall, Pat, huge ad of line up, very thoughtful, I think, utilization of different core processing capabilities, so they can basically meet all customers where they are. And that's something I've said for a while about Lenovo, I feel like they've really taken this somewhat agnostic approach that they're going to have a flavor for everyone. They've done that well. And like I said, they've done really well with partnerships, they're doing well as a service, and this launch really adds to their portfolio. It should be something that enterprise as its current customers and new customers are going to be very positive about.
Patrick Moorhead: When Lenovo bought IBM server business, they lost market share and they lost a ton of money. And you were wondering, Wow, what's going to happen to this? By the way, at the same time, Motorola was losing a ton of money as well. The company's credit, they've completely turned around both of these businesses. And whether it's in servers where the company is outpacing the industry at over two X, or in storage where it's outpacing the industry at three X, and by the way, the company or the division is now profitable under Kirk Skaugen's leadership. So this was the most infrastructure products I've ever seen announced in a long time. What a machine. I think this was three X more products than they had ever announced since they have been the division. So hats off to them. And one of my very valued analyst, Matt Kimble, is about to publish a piece.
It's going to be published in the next couple hours, where he called X Clarity One, which is their manageability program, A hidden gem. And for him to say that means a lot. Matt's very mild mannered, doesn't give compliments away, but he was really impressed at how far X Clarity One had come out and that essentially gives its management as a service, its deployment automation, and it's much more intelligent support. His big ask is that… The company called it Open, but they didn't really give details on how necessarily it was open, but I'm sure we'll hear a lot more as we go through. So hats off to the Lenovo team for absolutely crushing it with the amount of announcements they made and also the progress that they've made over the past couple years under Skaugen's leadership.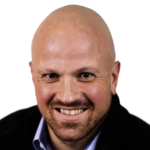 Daniel Newman is the Chief Analyst of Futurum Research and the CEO of The Futurum Group. Living his life at the intersection of people and technology, Daniel works with the world's largest technology brands exploring Digital Transformation and how it is influencing the enterprise. Read Full Bio