Lenovo ISG Analyst Conference
Lenovo ISG Analyst Conference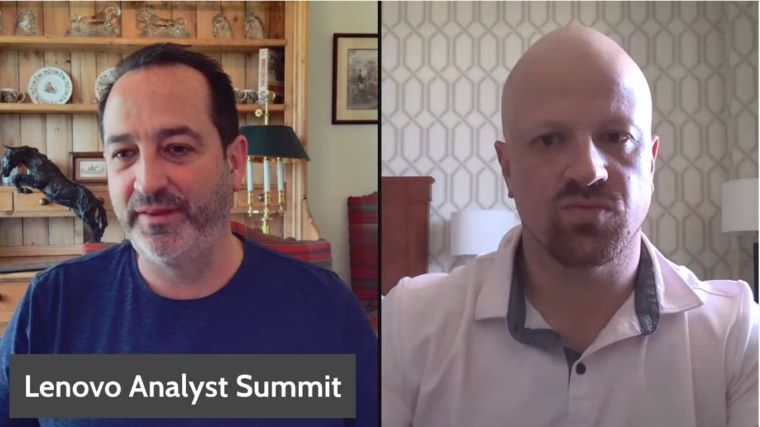 The Six Five team dives into the recent Lenovo ISG Analyst Conference.
Watch the clip here:
If you are interested in watching the full episode you can check it out here.
Disclaimer: The Six Five Webcast is for information and entertainment purposes only. Over the course of this webcast, we may talk about companies that are publicly traded and we may even reference that fact and their equity share price, but please do not take anything that we say as a recommendation about what you should do with your investment dollars. We are not investment advisors and we do not ask that you treat us as such.
Transcript:
Patrick Moorhead: Speaking of interesting, let's move to Lenovo, a company that absolutely is crushing it from a growth standpoint. So years ago, Lenovo bought the assets of IBM's server and networking business and a little bit of storage that was in there. And Kirk Skaugen, an ex-Intel leader, has been there for nearly six years, which I just consider a complete turnaround. I mean, some highlights, they were actually profitable after years of losing money. Growth was at 13%, which, by the way, for hardcore infrastructure is pretty amazing.
And some of the things that Lenovo has been able to do that none of the other infrastructure players have been able to do is they are actually a huge provider to the hyperscale community, tier one and tier two. They've been able to do this through an ODM+ model. And essentially, they bridge the gap between ODM and OEM, managed to push out, push a lot of folks, traditional vendors out of the market. They're even taking market share from ODMs. So it's hugely unique and innovative.
One of the ways they're doing it is, unlike most traditional stuff, they actually have their own factories, 22 million square feet of factories. They do SMT lines. They do final production. One of the largest manufacturers in Mexico. And news flash: Lenovo is not just China business. They're about a third, a third, a third, North America, Western Europe, and Asia. So they're not even remotely comparable to somebody like a Huawei. By the way, I can't talk… They gave us roadmaps. They gave us their future strategy. I'm actually looking at it right now. I'd like to rattle it off, but I signed an NDA going in there. But super impressed with what they're doing.
I've met with Ken Wong on the ISG side for services. He runs the other division. He's a peer with Kirk. You combine ISG with SSG, the services group, and I think it's going to be a killer combination coming up. Watch Lenovo in storage, folks. They're crushing it on the server side. Just wait till what you see in storage.
Daniel Newman: Yeah. Pat, you got to use your NDA as a cheat sheet to not have to say too much, but to tease everybody that there's a lot going on. What I like about Lenovo is that they're in so many different things, but it's like they are not ever "me too." Yet at the same time, they're extraordinarily good at finding their niche. I had a really interesting conversation with a journalist yesterday about their TruScale, for instance.
Some companies right now that are trying to build out these on-prem cloud… I just feel weird when I say it… but these consumption-based, on-prem services for the future of hybrid cloud, they're really building this super vertical and horizontal software-based thing that's basically putting their users in a position where they're choosing like, "Do I want to build on AWS, or do I want to build on this container software, or do I want to use this centralized platform for a control plane?" Because as we see hybrid cloud come together, all these pieces, software has always ruled the roost. This is where VMware's had such a great advantage for such a long time, for instance, is VMware has handled all the virtualization for basically every enterprise on the planet for the longest time. And even though Tanzu's been a mediocre product from… And again, this is more of what I'm hearing. I don't use it every day. That's opened the door for things like OpenShift. VMware's been able to be very sticky there.
Well, if you look at TruScale by Lenovo, the way they're thinking about it is we're not going to try to really compete at that software layer. We're going to compete on the fact that companies need to get their workloads into these hybrid cloud environments, and they want to pay for it in a consumption modality. They want a consumption mechanism to pay for this stuff, and we're going to make it super easy with the software that these people are already using.
So it's slightly different, yet it competes entirely. And yet they're able to carve out a niche, because across this Lenovo portfolio, they have so many customers that are using their stuff, whether it's on the infrastructure side or it's on the PC side, that they're able to kind of create a stickiness. It kind of reminds me a little bit of how Dell has been so successful over the years, by the way, of just having this really great force of being able to attach more and more and more to every customer that uses their product.
I think the company's getting more and more innovative. I think it's becoming more and more confident. I think it's starting to find its legs and its story as a higher-value, higher-service organization, because I do think they've sort of done a really good job in that middle-to-lower opportunity of being differentiated, of being aggressive, of winning deals. Obviously, their margins are always a little smaller. Huge top-line numbers. The margins aren't always as big. But as their service portfolio grows, you're seeing that margin expand, and they've had some record numbers. I mean, the last few quarters… We've done the earnings here. You can go back and look at our earnings commentary, Pat.
But I guess all I'm saying is, as you sort of tie it together, I just continue to be impressed that Lenovo just knows how to find where it fits in all these different markets and gets really good at it. And I give credit to people like Kirk, like Matt Zielinski, like Vlad, who we work with. We get to work with a lot of their top executives. And they're finding their way, and they're creating more and more relevancy for Lenovo, and by the way, dealing with any of the connotations with China in a really positive way, where the company continues to grow, gain strength, gain confidence in the market, and compete not just abroad, but here in the US very strongly. I wasn't there, by the way, so I'm just riffing because I have an opinion about everything. But we did have our analyst team there, and what I can say is I do continue to be impressed by Lenovo.
Patrick Moorhead: Yeah. Susan Blocker is really knocking it out there as well. The final thing that I want to just add on this is they really strike me as a company that they have an awareness problem. Wait, Lenovo makes storage? Oh, they do? Well, if you're in Asia, you probably know. If you're in North America, you probably don't. So that's a marketer's dream, when the more you know me, the more you're going to love me. That means you have an awareness issue. And once you get the awareness taken care of, you can move them down the funnel. But overall, a great event.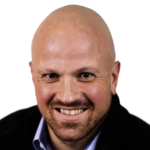 Daniel Newman is the Principal Analyst of Futurum Research and the CEO of Broadsuite Media Group. Living his life at the intersection of people and technology, Daniel works with the world's largest technology brands exploring Digital Transformation and how it is influencing the enterprise. Read Full Bio