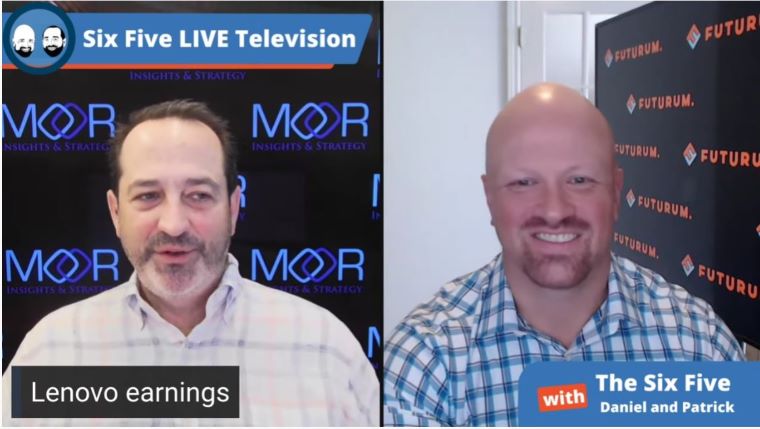 The Six Five team discusses the latest earnings report from Lenovo.
Watch the clip here:
If you are interested in watching the full episode you can check it out here.
Disclaimer: The Six Five Webcast is for information and entertainment purposes only. Over the course of this webcast, we may talk about companies that are publicly traded and we may even reference that fact and their equity share price, but please do not take anything that we say as a recommendation about what you should do with your investment dollars. We are not investment advisors and we do not ask that you treat us as such.
Transcript:
Daniel Newman: Another big quarter for Lenovo. And this is one that could have gone either way coming with a lot of exposure to PC, but did they grow?
Patrick Moorhead: Yeah, so you and I both had the chance to catch up with both Kirk and Ken last night. So Kirk runs the data center and edge business, and Ken runs the services business, to really get underneath the numbers. And Daniel, we've talked about this a lot, you and I, we're not equities analysts we're industry analysts but we love the source of truth that we get from these earnings. When you're trying to analyze Lenovo they've documents for the US and they have documents for Hong Kong and they're a little bit different, which makes it a little bit challenging to get underneath. They do have the element of non GAAP and it's NHK FRS. And if you want me to tell you what that is, I'm going to have to look it up, but it's basically non GAAP numbers.
So how did they do? In a really turbulent time for PCs, the revenue was flat, but record at 16.96 billion. By the way, that was a squeaker, right? Because year over year was very close to that. Revenue was up 0.2%, gross profit dollars were up 2%. Net income was up 11%, but record at half a billion dollars non GAAP or non Hong Kong FRS. So ninth straight quarters of earnings and profitability growth. The company really wanted to point out the newish businesses are growing double digit. I wish they hadn't done this because they put ISG and MBG in there that have been out there for eight years. I don't consider those new businesses. Headcount was up 29%. R and D was up 10%. And Lenovo quarter on quarter really goes out of their way to talk about how they're increasing R and D, which not a whole lot of people can.
So SSG, they lead with services, which in itself is a statement of their services led and software led transformation. Revenue was up 23%. We got the ability to talk to Ken last night, there's not a whole lot. I feel like I can say about the call because it was NDA. But on the managed services point of view, X is a service, everything is a service is growing big time, whether that's true scale or Daaz. The interesting part is they bought a consultant PWWC, I think that's the name of the company. They're actually building scale in countries where they don't necessarily have integrators and partners. So, that's going to be part of this solutions part. ISG, record revenue, two billion, I love the flag plant. For the first time, I actually started comparing them revenue wise to HPE and Dell. I mean, my gosh, CSP, record revenue. Server, record revenue. Storage, record revenue. Edge, record revenue. Still number one in top 500 super computing. I want to call out their movements next year to 100% PCA manufacturing. And Kirk did share a few things that I absolutely can't talk about on what he has up his sleeve next year, but these guys are nailing it.
Daniel Newman: Wait, you didn't tweet it?
Patrick Moorhead: Definitely not, because he said, "Don't tweet it."
Daniel Newman: Don't tweet it?
Patrick Moorhead: Yeah. Yeah.
Daniel Newman: We know something you don't know.
Patrick Moorhead: Exactly. And I'm not going to tell you ever.
Daniel Newman: Part of what makes us good though.
Patrick Moorhead: Maybe, maybe.
Daniel Newman: I mean, it's having that information.
Patrick Moorhead: Yeah. So listen, the PC, tough quarter. I mean, PCs are down big time as a market. They do have phone; I mean, their smartphone revenue is up 21% as the entire business was down. I wish they would've broken out the PC business, but I'm sure I can back into it financially. But I think a pretty big statement that 22% of IDG was non PC. So that's tablets, phones, collaboration equipment, accessories, stuff like that. So I'll wait to comment on the PC business, wait for Dell and HP; but all in all, diversified company, software and services led is the name of the game. And they're not just talking about it, they're doing it.
Daniel Newman: Yeah. Lenovo, I actually mentioned this in the piece, I said it's going to be really interesting; in my MarketWatch piece; the next quarter, because HP I think is the most vulnerable to this PC pullback, because obviously PC print and peripherals, it's their whole world over there at HP Inc. It's going to be something to watch. Is it a situation where they unload a lot of backlog and have another decent quarter and then hopefully it can pick up steam in this future quarter? Or if the numbers from Intel and AMD are indicative, there's going to have to be fallout somewhere. You mentioned here, PC was more or less flat, right? If I'm looking at this right, the PC was down just a little bit for Lenovo, but their growth came from everything else. But since PC is a large percentage of the overall business, it ended up being a fairly small amount of growth. It's one of those things where a lot of nets and puts and takes put it all together.
But in this quarter, like I said, Beats are good, growth is good. We're in this inflection point, multiple years of pull forward revenue, multiple years of rapid investment, money being dumped out of planes and helicopters on companies and people, and they've been spending it on their businesses. Normalization is the key right now. Good growth coming in the multiple towers, SSG likes to call it the three towers. Growth across the board. Impressive. Very watchful eye on TruScale. That's a really interesting business for me, the whole on-prem cloud concept; very efficient, economical approach to being a hybrid cloud partner to the hyper scalers. Not trying to boil the world with software, like some of its competitors are. And I'm not saying that's good or bad, they're just pretty committed to what their approach is over in SSG.
The infrastructure group, like Pat, you said, can't say a lot of details. But man, when we get under the hood of some of the wins that this company has in the infrastructure part of the business, incredibly impressive. Don't for a minute think that Lenovo isn't finding ways into some of the world's most prolific companies in almost every industry. It's a very impressive revenue growth in this business unit against formidable competition. And the company has done it through great execution, really nailing it on the supply chain, focusing on ESG. And again, it is a Chinese based company. And so that is something that they, I feel have managed incredibly well given all the geopolitical tension, versus some of the other companies out there. The only other thing I think I would add, Pat, is on the device side it looks like Motorola's having a bit of a revival.
Patrick Moorhead: Yeah, it's kind of crazy how they're doing.
Daniel Newman: I grew up with the Razr. I mean Motorola, again, just goes back, maybe we're just tying threads together, it goes back to my upbringing in Chicago, but it was a humongous presence in Chicago. It was probably one of the largest employers for a long time. Of course the company went through some iterations and acquisitions and got moved around in the brand and never really found its footing after the Razr, you could argue that.
But suddenly on a worldwide scale, they're starting to get real market share in markets like South America, huge market share. But also with some of the changes that have taken place with Huawei finding its way out, with LG leaving the US, suddenly Motorola's finding a bit of a footing here and it's becoming impressive that it might actually become one of the top… Samsung would be tough, but after Samsung, I mean there's every opportunity for Motorola to be next here on the Android side, and that's great for Lenovo. So a good quarter, good result, good growth, and it's always great to get those executive views and hear what's going on over there.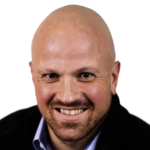 Daniel Newman is the Principal Analyst of Futurum Research and the CEO of Broadsuite Media Group. Living his life at the intersection of people and technology, Daniel works with the world's largest technology brands exploring Digital Transformation and how it is influencing the enterprise. Read Full Bio