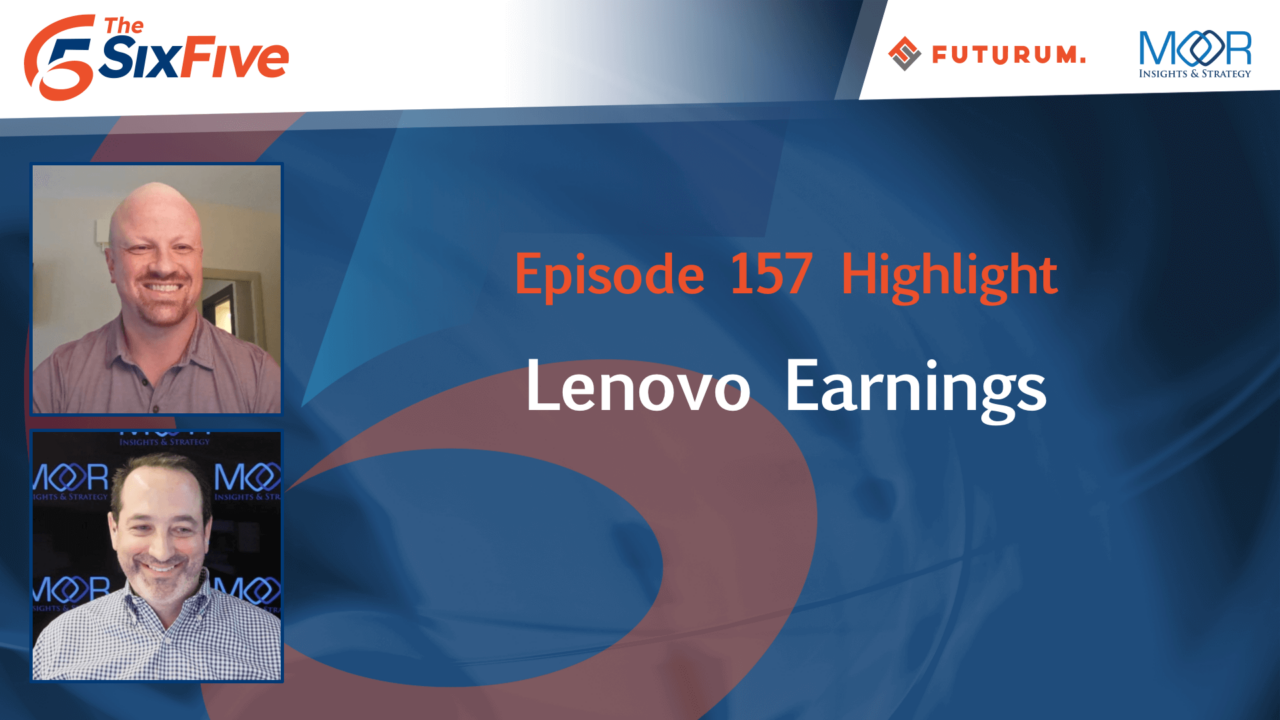 The Six Five team discusses Lenovo's latest earnings.
If you are interested in watching the full episode you can check it out here.
Disclaimer: The Six Five Webcast is for information and entertainment purposes only. Over the course of this webcast, we may talk about companies that are publicly traded and we may even reference that fact and their equity share price, but please do not take anything that we say as a recommendation about what you should do with your investment dollars. We are not investment advisors and we do not ask that you treat us as such.
Transcript:
Patrick Moorhead: So top-line you'd be like, "Oh my gosh, Lenovo really had a horrible Q3. Revenue is down 24% net." Don't yawn when I'm talking. Come on, man.
Daniel Newman: Dude, I'm-
Patrick Moorhead: Yawn when you talk.
Daniel Newman: …jet lagged. Don't let me distract you. Stay focused. Stay focused. We'll zoom in on you. We'll zoom in on you.
Patrick Moorhead: By the way, for the record, I wouldn't even be doing this if I had just rolled in. I'd be like, "Dan, we got to push this or do it some other time," so props to you buddy. No, anyways, top-line, if you just looked at that and stopped there, I mean revenue was off 24%, net income was off 32%. But I don't think we should stop there because it really doesn't tell the story. First off, while the company has done a great job adding services and data center and EDGE infrastructure to the mix, PC is still a large part of their portfolio. And surprise, the PC market is cratered, right? Whether you want to believe it's down 29% or 39%, it doesn't make a difference. Lenovo's Device Group is down 34%. The company is still number one share provider. And by the way, pretty good margins, it's 7.3%. I think number one market share of 7.3% on a dollar basis makes the Device Group the most popular… Sorry, the most profitable PC maker out there.
I need to do some homework and compare it. Kind of surprising versus Dell given how profitable they are. But super bright spots, right? Service, SSG, and data center, which is called ISG. Service was up 23%, record revenue at 1.8 billion. By the way, I'm still super impressed that Lenovo, even though it's the smallest revenue provider, they talk about this first on their calls. I think that's a gutsy move, and I frickin' love it.
The one thing about services, SSG, that was interesting is you're thinking, "Oh, it's break, fix. It's related to the hardware." Well, 53% of SSG's revenue were high order services, managed solutions… Sorry, managed services, project and solution services. I think that's super impressive. The data center group, ISG, absolutely crushed it. Record revenue, record profit, up 48%. Record op inc, record revenue, record server revenue, record storage revenue, record software revenue. We haven't seen the numbers from the bean counters, IDC, Garter, and Canalys, but on the earnings call they said that they moved to the number three server position, and they are taking share like crazy in storage. I'm going to give a congratulations to the company, particularly the services and the infrastructure group on this one. It's hard for me, how can you spank somebody who got taken down with the market? I can't.
Daniel Newman: Well, the only thing you could do is if the take-down was disproportionately higher, I guess you could. Or if it's Apple, Pat, I think you generally would figure out a way.
The true thought process that I have here on Lenovo is this PC market, it was a predetermined, everyone knew, no one expected, there was no surprise here. I guarantee next week with HP when they report, their numbers will be down on PC too. Dell's numbers were down. Lenovo's numbers were down. I think the Mac numbers were down too, if I'm not mistaken. I'm trying to remember because Mac had a few weird surprises in here, so surface can be a little odd sometimes, but the overall PC market is down. And it's a huge part of Lenovo's business.
So that's kind of why there's a zoom in zoom out factor here. When you zoom out, you go, "Oh wow, the revenue was soft." But then when you zoom in and you go, "Wow, this services group is growing significantly faster than the category, 20 something percent in service in their SSG group, that's going to be really important as the company continues to move to as a service moving to consumption-based infrastructure on-prem. Clearly showing some strength there. And of course part of that whole one Lenovo strategy is that they're doing a better job of cross-selling between the three groups. This is something that I've spent some time analyzing. It's going to take a little bit of time before where it's going to feel like one streamlined purchasing operation for an IT department, but they're moving in that direction, they're doing a good job. That should give a little bit of tailwind to the overall growth.
The ISG numbers, Pat, are ridiculous. I mean, those are just tremendously good results. Again, you got to remember what's going on is while we've all come on record and said data center and systems will be more robust than PCs, nobody expected high double-digit growth. And so, you could see it on Kirk Skaugen's face when we talked to him the other day, you could see a little well-deserved satisfaction on the results, and that's because it was a big outperform. It was a big outperform and it deserves kudos. The PC market, Pat, I'm saying 24. I really don't think we're going to see any great quarters on the PC side of the business. But I do think infrastructure and especially some of these… I've come out and claim a few times what's old is new is going to continue to be a winner, putting more infrastructure on prem. And the math seems to work in certain cases that companies need it. You and I have been on the record for decade plus on hybrid cloud, and companies are seeing it now as the cost scale. And as you get these larger data sets and they want to train things for AI, doing it in the cloud makes sense sometimes, but it doesn't make sense all the time.
By the way, Lenovo wins either way, because they sell a lot of servers to the hyperscale cloud company. So whether it's enterprise servers going into corporations that are trying to do more prem or it's selling servers that are going in data centers for hyperscale cloud companies, they sell quite a bit of both.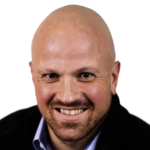 Daniel Newman is the Chief Analyst of Futurum Research and the CEO of The Futurum Group. Living his life at the intersection of people and technology, Daniel works with the world's largest technology brands exploring Digital Transformation and how it is influencing the enterprise. Read Full Bio